Your IP:
54.84.236.168
·

United States
·
You are in

TRUST

.ZONE

now! Your real location is hidden!
YOU ARE NOT PROTECTED!
Indonesia VPN Service
Get a VPN in Indonesia to access blocked sites
and get away with online restrictions
Unblock Internet
Indonesia blocked more than 800,000 websites. In Indonesia you may face with unavailability of WhatsApp, Telegram, Streaming Services, VoIP, BitTorrent and File Sharing Sites. VPN is the best way to avoid online restrictions
Indonesia

Hide Your IP Address and Location
Trust.Zone VPN provides internet users in Indonesia with encrypted secure connection. Your IP address is replaced with anonymous IP address of Trust.Zone VPN Servers. Your real location is hidden. Internet Provider cannot spy on you
With a VPN you are able to get away with online restrictions. Enjoy streaming services, access your favorite messengers, make voice and video calls with VoIP, download any files and torrents you need
Access Restricted Content
Hide Your IP and Location
Browse Anonymously Online
Why use Trust.Zone VPN in Indonesia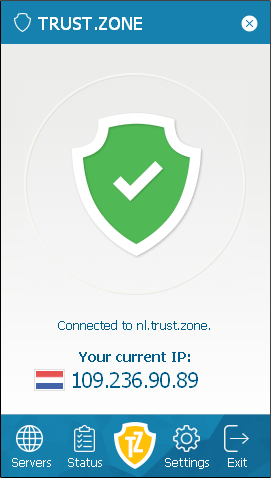 No online restrictions
Streaming, Torrenting, File Sharing is allowed
Hide Yourself on the Internet
Your Online Identity is Hidden
Visit any website anonymously
Trust.Zone VPN makes yoy invisible on the web
Protection from hackers and online vulnerabilities
Trust.Zone VPN protects you from unauthorized access and spying on you
Still thinking?
It's a Limited Time Offer
Try Trust.Zone 3 days for FREE