What Are The Risks of Not Using a VPN While Traveling
14 January 2022
People are likely to be always connected these days. We bet that you check your emails and social media all the time, even during vacation. To be honest, our lives are pretty much dependent on the Internet. However, regardless of your online goals, it is essentially important to ensure that your access is absolutely safe and secure. It is a no-brainer that you shouldn't connect to public Wi-Fi spots but what if you don't have other options? A reliable and trustworthy VPN can become your friend and an additional layer of protection.
Actually, your online security is not the only reason to use VPN software when traveling. If you want to have access to your favorite content, e.g. on Netflix Originals or other streaming platforms, you still need this tool. In countries like China, the VPN is your only chance to stay in touch with friends because most popular social networks and messengers are blocked there.
5 Risks You'll Face When You Don't Have a VPN Installed
So, what are the risks of not using a VPN while traveling?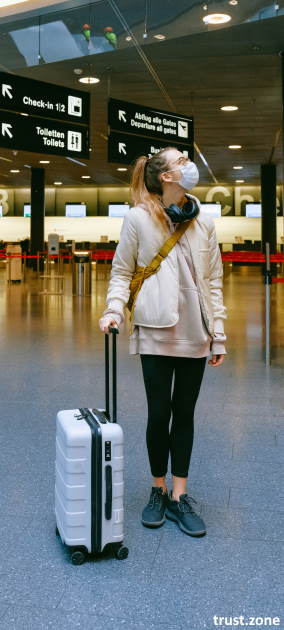 1. Your data is not secure
When you work from the office or home, you'll likely have no reasons to worry — we bet that your Internet connection is safe enough. But when you want to access the Internet in a new place, whether it is a coffee shop or an Airbnb apartment, you really need to install a VPN app. Especially if you have some vulnerable data on your device, e.g. business contracts or other important documents. This tool provides you with an opportunity to encrypt your traffic and therefore protect it from fraudsters who are about to steal it.
Don't think that only open Wi-Fi spots are dangerous. Such passwords as '11111111' or '12345678' are not things that you can rely on. According to the latest report, 75% of Americans use simple and weak passwords.
The next mistake the travelers make is believing that they are not important enough to attract hackers. Even if you're a regular person with no political or commercial background, your data can be a magnet when it is accessible.
2. You can't watch your favorite content
Do you know that Netflix and other streaming platforms have content restrictions depending on the viewers' location? While being in the USA, you can watch a bunch of movies and series but as soon as your IP seems to belong to a Canada provider, some of the videos become unavailable. People don't usually think about geo-positioning until they travel and face the lack of interesting content. So, wherever you're going, take some time to install a VPN because this tool can do wonders. You just change your IP address so that the content provider believes that you're coming from a different country. The point is that you have to choose reliable software with numerous servers in different parts of the world. Remember that the closer your server is, the better is the Internet connection and therefore the quality of the video.
3. You can't access different websites
We have already mentioned that China doesn't allow its citizens and tourists to use Facebook or WhatsApp. Actually, it is not the only country with strict censorship rules. If you're traveling to UAE, Saudi Arabia, Russia and so on, you need to have a VPN installed on your devices. Even developed countries like the Turkey and Qatar block popular social tools.
Pay attention to the fact that you can't install a VPN when you're already in China or UAE. You need to do it in advance if you want to make use of this software. Otherwise, you can find yourself in a situation when you can't reach out to your family and friends. Besides, your online activity can be monitored, and there is no way to hide it without a VPN.
4. You pay a lot for different travel deals
In the same way that streaming services decide which countries' users may or may not have access to their content, marketing managers of various companies are experimenting with discounts. A good VPN offers you the ability to connect to a variety of servers to choose from (when you choose a paid subscription, this list of servers expands). And this means that you can compare offers in search of the most profitable. For example, you want to buy airline tickets for your next destination, and you can check multiple servers to find the best price. Look at the list of 5 advantages of VPN when travelling.
5. You never know who watch you
It is your personal choice to believe or not to believe in a variety of conspiracy theories, but many people believe that the government is watching them. This may not only be about the government, you probably noticed that you receive personalized advertising after discussing some products or services with a friend. You can walk past a restaurant and immediately receive a message inviting you to visit that restaurant and sample seasonal dishes. That doesn't sound like much, right? When you travel and want to keep your data private, you can use VPN.
Firstly, no one can see your IP address and a real location. Secondly, other users also connect to this server, which means that you are not the only user with this IP address. This helps to protect your identity from any outside interference, whether it goes about marketers, local authorities, or other parties.
+5 Extra Tips to Protect Your Personal Data When Traveling
First of all, it is really important to choose the best VPN, a tool with a rock-solid reputation. Always check reviews before you make a decision. It is also a good idea to start with a free trial or free test period because this period gives you a chance to weigh all the pros and cons and choose the best solution that meets your needs.
Along with a VPN, you also need to follow these basic rules:
Ensure that your applications are updated. Hackers are looking for vulnerabilities in the apps, and old versions are less likely to be protected with appropriate patches and security features.
Use reliable passwords and ensure you protect your devices with a two-factor authorization. You have no chance with a password that consists of your birthdate, email address, or pet's name.
Contact your bank before the trip. If you don't want your cards to be blocked suddenly, ensure that your bank knows about your traveling plans.
Use a personal static dedicated IP from your VPN service. With personal static IP address you can open use your online banking without fear being blocked by your bank. In this case your IP address is not being changed when traveling, so it  looks like permanent for your bank.
Install necessary applications in advance. You need maps, dictionaries, and other apps that will help you in a new country. However, pay attention to the Terms of Use, Privacy and Security policies, and other documents.
All these tips are pretty easy to follow and they don't require you to invest a lot of time and effort. The point is that you should be mature and responsible so that your travel comes with positive emotions only!
Author Bio
Jenson O'Connell is an expert from a software testing outsourcing company who writes on issues surrounding IT development and technology. He regularly publishes in many high-profile editions and helps his readers understand trends in the tech industry and programming infrastructure.