How to Unblock Websites in Saudi Arabia with a VPN
11 June 2016
Internet usage in Saudi Arabia has increased, but Internet access is also heavily censored by government. 
In 2014, Reporters Without Borders describes Saudi Arabiagovernment as "relentless in its censorship of the media and the Internet", and ranked Saudi Arabia 164-th out of 180 countries for freedom of the press.
The country's filters primarily ban material that could be considered critical of Islam.  Besides that, Saudi Arabis's authorities block political criticism, dating services, sexual health resources, gay and lesbian content and etc. Access to social networking websites is limited. 
The Royal Decree On Press and Publications set up the initial government regulation of Saudi books, newspapers and magazines, as well as all foreign publications sold in the kingdom. In addition to obtaining government permission, the Saudi citizen creating and distributing the content, had to ensure that it did not cause sectarian tension among citizens, or insult the royal family or Islamic values.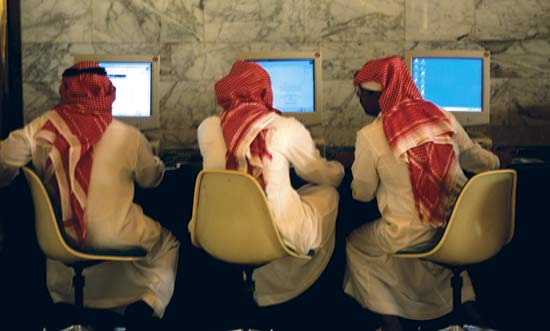 VoIP services like Skype, Viber and Whatsapp are also banned in Saudi Arabia by authorities. In 2006 the Saudi government blocked access to Wikipedia and Google Translate, which was being used to bypass the filters on the blocked sites by translating them
 If you plan on travelling to Saudi Arabia, sign up for a VPN before you go to overcome the content block in Saudi Arabia, and prevent your activity from being monitored and tracked. A VPN will allow you to appear to log on from a different location, outside of Saudi Arabia, thus overcoming the internet restrictions.
Saudi Arabia's government tries to restrict access to VPN services by using the special technologies to determine that client uses OpenVPN connections. OpenVPN by default uses 80 port and other commonly used ports. So, the Saudi Arabia's authorities are able to block the traffic.
Some savvy VPN providers like Trust.Zone VPN use the special technique to avoid blocking by ISP or government agencies in Saudi Arabia. For instance, Trust.Zone VPN is able forward OpenVPN traffic through port 443.
443 Port is the default port for HTTPS (Hypertext Transfer Protocol Secure). The protocol is commonly used by browsers for secure connections when you type https:// in a browser. There is no sense to ban port 443 by censors in Saudi Arabia because blocking the port 443 breaks the access to the Internet.
Trust.Zone VPN recommends a forwarding OpenVPN traffic through port 443 as the best way to obfuscate VPNs in Saudi Arabia. With Trust.Zone VPN service, you are able to unblock Wikipedia and Google Services in Saudi Arabia, unban VoIP services like Skype, Viber and Whatsapp in Saudi Arabia. Besides that you are free to bypass censorship  in Twitter, Facebook and other social networks, watch YouTube videos in Saudi Arabia without restrictions and access any website in Saudi Arabia you need.