Why Do You Need a VPN for Online Banking While Traveling Abroad?
18 May 2018
When you are travelling abroad your data and personal information could be revealed to other. With a VPN, you are able to keep your internet connection and data private. So, why do you need a VPN while traveling abroad? There are 3 major reasons to do that.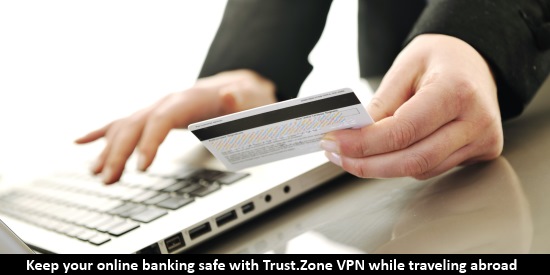 Prevent online banking lockout.
Access to your online banking account could be blocked when you travel abroad. The reason is accessing the website from another country looks suspicious for your bank. That's why your account could be temporarily blocked. You need the IP address of your home country to protect yourself and avoid account blocking. A VPN allows you connecting to the server in your country.
PayPal has many horror stories when user accounts were blocked after users tried to access PayPal account from another country.
Keep your data secure and private with a VPN while accessing your bank account in foreign country.
VPN encrypts the traffic and creates a secure connection between you and your online banking website. So, your credit details data, online identity and data can't be exposed to hackers or other 3d parties.
Use public Wi-Fi networks for online banking without any risk when you are abroad.
With a VPN you are able to access your online banking websites and other payment services in foreign public Wi-Fi networks without risk – in the hotel, airport, restaurant and etc. If you are at airport and using public Wi-Fi with VPN, all of your traffic will be encrypted anyway, so nobody using the same Wi-Fi will be able to access your data. Besides, you should follow other tips to stay safe while using Wi-Fi in public places.
One of the best VPNs for safe online banking available today is Trust.Zone VPN. If you are abroad, you need a fast and secure VPN service with full encryption to keep hackers and others from sniffing and tracking your outgoing and incoming traffic. Trust.Zone VPN replaces your real IP address with IP address of your home country, secures and encrypts your internet connection while online banking.
Trust.Zone VPN is available for all devices and major OS – Windows, Mac, Android, iOS, Linux.
Protect your online banking when you're abroad and prevent anyone from tracking your online banking activity – Use Trust.Zone VPN