10 Reasons Why You Need a VPN While Traveling Overseas
23 January 2017
When you travel overseas you definitely need a VPN to use.
Do you know that with a VPN you are able to protect your identity online, save money while purchasing music, video and other digital goods online, unlock censored websites, access geo-restricted content and many more? Below, we have collected 10 reasons why you need a VPN while traveling abroad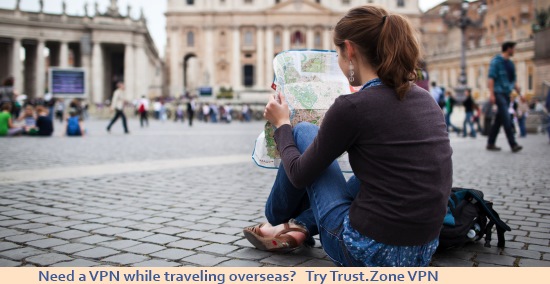 Protect your privacy and data while traveling abroad. Protect your identity from thefts.
VPN secures your computer's internet connection to guarantee that all of the data you're sending and receiving is encrypted and secured from prying eyes. A VPN sends all your internet traffic through an encrypted tunnel to another computer. This other computer sends out your request and sends you back the data still in an encrypted form. This means all your ISP and potential government agencies can see how much traffic you use, not what you are using it for.

Prevent Your Online Banking Lockouts.
Access to your online banking account could be blocked when you travel abroad. You need the IP address of your home country to protect yourself and avoid account blocking.

Stay safe while surfing the web on public Wi-Fi networks – in the hotels, at the airports and etc.
Even if public Wi-Fi networks have a password, you are sharing a network with tens of other people. It's not safe. If you are in the hotel and using public hotel Wi-Fi with VPN, all of your traffic will be encrypted, so nobody using the same Wi-Fi will be able to read your data or any messages you sent

Stay connected with work.
Business travelers use VPN to stay safely and securely connected with their company's network while they are abroad.

Bypass online censorship.
When you visit the country that actively censor Internet sources and web traffic, you can still access the most web sites you need. The solution is a using of VPN service. For instance, if you are traveling to China, you can't access Facebook, Twitter, Google, Gmail and other popular websites. VPN allows you to change your virtual locations and bypass online censorship

Get Low Rates on VoIP services like Skype with a VPN.
With VPN you are able to connect to the virtual location in the US and Skype will think that you are calling from the U.S. and will give you the cheaper Skype calling rates.