10 Myths And Facts About VPN Technology
4 July 2020
A Virtual Private Network (VPN) has become quite a big deal in the digital world due to the sheer versatility and the number of useful functions. VPN providers are getting increasingly popular among digital nomads as reports show that approximately 25% of users globally take advantage of such services. Here's what other studies say about it:
The global VPN market will reach over $50 billion by 2024.

50% of people say they use a VPN for access to better entertainment content, while 34% claim they do it to access social networks and news services.

 Almost 70% of VPN users are 34 or younger.

Although the new data-protection technology keeps attracting more people every day, it is important to emphasize that many users still do not understand the functioning of VPN to the fullest extent. In such circumstances, it is essential to get acquainted with the basics and figure out the truth about VPN.
We identified a lot of important myths and facts about VPN technology, so keep reading to learn what is true and what is false in this story. Let's take a look!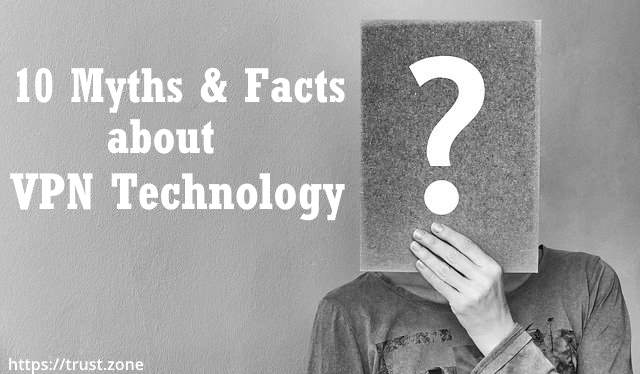 Popular VPN Myths
We begin the story with some of the most popular VPN myths. Even though you can see dozens of false or even hilarious statements on the Internet, we decided to debunk the six most common misconceptions. Here they are:
VPN is complicated
Way too many users don't want to bother with VPN because they believe it is complicated. You can hear a lot of people saying that it's hard to configure VPN settings and start using this data-protection technology. This is simply not true unless you are a type of user who doesn't know how to open a new tab in web browsers or send emails with an attachment. Modern VPN platforms are very simple and intuitive, so you won't have a problem setting it up.
VPN makes you completely anonymous
Another common misconception is that a VPN makes users completely anonymous. Jake Gardner, a world-known cybersecurity expert, claims you don't need to be an IT geek to know this is false: "Just like any other online security service, VPN will keep you protected to the certain point. Its 256-bit encryption is hard to break for 99% of hackers, but it definitely doesn't make the system impenetrable."
VPN slows down the Internet connection
A VPN service is based on a two-fold process of encryption and decryption, which does require some time and resources to get the job done flawlessly. This can slow down the Internet connection in case you are using a free or low-performing VPN platform. But if you opt for a trustworthy provider, rest assured you won't be having any issues with the speed of your Internet connection.
Free VPN is just as good as paid
Speaking of trustworthy VPN providers, you should keep in mind that free providers can hardly ever match paid platforms. If you only need a VPN to stay safe while using public Wi-Fi, then you might as well go for the free version. But if you are in need of a safer solution for business or any other purpose, it is vital to pick a safer and more reliable paid plan. You can try 3 days free TEST plan with 1 GB data restriction at TrustZone before starting purchasing the subscription
All VPN providers are the same
We've just explained the differences between free and paid VPN providers, but you should also learn that there are major distinctions between different VPN services. Generally speaking, the best platforms will come with the following features:
A hefty price tag compared to less reliable platforms
Much better service with enough speed to handle major traffic spikes
The ability to support multiple platforms and devices
Only criminals need VPN
As a data protection system, a VPN is extremely popular among shady businesses and criminals who are trying to do illegal stuff online. But that is only one side of the coin since VPNs are very useful for other purposes, too. For example, you can use it to access content that is restricted in your region or simply to increase your online security. In other words, VPNs are valuable for all users and not just criminals.
Popular VPN Facts
Now that you've seen the list of VPN-related myths, it is time to check out the truths as well. Here are six facts about VPN technology:
VPN providers keep your data
VPN providers need to manage and administer user-related information simply because it's how the system works. The good thing is that they the best VPN services do not collect information in order to share it with local authorities or governments. On the contrary, they do it to analyze the system and check and resolve possible bugs and errors. At the same time, some of them will share information with third-party advertising platforms. Trust.Zone VPN doesn't store any logs, located in Seychelles. It doesn't share any data with third-parties, ISP or governments. Besides, TrustZone supports Warrant Canary
VPN does not make you 100% safe
A VPN can do many things for you and keep you safe, sound, and anonymous. It works well for the vast majority of users, but don't forget that you are the one who spends time online and controls your activities. If you receive and open a suspicious email with a "too good to be true" copy and subject line, VPN providers cannot protect you. You still need to be careful not to open and download strange or suspicious links, programs, and documents.
You are not totally anonymous
We mentioned this one in the myths section, but it's necessary to point it out once again – no one is completely anonymous online. What do you get with a VPN? The system provides you with the maximal level of anonymity, security, and privacy, so it will be difficult to find and identify you on the Internet. But a very skilled hacker or security operator will be able to do it sooner or later (if needed).
VPNs can save you money online
A good VPN platform will make your accounts protected, but that's not the only way it can help you save money online. Namely, a lot of people use VPN providers to avoid costly subscriptions to websites, streaming platforms, flights, hotel bookings, and similar. The point is that online businesses use geo-targeting to adjust pricing policies, so you can pay less or avoid fees simply by changing your online address.
It gives you access to restricted content
If you've ever faced a website that restricts content to some areas, you know how awkward and annoying it may be. This is where a VPN comes in handy as you can use it to overcome the obstacle and access blocked content on your favorite websites.
Some countries banned VPNs
With everything we've stated so far, it is clear that some countries may not appreciate the benefits of a VPN. This is exactly why dozens of countries have already banned VPN providers, including China, Russia, and Iran. Qatar blocked many VPN services, Saudi Arabia also restricted VPN usage. They mostly do it for political reasons and in order to strengthen national security.
The Bottom Line
VPN providers give you an additional layer of online security, but only if you use the right service and understand how it really works. In this post, we analyzed important myths and facts about VPN technology. We hope it helped you figure out the true purpose of VPN, but make sure to write a comment if you have other questions – we will reply to you promptly!
Author BIO
Alice Jones is a blogger and a member of the best writing paper service. If you need help with dissertations, Alice is the person to consult with. She is interested in all sorts of topics, including IT, business, and freelance. Alice is a passionate traveler and a dedicated yoga practitioner.