Skyrocket Your Results By Implementing VPN Technology: 3 Simple Steps
23 July 2020
Although it's not a new IT concept anymore, a VPN is still not as widely accepted and acknowledged as it should be. Less than a quarter of internet users have used VPN at least once in the last 30 days, which means that it still has a long way to go before it reaches the mainstream status.
However, the simple truth is that VPN providers can make your life and business much easier thanks to the sheer versatility of the service.
What Is a VPN and How Can It Serve Your Business?
VPN stands for Virtual Private Network and refers to the encrypted connection over the Internet from a device to a network to ensure that sensitive data is safely transmitted.
Individual users mostly rely on remote access VPN to establish a connection between their computers to the remote network. On the other hand, businesses will likely utilize a site-to-site VPN to securely share and exchange information among employees in distant locations.
The question many businesspersons are asking is this: How does a VPN system improve the functioning of my company? It's a simple question, but we can give more than one answer to it. Let's see how things work here:
VPNs are a low-cost investment. 
You can get full service for a few dollars a month, which is much cheaper than any other online service. For example, TrustZone VPN plans starts from $1.99/mo for 3 YEARS (promo code 3YEARSDEAL)
 VPN keeps you and your company protected.
It does solidify your privacy and protect your digital data. Moreover, some VPN services like TrustZone provide users with 100% anonymity online
The system boosts productivity or remote employees.
If your team members are frequent travelers, they might be afraid of using public Wi-Fi hotspots worldwide. This is not a problem if they use a VPN as it will make employees feel safer and ready for work.
VPN give your clients peace of mind.
If your clients know you're administering confidential information about their companies, they will appreciate you working with VPN providers to protect sensitive business data.
It allows you to access internal networks and programs remotely.
This is another benefit for out-of-office employees because VPN hides the real IP address and enables connection to the closed business platform.
How to Set Up a VPN System
With everything you've read so far, the pros of using a VPN require no further explanation. But there is another segment of the subject we need to discuss and that is how to set up your VPN platform in a few quick steps. We prepared a 3-step guide for you:
1. Create a new account
You can choose a paid VPN provider or even opt for a free VPN service, but you will have to create a new account in each of the two cases. The best and most reliable VPN providers don't ask for any of your personal information such as the address or credit card details, but you do have to create an account to activate the service and establish a VPN connection.
Trust.Zone VPN service has 3 days FREE TEST period to try. No credit card details needed during the Free Test period.
And one more thing to mention here – you need to provide a valid email address when signing up for a VPN account.
2. Install a VPN software
Now that you have a unique account, you can initiate the installation of a given VPN service. It is almost always a very simple and intuitive process, but you can find a detailed manual on your provider's official website. The guide hides in one of the following categories: How-To, Manual, or FAQ page.
Keep in mind that different operating systems and devices may follow different installation guidelines, so it's good to be careful here and use the explanation that matches your type of device/software. For example, this is how Trust Zone categorizes its clients: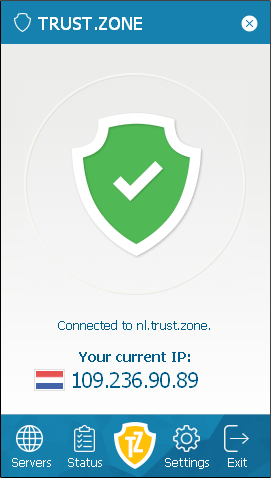 - By operating systems: Windows, iOS, Android, Linux, Majaro, Ubuntu
- By router type: DD-WRT, Roqos Core VPN router, Tomato, Asus Merlin and other OpenVPN compatible devices
- Other devices: Smart TV, Xbox 360, Play Station, Amazon Fire Stick, Amazon Fire TV and etc
If you still can't make it through the setup alone, you can send a message or call your VPN provider to give you further instructions on how to implement VPN technology.
3. Put your VPN to work
Now that the VPN has been installed successfully, all it takes is to launch it and start using it in everyday work. The best thing about it is that the program itself will take care of everything upon installation, so you only need to take a few more very simple steps.

First of all, launch the VPN service on your device. After that, you should log in to the VPN account you've created recently. And thirdly, you need to pinpoint the "Connect" option and click it. As it is the most important function on any VPN platform, you will identify the connection button almost instantly.
As soon as you establish the VPN connection, your provider will connect the device to the nearby server and you'll be able to see the connection signal. In other words, you are now free to browse the Internet without the fear of losing precious information or revealing business-related data to outsiders.
The Bottom Line
A trustworthy VPN provider can significantly improve the functioning of your business, but you have to make the first move and embrace this simple but highly practical technology.
AUTHOR BIO
James Murphy is a writer at the assignment help UK. Apart from writing college papers, James is covering a wide range of other topics such as social media and digital marketing. He is a father of two lovely toddlers and a dedicated supporter of the New York Yankees.