How to Execute a Spotless Cybersecurity Strategy for Your Venture
21 April 2020
Whether your brand operates as a retail company with minimal web presence or a service-based business such as cloud data management, online banking or client servicing, cybersecurity represents a clear precaution worth investing in. According to Cyber Defense Magazine, 43% of all cyberattacks are aimed at small businesses, while only 38% of global organizations claim to have the means and precautions in place for a possible cyber threat.
When it comes to cybersecurity in a corporate environment, the more employees and associates you have, the higher your odds become at making a mistake and activating email malware or another means of illicit data access. However, taking the necessary steps to introduce a structured and monitored cybersecurity strategy to your company can effectively mitigate the risks of such an event. Here is a list of steps to write a cybersecurity strategy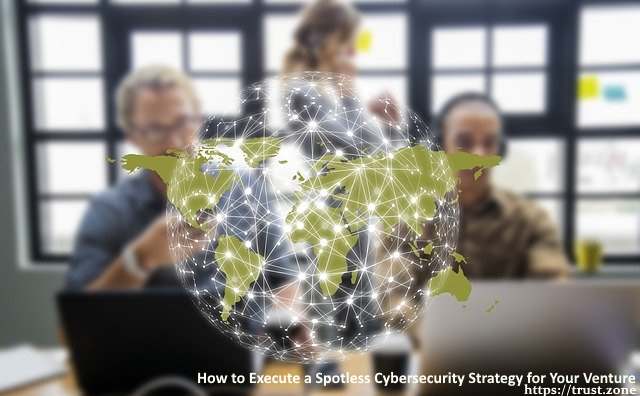 Appoint a Dedicated Cybersecurity Team
The first order of business in terms of outlining your cybersecurity strategy is to assemble a dedicated team to do so. Whether you appoint several IT specialists or ask for volunteers with tech knowledge to be part of a cybersecurity team, it's worth noting that the project should not be assigned to a single person.
A small team of people working autonomously to implement a well-designed strategy for everyone's benefit will be able to do so more quickly and in a structured manner compared to a single person. Don't take any cybersecurity measures ad hoc and without proper planning or announcements for your employees – let the team create an implementation plan which suits their skills and workflow and the results will be that much better for it.
Implement a Rotating Authentication System
When it comes to workstation authentication, you have to assume that your employees are not tech-savvy, regardless of how digital or cloud-based your business model may be. With that in mind, it's good practice to implement a security system which will require your employees to rotate their passwords once a month or every few weeks as a precaution.
There are several ways to achieve that, whether through auto-generated passwords from your cybersecurity team or through the introduction of strict password requirements for the employees to follow through.
Limit OS Modification Freedom
Workstation personalization is an important aspect of modern office space, one which allows employees to express themselves in minor but significant ways. However, while the plan to the change desktop background or download family photos for the sake of personalization might be noble, it can also lead to severe cybersecurity issues for everyone on the LAN network.
To mitigate this, you should limit your coworkers' access to internet platforms and OS modification options and communicate why the step was necessary to everyone on the office floor.
VPN platforms are often associated with access to different streaming service libraries which are not available in your particular region.
"With the ever-increasing location tracking, cookie data storage and other means of leaving digital trails online, implementing a VPN service in your business is not so far-fetched. It will allow for maximum privacy and data protection for your employees, not to mention the increased trust of your clients due to increased emphasis on online communication and data safety."
However, VPN can also significantly improve your cybersecurity strategy by masking your coworkers' IP addresses and confusing potential hackers about your location or intent on the web. This makes a reliable VPN provider like Trust.Zone a must for any business with extensive internet use since it will add an extra layer of cyber protection to every workstation in your company.
Make Frequent Data Backups
Regardless of how cloud-based your services may be, there will always be local data worth keeping safe for future reference. From financial records and client support tickets to content marketing materials, backing up your business' essential data regularly is a must for a good cybersecurity strategy.
You can opt to use physical backup drives to collect local data and store it off the network or use a secondary server or cloud storage services to keep copies of your data as a precaution. If a cyber threat does manage to creep into your network, scrubbing the servers and rolling back to backups which are only a few days old is a great alternative to losing everything from your files to client trust – keep your data safe at all times.
Educate Employees on Cybersecurity
Lastly, the importance of employee education in regards to cybersecurity cannot be overstated. Even the most expensive and elaborate antivirus software won't save your company if employees try to access forbidden sites or malware ads on the web without you knowing about it.
Keep Your Eyes Open (Conclusion)
Once you implement the necessary cybersecurity strategy steps into your business model, you should keep an eye out for new innovation, threats and potential bottlenecks down the road. Just like any other field out there, malware, viruses and social engineering hacks introduce new attack vectors to the market on a daily basis. Stay on your toes and look out for ways to protect your business and employees from potential cyber threats on a constant basis and the work they do for your clients will reflect those efforts.
Bio: Helene Cue is a professional Content Creator and Editor at Best Essay Education and Supreme Dissertations writing services. Her career portfolio consists of goals to deliver approachable and practical content to readers across the globe through essays, articles and case studies.