5 Tips to Remember When You're Choosing a VPN Provider
8 July 2020
With the proliferation of new tech and the advancement of existing ones, like web tracking tools, people's data is increasingly becoming exposed to marketers, data companies, and hackers.
Add to this the fact that relevant regulatory bodies have all but repealed all data protection policies for consumers. This reality has left people with no choice but to take steps to protect their data and identity.
A report by Pew Research stated that 45% of Americans' online privacy concerns have gone up considerably since 2019. According to the GlobalWebIndex report - 26% of netizens have worked with a VPN at least once and 1 in 4 VPN users accessing daily – This statistic is only going to grow.
How do we utilize a VPN service provider to ensure that we are protected from data vultures while surfing the net?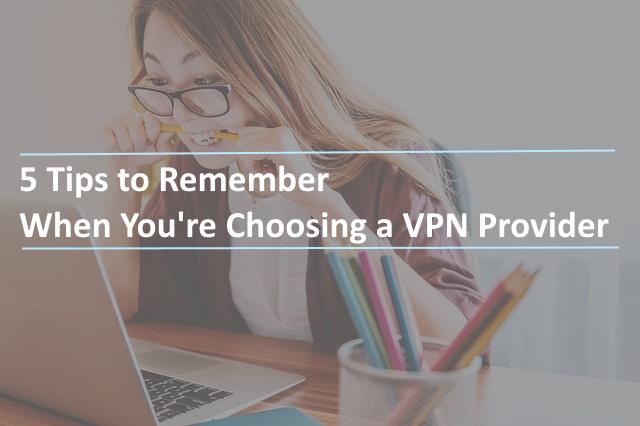 How does a VPN work?
Whenever you access the internet with your desktop computer, laptop, mobile device, or even from a smart home system, your information is open to the internet.
And for as long as you stay interacting with the internet, your information is fair game to anyone skilled at intercepting data. Your data is even more vulnerable when you're using a public WiFi network—at least with your internet subscription, you're the only one with access to it.
With a VPN, your internet traffic reroutes to another server through an encrypted tunnel. This makes it look like you're browsing with a computer in another part of the world. Plus, this encrypted rerouting ensures that your data can't be intercepted. And in the rare case that it is, it is incomprehensible to the interceptor.
For example, you live in France and are looking for online streaming services. These services will see you as a visitor from whatever country you set your VPN location instead of France. So, if you want to get an access to US Netflix content in France then you have to connect to the VPN server in the US. With TrustZone VPN service you are able to access any Netflix content in any country
While the benefits of a VPN can't be overstated, not all VPNs are created equal. It's not about picking any VPN service from the first "best VPN" list you see.
Before you deem any VPN good or bad, use the tips in this list below to guide you in choosing the right VPN for your needs.
The geographical location of a VPN provider
We can all agree that the hallmarks of an efficient VPN are absolute anonymity and information protection. However, not every VPN service can boast of these. And this is why you have to be careful of the geographic location of the VPNs you're considering.
There are countries that instruct and deploy surveillance on VPN providers. In some of these countries, the VPN providers are demanded to turn over their data. You want to stay away from such regions.
Pick a VPN service that doesn't operate from within any of the countries listed among the "14-eyes". These include Canada, the UK, USA, Australia, New Zealand, and other third-party countries.
These countries have a signals intelligence agreement in place that allows them to surveil people's internet activity. Trust Zone VPN is a good option if you want to steer clear of these countries. TrustZone is located in Seychelles, under offshore jurisdictions, out of the 14-eyes country list. Besides, TrustZone supports Warrant Canary, a method by which a TrustZone VPN services aims to inform its users that the TrustZone has not been served with a secret government subpoena.
Find out if they record your data
If a VPN provider has access to your data at all, that is already a bad sign. You're using a VPN to secure your data, not to give access away.
To put it succinctly, if a Virtual Private Network service records your data, they are extremely unsafe to use. Many free VPNs are guilty of this. They give you access to their VPN, but they use it to record all your internet activity. By and large, free VPNs are not worth the trouble either.
Evaluate their reputation and social proof
This tip doesn't just work for assessing VPN providers. It is an established way to evaluate companies and a myriad of technologies as well.
You're supposed to trust your VPN provider even more than your internet provider. So going for a VPN provider with a considerable reputation and mostly positive reviews  such as Trust Zone VPN — is a good tactic.
Check the kind of encryption they use
This links to the previous point. While social proof and reputation are good determining factors, they are not enough. You need to go beyond what is being said about a provider and learn how they protect your data.
The biggest security question in this regard would be to know the kind of encryption they use. Typically, a good VPN should be using a 256-bit encryption. For example, TrustZone uses AES-256 and RSA-4096 encryption algorithms.
It is still possible to crack these encryptions, but it is a serious nightmare for hackers, and the success rates are meager.
Consider its speed of operation
Besides your internet speed, you also have to consider how fast a VPN runs. The task of first encrypting your data and transferring it to another server takes a lot of processing power. This encryption can slow down the VPN's speed.
To deal with this, you may have to opt for a VPN provider operating from your country. Of course, this would be self-defeating if you live in one of the 14-Eyes countries.
Also, this wouldn't be ideal if the site you're trying to visit restricts visitors from your country. So beyond speed, there are other factors to consider before deciding for or against a slow or fast VPN.
Final Words
These tips will help you narrow down your VPN options, but ultimately, the choice is yours. Beyond the VPN attributes, consider your unique situation and why you need a VPN in the first place. This will make your decision more apparent.
Author's BIO:
Frank Hamilton has been working as an editor at essay review service Online Writers Rating and an author at Best Writers Online. He is a professional writing expert in such topics as blogging, digital marketing and self-education. He also loves traveling and speaks Spanish, French, German and English.