How Fast is Trust.Zone? Speed Tests from VPN Review Websites
1 March 2023
Did you know that VPN Comparison and VPN Reviews websites are checking the quality of leading VPN providers every day? They do advanced testing and research of VPN speed, privacy, leaks and many more.
Here are some latest speed and tests of Trust.Zone VPN by independent souces (links to original reviews are attached)
Using our system of data collection, research, and speed testing we've assembled the most comprehensive list of metrics to measure every VPN in the industry against.

This means that for any results we rank near or at the top of their respective categories, you know they've actually earned that spot instead of just shelling out extra advertising dollars for it instead.

In our eyes, speed is the probably the single most important metric that any prospective VPN buyer should be aware of when making their final decision.

Once the VPN is connected to the fastest server in a specific region, we then run six tests in total to determine the overall average. The first three are dry runs which connect to the closest server here in Portland, designed to gather data for a control of what the unrestricted non-VPN speed looks like at the hour we tested locally.
Check here 16 speed tests made by VPN.com. Speed tests included: The US, Canada, Australia, Japan, Brazil, Singapore and other. All tests are recorded with YouTube
 For example,
Trust.Zone
VPN speed for Los Angeles server in the US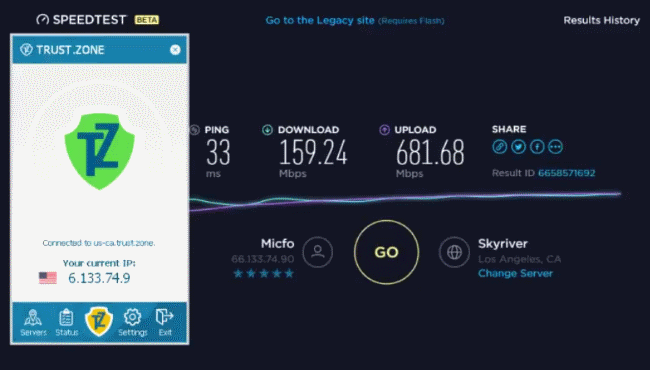 New York VPN server tests: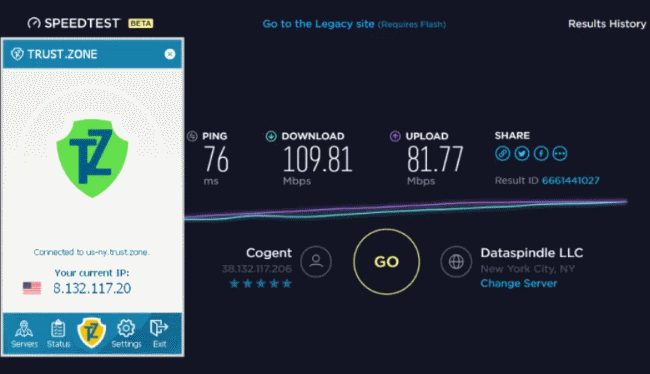 See other speed tests
here
.
VPNBasen is a well known Swedish tech- and privacy portal. The site's main focus is to provide news regarding internet privacy, censorship and file sharing. 
In the past months VPNBasen has been monitoring the EU copyright directive, Youtube copyright strikes and new VPN-standards.  

The VPN comparison service tests many VPN for performance, no logging, no IP leaks  no DNS leaks.

VPNBasen makes speed tests from different locations to test performance and quality of the best VPN services
Here are speed test results made be VPNBase (see other  TrustZone VPN speed tests here)

Trust.Zone provides green light for torrenting and p2p on all servers. 
allbestVPN is a VPN review platform with a team of highly expert technology enthusiasts; analyzing, testing and providing the best judgement about VPN providers.

They do not restrict to reviews only, they provide useful guides, step-by-step how-tos, and detailed tips.
We recommend Trust.Zone because it's a light VPN service that offers good security on a budget. Having peer-to-peer (P2P) file sharing is great for those who make use of bits of the file from other users, which makes their downloads smooth.
We tested a few servers in the US and the Europen region to record the speed. Let's discuss them:

US Speed Test

Ping 195 ms
Download: 60.61 Mbps
Upload: 36.75 Mbps

EU Speed Test

Ping: 43 ms
Download: 68.46 Mbps
Upload: 46.12 Mbps

We kept a benchmark of 97 Mbps for download speed and 53 Mbps for upload speed. If you compare the speeds, then the EU did much better than the US with a 29% fall in download, and a 13% in upload speed.
VPNpro makes it easy to choose VPN by providing in-depth reviews of a wide variety of VPN providers. They review  all new and old VPN providers to help users find the one that will fit their needs the best.

All the reviews and ratings  are constantly being updated with the newest information, so readers can get all the current pricing, speed, performance, servers, and privacy information without having to look elsewhere.
We experienced  average and quite fast speeds while using Trust.Zone VPN.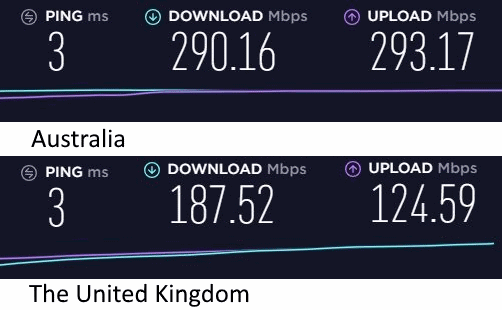 We Even the dedicated online video streaming test (fast.com) showed good enough speed for 4K streaming.
All of the VPN reviews on Restore Privacy are based on extensive testing to see how well the VPN protects your privacy and security.

Every VPN is tested for IP address leaks (both IPv4 and IPv6), DNS leaks, reliability, speed, and how well the features work.

Other considerations include privacy jurisdiction, company policies, trustworthiness, and the track record (background) of the provider.
Speed testing results were overall pretty good. I could typically get around 40-50 Mbps on all European servers. I was impressed with some of the server speeds in the US, which are further away from my location in Europe and typically slower. But with Trust Zone's Massachusetts (USA) server, I could again get close to 50 Mbps.
Security and privacy testing results:
Trust Zone did well in all tests for this review
.
Windows – I thoroughly tested the Windows VPN app with different servers. I did not find any IP address leaks, DNS leaks, or WebRTC leaks.
Mac OS X – I tested Trust Zone on the latest version of Mac OS Sierra using Tunnelblick, which is free, open source VPN client for Mac OS. I did not find any problems or leaks through extensive testing.
Android – I tested Trust Zone on android using the built-in IPSec configuration. I did not find any leaks or problems.