Black Friday Shopping 2022: Here's How VPN Can Help Secure Your Data
9 November 2022
Are you planning to shop for Black Friday online this year? 
According to report: "Americans spent a total of $13.5 billion online previous year during Black Friday, and we're expecting that number to go even higher this year."
Millions of people take part in Black Friday shopping to save a ton of money. That's why it's so important to protect yourself from online fraudsters and identity thieves this holiday season.
If you don't have a VPN to protect your identity while you shop, you'll be exposed to all sorts of security issues and identity theft. That means your credit card information could be stolen, your location could be tracked, and your browsing history could be seen by advertisers and other hackers.
Besides, VPN allows you to get lower prices during Black Friday for your favorite products online by replacing your original location.
In this post, we'll show you how using a VPN during Black Friday can keep your purchases secure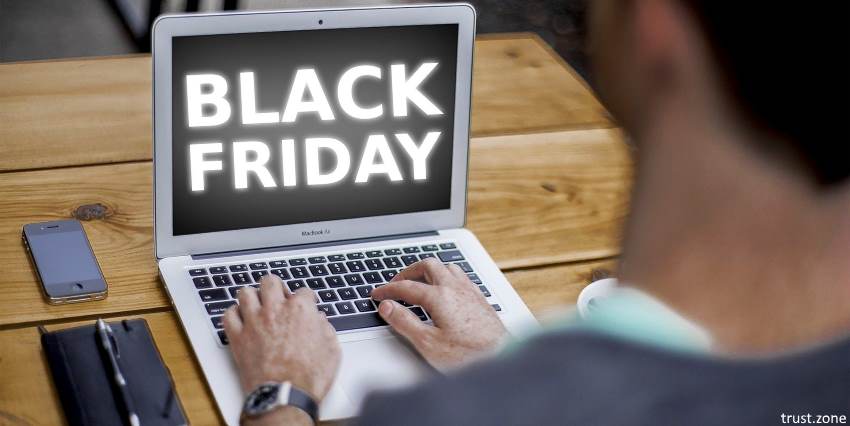 VPN vs other security measures
Incognito Mode - Your browser will not save cookies or track your searches anymore when in this mode
Encryption Apps - Offers end-to-end security between two peers, but only between them.
Web Proxy - This gives dynamic addresses so that IP addresses are not predictable
Antivirus Software - Detects malware and viruses before they can be run, providing good protection.
VPN - VPNs offer all of the above plus the ability to encrypt all your internet activities preventing them from being tracked.
What is a VPN?
A Virtual Private Network is a network that allows you to send and receive data securely, and it's typically used to protect sensitive information and bypass geographic restrictions.
Most people use a VPN to access blocked websites and to keep their internet footprint private, but there are many other uses, such as hiding your IP address, avoiding data throttling, and avoiding surveillance.
A virtual private network is a software or hardware product that provides a secure connection for remote users to access the Internet and their resources through an encrypted connection.
Keep in mind that a VPN only protects unwelcome eyes from seeing your internet activities and information, it doesn't prevent viruses on your Mac, PC, or mobile devices. So avoid clicking on apps or links that have questionable origins, and always be vigilant when doing anything online.
6 factors to consider before choosing a VPN
While the benefits of a VPN are clear, it can be difficult to choose the best one. There are many different factors that you should consider before making your purchase, including whether it has a kill switch and if it works on all devices.
Encryption level
Make sure your VPN uses AES 256-bit encryption, with OpenVPN or ikev2 protocols, and Sha-2 authentication. This is what banks and governments mostly use and only the best and most trusted VPN services use this level of encryption.
Security
Check if your VPN service does not use Hard drives and only uses Ram drives. This is to check if they store your data logs within their infrastructure. Read their privacy policy on the subject matter.
Location-based blocking
Look for a VPN that lets you block your IP address from certain countries. This is especially important if you plan on using a VPN during Black Friday and want to avoid being tracked by law enforcement agencies.
Speed
Look for a VPN with a speed that's at least as good as the speed you'd get without using a VPN. Something that's fast enough to make up for the little speed hit you take from using a VPN.
Customer support
It's always a good idea to buy a VPN with a great customer support team. If you have questions or problems, you'll want to know that someone is on standby waiting to help you.
Pricing
Finally, you'll want to make sure that the pricing is fair. VPN providers should strike a balance between price and features. If signing up for a premium VPN provider, it should provide the best encryption, speed, and compatibility with devices. Don't be fooled by free VPN providers because there is no free lunch when it comes to your privacy and security.
Base your decision on what you will be using your VPN for, and if it involves a lot of online shopping during Black Friday, you're better off with a premium service VPN provider.
To be sure, sign up for a free trial account and only select VPN providers with a money-back guarantee or try trustworthy VPN like TrustZone with 3 days free period and no need to enter credit card details.
How VPN secures your data during Black Friday Sales
Black Friday season is awaited by a lot of bargain hunters and regular customers alike. This season brings a buying frenzy that both ecommerce businesses and bad actors keep an eye out for. Having a VPN is a must during this part of the year and here are the reasons why:
1. Using public network access or WiFi
Online retailers track what you buy and send you targeted ads. Even if you're careful, there's no guarantee that your purchase won't be recorded, especially when using compromised public networks like free wifi in establishments.
2. Watching geo-blocked shows
Black Friday will usually have deals for streaming platforms so this is probably a great time to have a VPN to get their whole library of shows. You'll no longer be limited to what's available in your part of the world since VPNs give you the ability to simulate a login from any location.
3. Ability to use your VPN on all your devices
VPNs can be used on a plethora of devices and platforms. Whether you make your purchases online at home using your desktop or outside using your mobile phone, you are assured protection.
4. When your ISP is throttling your data
Internet service providers have a habit of throttling your data when congestion problems in the network arise. A VPN protects you by not giving your ISP information they can recognize and filter.
5. Be anonymous
When nobody can see you, you become less of a target for hackers who are eagerly looking out for targets. The key here is to avoid being seen, and not tempt a determined bad actor to test your security layer.
6. Most secure way to purchase online
VPNs offer not only end-to-end network security but also prevent hackers from knowing your identity and intercepting packets of information you send which can open you up to identity theft.
7. Government and ISP privacy
Keep you safe from government surveillance and your ISP from storing your data and being forced to turn it over. What you do and where you go online should be something only you are privy to.
8. Access content in any location
There might be times when you want to access products that are geo-blocked during Black Friday sales. When you have a trustworthy VPN provider, your account won't be affected by whatever your ISP limits you to since they won't be able to detect what location you're in or where you're headed.
Final Thoughts
If privacy and security are important to you, using a VPN is the only way to make purchases safely online. Safer is always better when it comes to security, and the layer the VPN provides is vastly superior to most other methods out there.
This means you can browse the internet securely without worrying about third-party websites tracking you. The biggest benefit is that you can access websites that may not be safe for unsecured connections, such as those on Black Friday.