How to Enable Kill Switch for Mac OS with Trust.Zone VPN
31 January 2022
Did you know that you can easily enable Kill Switch option for your Mac OS device?
Tunnelblick, a VPN client for MacOS, has a "Kill Switch" that can disable all network access if the VPN disconnects by some reason. It can be helpful when running an application (for example, a BitTorrent client) that you do not want to "leak" data outside Trust.Zone VPN.
Kill Switch blocks all outgoing and incoming traffic if internet connection drops for any reason, so your IP address will never be revealed if VPN connection drops by unexpected reason.
To enable VPN Kill Switch for Tunnelblick on MacOS - go to the "Settings" tab of the "Configurations" panel of Tunnelblick's "VPN Details" window. Just set "On unexpected disconnect" option to "Disable network access" (kill switch active).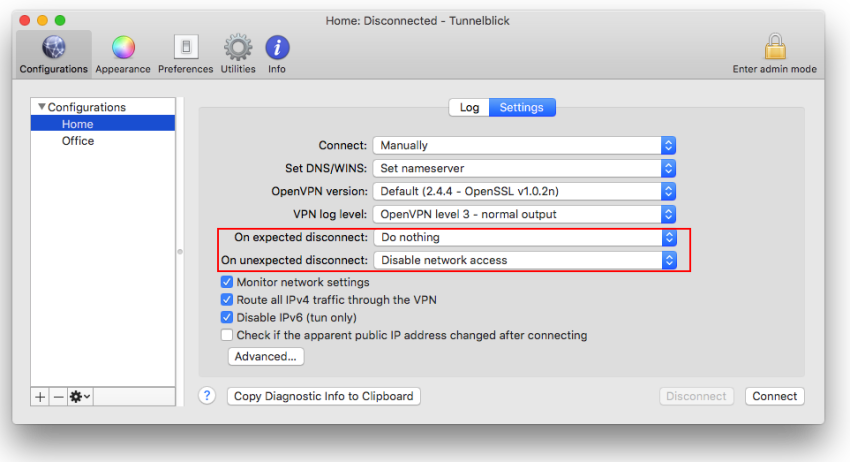 In the above screenshot, "On expected disconnect" is set to "Do nothing" (kill switch inactive) and "On unexpected disconnect" is set to "Disable network access" (kill switch active). If there is an expected disconnection, nothing special will be done. If an unexpected disconnection occurs, however, all network access will be disabled.
Use
When the kill switch has been activated:
A notification will be displayed;
The "Re-enable Network Access" command will appear at the top of Tunnelblick's menu; and
Network access will be disabled until you re-enable it. You can do that using Tunnelblick's "Re-enable Network Access" menu command.
If network access has been disabled when you quit or launch Tunnelblick or try to connect a VPN, Tunnelblick will ask if you want to re-enable it.
Re-Enabling Network Access Manually
If network access has been disabled and you cannot run Tunnelblick, network access can be restored manually:
Launch System Preferences, and click on "Network". For each network service that is labeled "Inactive"
Click to select the network service;
Click on the little "gear" icon at the bottom of the list; and
Click on "Make Service Active".
If you wish, turn Wi-Fi on. You can use the Wi-Fi icon in the menu bar, or, in the "Network" System Preferences, select the Wi-Fi service in the list on the left and then click the "Turn Wi-Fi On" button.