5 Simple Reasons to Use Trust.Zone
21 January 2021
With big opportunities come big responsibilities. You are not only consuming data, but you also share it, and that's why being online may be dangerous for you, especially when you're connected to public Wi-Fi that can be easily hacked. But even at home, you can't just relax before you're completely sure that you're not vulnerable.
If you are wondering about online security and privacy, VPN like Trust.Zone is a right choice. And it is time to understand why VPN is important, and what you should do to get the most out of it.
What is TrustZone VPN ?
VPN or Virtual Private Network is software that is developed to protect you on the web, hide your IP address, make your internet connection encrypted and private. VPN encrypts your internet traffic between websites you use and your smartphone or laptop.
It means that if you need to feel protected when being online, you should install the Trust.Zone VPN and switch it one before you visit a site. The tool will hide your IP address so that your Internet Service Provider, local authorities, or hackers, can't spy on you. Your internet browser history and online activity is hidden from prying eyes.
When to use TrustZone?
Lets see when using a trustworthy VPN service is a right choice.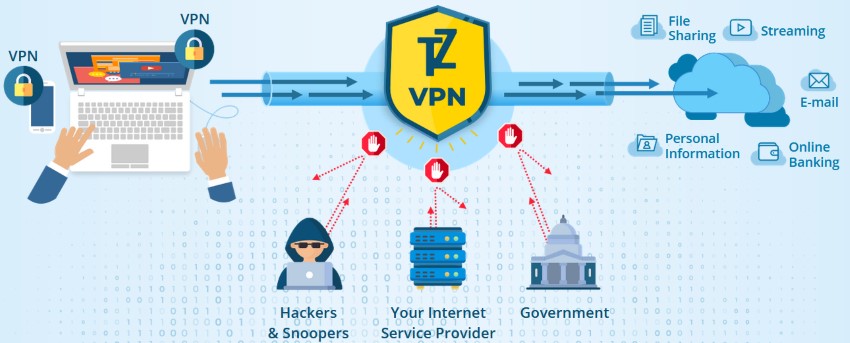 1. To bypass geoblocking
When Trust.Zone VPN software hides your real IP address and assigns you the new one, it looks like you're traveling abroad. And it means that you receive the opportunity to access content that is usually restricted in your country. It goes about streaming websites Netflix, BBC iPlayer, Hulu or similar. There are many sports channels as well that are available in certain countries only. With a reliable VPN tool, you have no geographical limitations so that you can enjoy any content you need.
2. To ensure online privacy
VPN safety is not an empty phrase. When you choose the right provider, of course. If you don't want anyone to store and sell your data, provide you with targeted ads, know your online habits, just switch TrustZone on. It is something like an Incognito window in Google Chrome browser, but much more useful and convenient.
3. To use public Wi-Fi
When you're drinking coffee in the nearest coffee shop, and decide to connect to the public Wi-Fi just to check your newsfeed, it can be crucial for your security. Not because someone can track down your activity and find out something about your browsing patterns. It is because there are a lot of hackers these days who are constantly looking for vulnerabilities in networks. And if your device is not protected enough, they can easily access it.
4. To bypass censorship
Such countries as China, Russia, UAE, Iran, Belarus, etc. have a high level of censorship. It means that traveling abroad or living in these countries, you don't have access to many websites. Not because they decide to limit visitors and provide them with specific content as Netflix does. They are just closed because local authorities consider them not appropriate. TrustZone software will open you more opportunities without the risk of being compromised.
In any case, regardless of the country you visit, it would be a good idea to install TrustZone in advance.
5. To use File Sharing and P2P networks
Many users choose Trust.Zone because of torrenting. Trust.Zone provides fans of torrents with personal dedicated IP addresses with a port forwarding to increase their download speed. Moreover, it hides IP address and encrypts p2p traffic, so nobody can see visited websites and downloaded files.
Besides, there are many other reasons to use Trust.Zone – zero-logging policy, offshore jurisdiction, outsides the 14-eyes surveillance alliance, Warrant Canary, DNS leak protection, Kill Switch, discounted plans, free test period and many more.
Author Bio
Oscar Mitchall is an American blogger who knows everything about how a decent essay writing service works. He is also well-aware of cybersecurity principles that are a really hot topic these days. Oscar is a dedicated professional who is always ready to share his knowledge and insights.