5 Reasons to Protect Your Private Data With a VPN
28 September 2020
Getting a VPN can help you reduce risks connected to your privacy. As your device connects you to a VPN server located in any country of the world, you get to surf the Internet with that server's location, not your real one. As a result, your internet connection becomes more secure. So, what are the main reasons you should protect your private data with a VPN?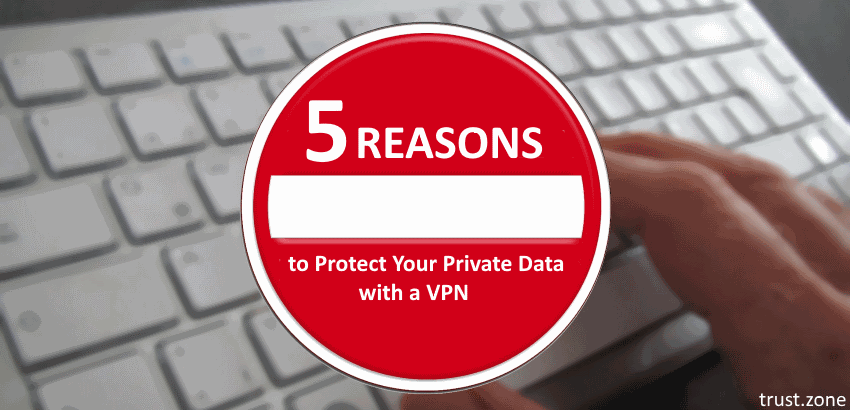 Make the Use of Public Wi-Fi Safer
Most students prefer local cafes to libraries when it comes to studying, as the atmosphere there is more cheerful and upbeat. Yet, when accessing a public Wi-Fi hotspot, you can never be sure if it's secure enough for you to browse the Internet the way you'd do it from home. Hackers may set up FREE Wi-Fi hotspots to steal users' personal details.
By using a VPN, you'll access the Internet as if you were connected to a private network, not a public Wi-Fi hotspot. This way, a VPN serves as a layer of security or a shielded "tunnel," and it protects your private data from being snooped on.
If you're afraid that someone might spy on your browsing activity while you're drinking your favorite cold brew engaged in any activity online, then you might want to think about getting a VPN.
Protect Your Browsing History from ISPs
Another reason to use a VPN on all your devices is to protect your privacy by hiding your browsing history from your Internet service provider (ISP). When connecting to a VPN server, you mask your real IP address and location. Then, a VPN encrypts your traffic, and so, it serves as a security layer or tunnel, as it was mentioned above.
If you don't want your ISP to collect and probably even sell your private data such as your location, the apps you use, and the websites you visit, protect yourself by using a VPN. This way, you'll be sure that no one will use your personal information for their personal gain.
Besides, it's important to know that an incognito mode isn't enough to protect you from prying eyes because it doesn't hide your IP address.
Access Restricted Content
Some colleges and libraries have restrictions on accessing certain websites, for example, Facebook. This is pretty inconvenient if you're waiting for a message from your friend or an update on something important for you.
A VPN can help you bypass this restriction and manage to access the needed website. It might also be useful if you need to research a sensitive topic, but the access to the websites about this issue is blocked.
This is not about breaking the rules, of course. Using VPN concerns protecting your privacy and ensuring your security, not committing anything illegal. Thus, it's important to use your common sense when opting for VPN software for accessing any blocked websites.
Access Streaming Services
Some websites with media content, including streaming platforms, have regional restrictions.  Geographical restrictions are quite annoying, especially if you travel a lot or study abroad.
If you'd like to get access to the content that is not available for your current location, a VPN will help you do that. For this, you need to connect to the VPN that is located in the country for which accessing this content is allowed.
For example, to access your Netflix or HBO account while traveling abroad, you should connect to the VPN located in your home country. If the content of the website is available only for one country, let's say Sweden, then you need a VPN that will get you a Swedish IP address.
Secure Your Right to Privacy
Think about all the time you spend and all the tasks you perform online. Your search engine and favorite social network know about you just as much, if not more, as your close friends do. How is your private data collected? For what purposes? It's important to ask yourself these questions if you care about your fundamental right to privacy.
You should think about keeping your data out of the hands of the companies that are profiting off of digital ubiquity. VPN can help you do that by protecting you from the undesired snooping, spying, and collecting as well as selling your personal information.
It's a great tool to protect your personal identity and secure your right to privacy.
Wrapping Up
A VPN will be helpful for any user who spends countless hours on the Internet both for studying and entertainment. Like studying in coffee shops? Or maybe you are into watching content on streaming services or online banking when abroad? Want to keep your browsing history to yourself? Then a VPN is a must for you!
It will help you make the usage of public Wi-Fi hotspots secure, protect your personal data from your ISP, access a blocked website when on campus, and maintain your right to privacy. A VPN is an online security tool that you can rely on when getting online.
Author BIO
The author of this article is Ashley Walker - is a professional writer that works at EssayWritingService and is a certified expert in Cyber Security. Knowing about the pitfalls of careless Internet surfing, Ashley believes that all students should use a VPN to protect their personal data.