Internet Security Risks – 5 Threats to Be Aware Of
6 July 2020
Whether you operate as a stay-at-home freelancer or work in a team environment with office coworkers, maintaining internet security can be difficult for numerous reasons. Hackers, fraudsters, and malware engineers work tirelessly to come up with new attack vectors which often randomly target websites and businesses in unpredictable ways.
According to CSO Online, 40% of IT leaders say that cybersecurity positions are the most difficult to fill due to their nature. Additionally, fileless attacks grew by 256% in the first half of 2020, with 63% of companies stating that their data was compromised in the past year. There is a clear concern to be had in terms of protecting your corporate (and personal) files in addition to making frequent backups. That being said, what are some of the most prominent internet security risks you should be aware of?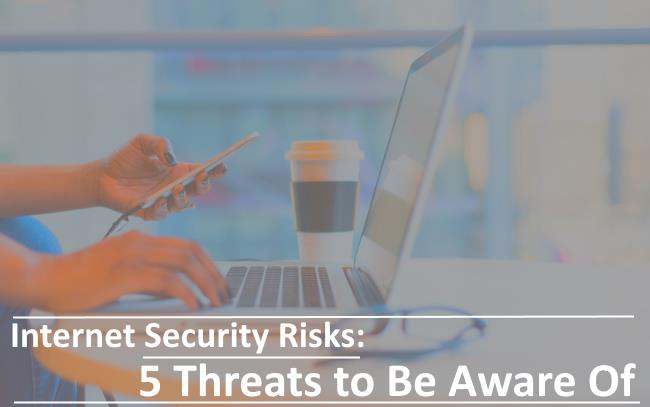 Social Engineering Risk
The most egregious attack vector in regards to internet security relates to our own judgment as we browse the web. Specifically, how can we be certain that a link we are about to click on is genuine and safe to visit? According to Small Biz Trends, 30% of phishing emails get past typical antivirus protection software, with 51% of phishing attacks consisting of very damaging malware.
When it comes to protection from social engineering hacks, or phishing and scam attempts, the best way to protect ourselves is to simply be careful. No amount of antimalware or cybersecurity software can protect us from making poor judgment online and allowing an unknown script to run freely. Take precautions in which websites you visit and make sure to judge each item on your search engine's result page (SERP) carefully before clicking.
Location Vulnerability Risk
For better or worse, we live in an interconnected world where everything is tagged via GPS. However, according to Mobile App Daily, 31% of users demand complete privacy from companies that provide them with hardware or software for purchase. There is a case to be made for digital privacy, especially since it can lead to unfortunate hacking and malware attempts from fraudsters.
One of the best ways to protect ourselves, especially while using public internet networks, is through a VPN. Using a VPN service to mask your IP address and, effectively, hide your presence from the web can increase your internet security many times over. If anyone tries to gain illicit access to your device, they will come across a scrubbed IP address which doesn't represent your current location. Thus, this type of internet threat can be mitigated, if not eliminated completely, by relying on VPN to protect ourselves.
Risk of Ransomware Attacks
Depending on how interconnected your office network is, ransomware attacks can severely affect your business' performance in the wake of data loss. Ransomware intrusions typically happen via email or suspicious links. According to Cyber Security Ventures, ransomware attacks are bound to happen every 11 seconds by 2021 somewhere around the world. In addition, nearly 40% of ransomware victims never recover their data, making payment and acceptance of hackers' demands an unviable exit strategy.
Similar to phishing and scams, ransomware attacks can be avoided by using human logic – something which still eludes professional antivirus solutions. Frequent data backups and limited LAN connectivity throughout your company can also hinder ransomware effectiveness even if it finds its way into your network. Referring to helpful websites for students and writing reminders and notes for yourself and your colleagues in regards to data backup should also become the norm. Whether you're a freelancer, student, or professional in a corporate environment, it can be detrimental to lose days or months of valuable data.
Outdated AV Database Risks
While using an antivirus solution is clearly an important step toward internet security, keeping its database up to date is just as essential. However, antivirus databases will perform poorly when facing trending malware solutions, often neglecting to flag them as incoming threats.
According to Data Prot, there are over 970 million pieces of malware circulating the web right now, with 350,000 new threats detected daily. Updating your AV to its latest release version as well as introducing new software to your protection firewall should be a standard affair. In doing so, your machine will be vigilant in regards to the latest internet security risks and allow you to react quickly in case of intrusion.
DDoS Risks
Even though Distributed Denial of Service (DDoS) attacks primarily target corporate websites and entities, they still represent a huge internet risk, even in 2020. In short, these are coordinated attacks performed via a network of globally distributed bots which aim to hinder the performance of certain platforms. According to Secure List, the longevity of DDoS attacks increased by 214% in Q1 2020 from Q1 2019, showcasing the threat's active presence.
The severity and longevity of DDoS attacks vary drastically in terms of their administrators' resources and commitment to cause damage, making them difficult to pinpoint. One of the key solutions to prevent DDoS shutdowns for your business is to increase server capacities and use the aforementioned VPN services to mask yourself. This will cripple potential DDoS attacks and lower their ability to cause significant issues for your ongoing performance as an online venture.
Constant Vigilance (Conclusion)
The best way to protect your network from illicit intrusions and malware is to stay in touch with the latest internet risk trends. Being aware of which viruses, scams, and attack vectors are currently trending will allow you to respond to occasional intrusion attempts more efficiently. Be careful of how you use the web, both at home and in corporate environments – make sure to question every incoming link or email. Use a VPN when you connected to a public Wi-Fi and we do you do online banking. In doing so, you will already lower any threat for your network's safety by a significant margin – keep constant vigilance.
About the author:
Daniela McVicker is a tech writer and content manager at Alltopreviews.com, an aggregator for writing websites. She is passionate about technology and is always excited to share the latest information available on the market. Daniela is fascinated by technology evolution and is constantly keeping an eye tech companies.