Access Twitter and Facebook in Turkey with a VPN for Free!
16 July 2016
Access to popular social networking websites Twitter and Facebook was completely restricted after the terror attack in Ankara. The Turkish government blocked any news coverage the deadliest act. The official statement said that the Turkish Prime Minister has imposed a temporary broadcast ban regarding the terror attack conducted in Ankara.
Social media blocking have been imposed with increasing frequency in Turkey in recent years, sparking protests and international criticism. Last time, Turkey restricted access to Facebook, Twitter and YouTube after photos of a prosecutor held hostage by far-Left militants were published by online media and social networking users in Facebook and Twitter.
The most active Twitter users from Turkey have noticed that they can't access Twitter or Facebook without VPN.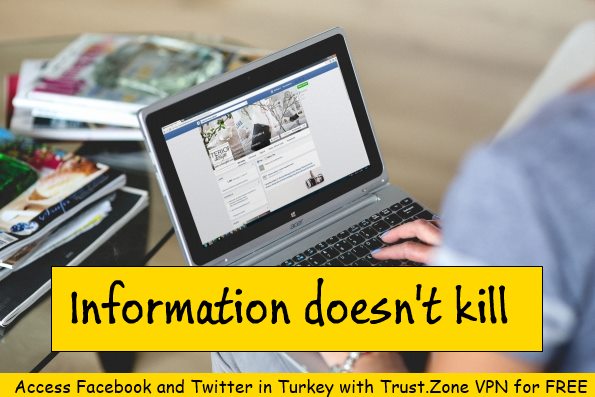 According to Trust.Zone VPN stats, ban of Twitter and Facebook in Turkey was leading to a huge jump in VPN subscribers from Turkey. Turkey is currently up over 320% and still growing.
Any internet users in Turkey can use Trust.Zone VPN totally for free. Trust.Zone VPN provides users with 3 days VPN usage for FREE. Paid subscription is also available and it's $2.99 only. With a paid VPN subscription, everyone in Turkey is able to connect to VPN from 3 devices at same the time.