Trust.Zone VPN Port Forwarding is Now Available with a Huge Discount
17 September 2022
Trust. Zone is now offering port forwarding with a huge discount.
It stars from $1.84 if you need dedicated IP and $2.49 if you need a dedicated IP with port forwarding
Why do you need port forwarding with
Trust.Zone
?
Increase BitTorrent download/upload speed
Allow incoming connections from the Internet to reach specific devices and apps on a private network
Allow remote access to your PC or devices while away from home
Here is guide how to set a port forwarding with your Bittorrent client and
Trust.Zone
VPN.
First of all, you have to get a personal
Dedicated IP address + Port Forwarding
on TrustZone
here
. (expand
Add extra features
)
After you did it, follow the steps:
Step 1
Run
Trust.Zone
app, go to Servers, find your VPN server with a dedicated IP, click on it and connect.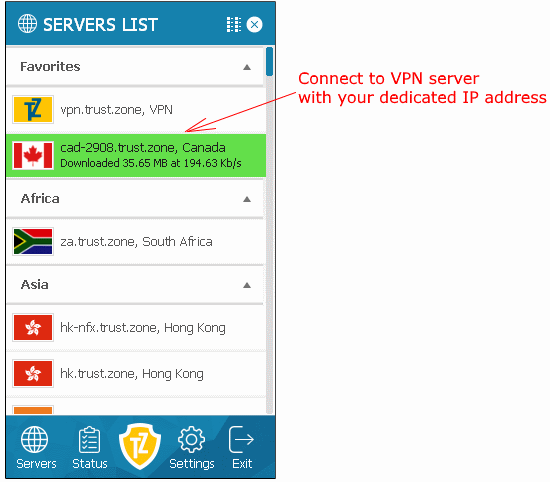 Step 2
Open BitTorrent client and click on
Options
>
Preferences
>
Connection
and enter your port forwarded number  in "
Port used for incoming connections
:" For example: 15547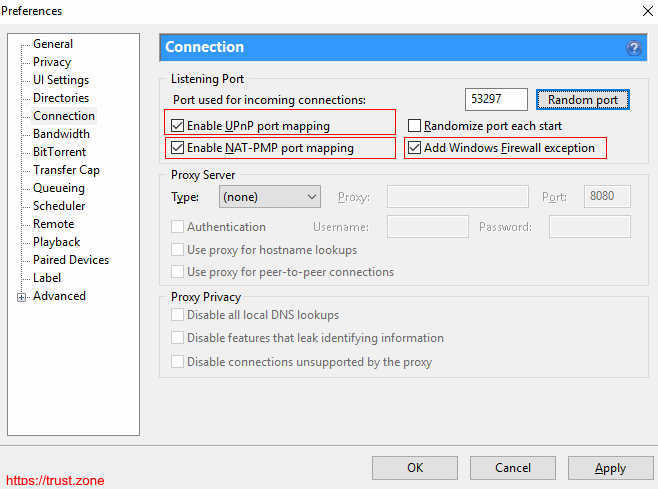 Step 3
After you have set the Port number Check "
Enable UPnP port mapping
" , "
Enable NAT-PMP port mapping
" and "
Add Windows Firewall exception
" and click on
Apply
Now you can use your BitTorrent client anonymously and securily using port-forwarding.
Note:
See the whole list of the servers with port forwarding
here
Allowed ports for forwarding: 5000-65535
Port forwarding for all countries will be available soon!