4 Convincing Reasons Freelance Writers Need VPN in 2021
16 May 2020
Since the outbreak of coronavirus, the world has been experiencing a growing demand for VPN services.
According to the report by ZDNet, the use of VPN increased by 33% , along with the increase in using the RDP (Remote Desktop Protocol) by 41%. These numbers were reported by several VPN providers, indicating that they observed the numbers spiking since the beginning of March, which corresponds with the beginning of the quarantine.
The breakdown by countries most affected by coronavirus has shown that, in some of them, the use of VPN has increased by more than 100% over the past month: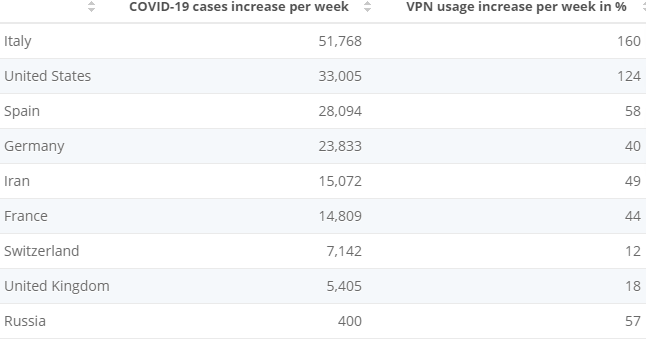 Among the reasons that caused such a big spike in the VPN use is the growing number of employees being transferred to the home office and more people going freelance after either losing their previous job due to quarantine or being put on hold until it ends.
Purchasing a VPN service is certainly among the first investments every freelancer should make.
But while the use of VPN for freelance developers, accountants, and customer support professionals is justified because they deal with a lot of sensitive data, is the investment in VPN really necessary for freelance writers?
Let's take a look, why, in 2020, investing in VPN is a must-do for freelance writer.
You Get Access to Blocked Content

When writing content, freelance writers often face a problem of blocked websites, which contain information that could be useful.
When visiting such a website, you may encounter the following: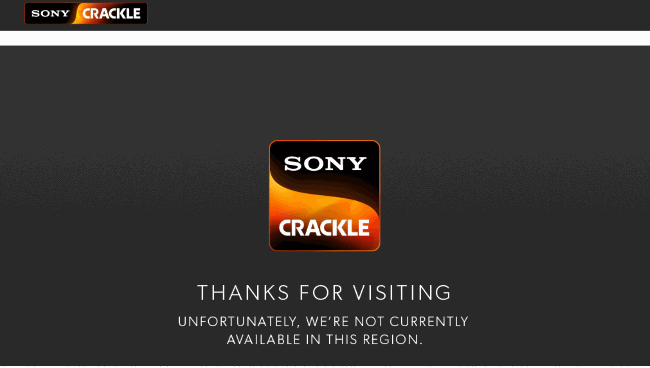 Having a VPN can help you solve this issue and automatically unblock all the websites that are tied to a certain location.
You could potentially use proxy websites, but this approach is not nearly as safe as using a VPN. Unlike proxy servers, VPN protects you from any sort of surveillance. This is why, with a VPN, you are safe to use public Wi-Fi from different locations around the world while traveling.
A VPN is also useful for freelance writers who work from locations where the majority of mainstream social media platforms are banned. Freelance writers often need social media networks like LinkedIn to connect with potential clients, and VPN can remove all restrictions if any apply in your country.
Note! Some websites may work slower with a VPN than they would usually do. For instance, websites like Grammarly, WriteScout, TopEssayWriting , and even platforms like Upwork will take it longer to load.
One of the reasons why this might happen is because a website is tied to the user's initial location. Grammarly, for instance, operates according to the location provided by the user's Gmail address. This might be the reason that takes Grammarly a bit longer to load.
Apart from that, a VPN service is a reliable way to get access to a blocked website without being tracked.
Your Content is Secure
This is probably the most widespread reason for freelancers to use VPN.
Millions of data get stolen every day. "Our research of all the hacker attacks and data breaches in 2019 has shown that 25 million data records stolen per day, with over 17,000 stolen records per minute," says Claire Jefferson, a cyber-security manager at Subjecto.
If you are a freelance writer working with online editors or a blogger with your own website, you are probably often concerned about the safety of your content. Unfortunately, even big platforms like WordPress or Wix, where many freelance writers have their blogs, are still susceptible to hacker attacks.
And, since hacker attacks worldwide show no signs of stopping, you need a strong tool to protect yourself from someone stealing your content.
A VPN can protect your articles and blog post by encrypting your Wi-Fi connection. Here's how it works:
Your computer connects to a RAS (remote access server). It sends valid credentials to the server and is authenticated using called protocols.
VPN splits transmitted data into packets. This is called a tunnel connection, which allows a VPN to place one data packet into another for 'extra protection', also known as encapsulation.
VPN encrypts data packets. For this, a VPN may either use the IPsec protocol or the OpenVPN protocol. These protocols apply an encryption key to data packets, which is shared only between a VPN provider and a client.
These are the three steps that every VPN uses to encrypt and protect any data, including your written content. Losing this data may affect your personal marketing efforts and your entire career if this data gets leaked, and you lose your authors' rights.
You Can Exchange Files Safely
The amount of data we create and transmit every day is mind-blowing.
The infographic by Social Media Today captured the amount of data collected and transmitted through different online channels, with the general number reaching 2.5 quintillions of data created and sent every day.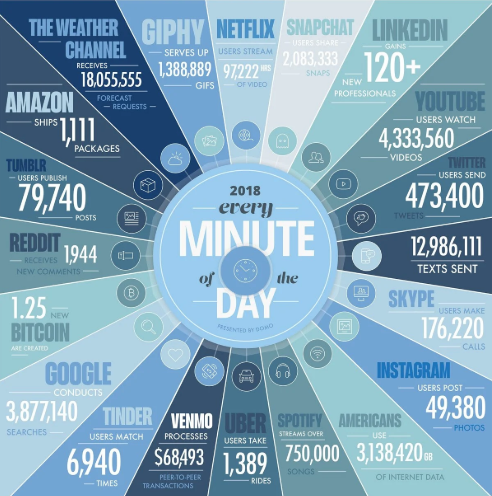 With so much data transmitted every day, many freelancers worry about the safety of the files they sent to their clients. Platforms like Upwork even notify the freelancers about the hazards of sending files, as they may be compromised or leaked.
Indeed, freelancers often have to deal with compromised files and security breaches. "7 out of 10 freelancers, whom we surveyed, confirmed that they had their files damaged or leaked at least twice over their career," says Martin Dickinson, a researcher at Studyker.
Having a reliable VPN service at hand gives you that extra security level to make sure that the file exchange process is protected, and no one will get their hands on your content or any private information that it may contain.
VPN Allows Full Protection of Your Identity

Finally, it is important to mention the private data protection and how a VPN can help you deal with it.
Protecting private data is what anyone should be concerned about, not just freelance writers. However, since you are an individual contractor and do a lot of financial transfers and other procedures that involve sensitive data, your professional life can be severely damaged if some of your sensitive data gets leaked.
Using a VPN service changes your IP-address , making any traffic from your devices untraceable. There is no one except the provider of your VPN service, who can trace your traffic, and all your log-ins and passwords will be protected with an encryption key.
This means that you can do financial procedures from any location around the globe, including public Wi-Fi. Your client's privacy is also protected if you use a VPN in case you are working with their private data.
Start Your VPN Service Plan Today
Due to the global pandemic, online traffic is expected to increase. As more and more people start working from home, and more companies use VPN to protect their data, you should also do the same to ensure the security of your career as a freelance writer.
Getting a VPN service is quick and easy. You can set up the VPN within 20 minutes and enjoy browsing the web without any restrictions.
Using a VPN service will help you keep your content secure and safely send all the work-related files to protect both you and your client from data breaches. Moreover, with a VPN, you can access all the restricted websites and work from any part of the world without worrying about government restrictions and censorship.
But more importantly, VPN encrypts all your personal data, so you can safely do any operation that involves sensitive data from any location around the globe.
Author bio. Dorian Martin is a content writer and contributing editor at ClassyEssay. He is passionate about technology and innovations in business and has his own blog, where he shares his knowledge and opinion on the latest news and trends in this field.