How to Prevent Your ISP from Tracking Your Torrent Activity
4 July 2020
Do you know that BitTorent and anonymity are not the same things?
If you really want to keep your torrent activity private, your best way involves routing your BitTorrent connection through an anonymous services like proxy, Tor or VPN.
The simplest way to anonymize your torrenting is anonymous proxy server. By connecting to the web through proxies, your IP address will be hidden but IP address of the proxy server will be shown. Unfortunately, if you're lucky to find a working proxy - it almost certainly wouldn't be working the next time you came back. Besides, the proxy servers mostly handle HTTP or HTTPs traffic only. So, if you are trying to download files with FTP – you are not able to do that with proxy.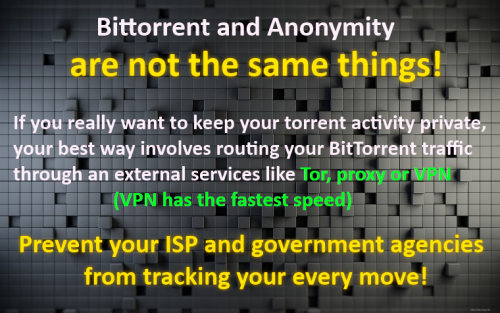 Another way, Tor, a free tool for enabling anonymous communication. In fact in many cases there could be a lot of data leaks as described in this paper: Compromising Tor Anonymity Exploiting P2P Information Leakage , so, the Tor is also not a good idea to hide torrent activity. Forward your BitTorrent traffic through the Tor network will overload it even more. It isn't designed to handle such things -- the Tor network has much less capacity than it has users wanting to use it.
With VPN your BitTorrent traffic will be completely anonymous. The IP will be replaced by IP address of the VPN server. If you choose to encrypt as well as anonymize, even your ISP won't be able to see what you're doing and visiting.
If you are active user of BitTorrent, downloading torrents every day - Trust.Zone VPN service is one of the best choices to protect your identity, hide your real IP address, encrypt your connection, mask your torrent activity and prevent your ISP from tracking your torrent activity. With Trust.Zone VPN you avoid receiving copyright infringement letters from your ISP and government agencies because your online identity is completely hidden!
Trust.Zone VPN is available for all devices and OS. It supports major protocols, provides members with unlimited bandwidth and unlimited speed. Besides, it doesn't store any logs, so, you are completely anonymous with Trust.Zone VPN. Besides, VPN service is available totally for free during 3 days of usage.