Struggle Less, Benefit More: 4 Tricks to Configure VPN Connection at Home
22 July 2020
If you've been checking out our website lately, you must be familiar with the basics and the benefits of using a reliable VPN provider. VPN is a relatively new technology that helps individuals and businesses protect their online privacy, which is quite a big deal if you know that thousands of malware attacks take place every second.
A report suggests that nearly 50% of users globally feel they lack control over their personal information, while 61% of Americans say they would like to do more to protect their privacy. If you belong to the latter group of users, perhaps you could think about configuring a VPN connection at home.
The solution is particularly useful for small businesses and individuals who don't want to research and pay for a professional VPN provider. Our job is to help you with that, so keep reading to learn tricks to set up a home-based VPN.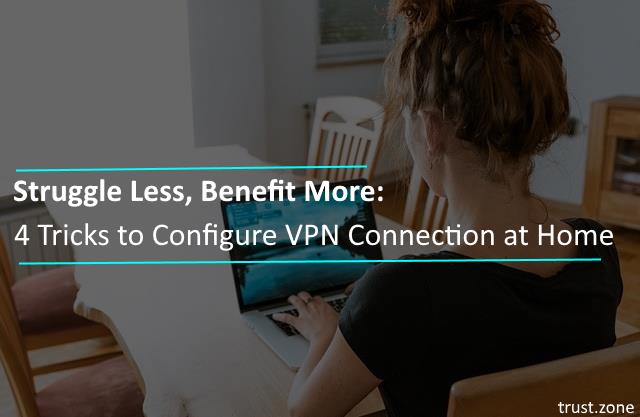 Pros and Cons of Having a Home-Based VPN
Before we discuss practical ways to set up a VPN at home, we should explain the reasons to do it or not to do it. We will check out the pros of configuring a home-based VPN:
- Stay in charge of your personal information. If you don't like the idea of a third-party provider that controls your personal data, you might as well take over and configure a VPN single-handedly.
- Enabling remote work for your small business employees. A lot of small businesses develop a secure network that is not accessible from the outside, but you can bridge the gap with a home-based VPN system.
- You are a tech geek and solo-player. Another reason to configure a VPN at home is that you like doing things alone and exploring new IT tools and features. Although it's not as practical as paying for a VPN provider, at least you can learn a lot about this technology.
How to Set Up a VPN at Home
You should be clear about setting up a home VPN by now, so the only thing left is to explain how to do it successfully. Here are five practical tricks.
1. Create a VPN on the router directly
The first tip we can give you is to set up a VPN directly on the router. You can do it with the help of a VPN client because it still allows you to stay in charge of the server itself.
The key detail is to find a router that supports an independent VPN service: Finding it shouldn't be difficult – all it takes is to check out product descriptions and look for routers advertising a VPN support. Trust.Zone is compatible with all OpenVPN routers. You can check instructions how to configure TrustZone VPN with your router here.
2. Craft an independent dedicated VPN server
Another interesting solution is to a dedicated VPN server on your own computer. You can build a dedicated VPN.
However, you need to keep in mind that dedicated servers have to be fully functional around the clock. This basically means that you cannot use a personal laptop or any other device that shuts down automatically when you don't use it.
TrustZone offers personal static dedicated IP addresses. This ip address is not shared with anyone else.
3. Contribute to the joint VPN network
Some home-based VPN connections are actually members of a joint VPN network. The negative aspect of this home-based VPN system is that keeps track of all the contributors. In other words, similar networks keep the record of individual IP addresses and other information about your VPN activities.
4. Buy a DD-WRT router
The last tip on our list is to set up an independent home-based VPN using a DD-WRT router. It's a special operating system that augments the existing router and gives it additional functions. Such a platform comes with VPN support, so you can create your own VPN service at home.
Trust.Zone supports all DD-WRT routers. You can find TrustZone installation guide for DD-WRT routers here.
The Bottom Line
Setting up a home-based VPN connection is more challenging than paying for a professional provider, but it grants you additional configuration abilities. In this post, we showed you five ways to set up a VPN at home. Make sure to follow our tips and you shouldn't have any problems with your VPN connection!
AUTHOR BIO
Emma Coffinet is a blogger, essay writer UK and content creator at paper writing services. She loves writing about IT, new technologies, digital marketing, and finance. Emma is keen on capturing the attention of a target audience. Feel free to connect with her on Twitter.