5 Ways to Secure Your Smart Home & IoT Devices
12 June 2020
The Internet of Things, or IoT devices, have already been a big part of people's everyday lives, allowing them to accomplish tasks with greater ease and at faster times. Unfortunately, with these great miracles of technology, comes increasing vulnerability and potential insecurity. And with all the devices of smart home that people will use on a daily basis, the vulnerability and insecurity has increased along with the growing number of devices being used.
Therefore, it's now more important than ever to protect all of your smatt home & IoT devices, rather than leave anything to chance. With hacking and data breaching become more and more common in today's world, it's essential to do anything and everything to protect your devices.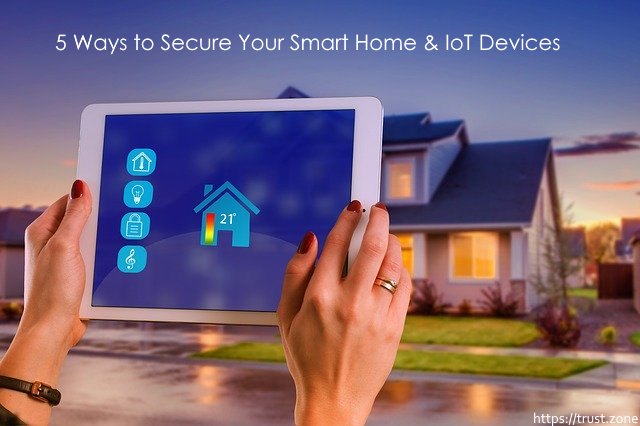 Here are five ways to make sure that you're securing your personal IoT devices & smart home against hackers and digital intruders.
Connect Only Necessary Devices
First, you need to determine which devices you use, and how you use them. And, when you look at your devices' setting, you can control which ones can have full-time Internet access, and which ones you can turn off connectivity to.
Enable Two-Step Authentication
Most devices will ask you to enable two-step authentication; and if so, you should consider using it. Two-step authentication adds an additional security layer on top of a password, stopping hackers from gaining access to an account by simply figuring out the password. For example, it can be a one-time code sent via email or SMS.
Track Inventory
It's important to take inventory in what things you need to protect on your IoT devices & your smart home. You need to take into account other Internet-using devices, other than your smartphone and laptop. Consider taking inventory on the following devices, since they might be vulnerable to hacking:
Video game systems
DVRs
GPS devices
Don't Reuse Passwords
You need to have passwords that are not only strong and difficult to figure out, but also different on every device.
Reusing passwords is not the best idea, because if hackers figure out the password, then they'll try to access other devices using that same password.
As you create passwords, keep the following objectives in mind:
Avoid words and phrases that are common and easy to guess.
Make sure that there is a mix of characters: letters, numbers, and symbols.
Never use the default username and password of your router.
Don't forget to use a password manager to help you keep track of all of your passwords.
Know Your Network, Know Your Privacy
If you stick to one Wi-Fi network, you'll risk getting one IoT device compromised, thus starting the domino effect of hackers gaining access to the network. But before you buy another router, just know that most ISPs will let you create a "guest" network that your IoT devices can use without compromising your main network. In fact, you can create multiple networks on your current router, which many people have taken advantage of whenever they want to do things like, for example, set up parental controls for their children; or set up guest networks for visitors. Therefore, there's nothing wrong with creating a separate network for your IoT devices too.
You can also invest in Internet-protection software like VPN Trust.Zone, which includes 3 days free test period. And during the free test period, you'll have secure VPN covering you with comprehensive protection, device security, and online privacy.
VPN services like Trust.Zone encrypt your internet connection and prevent hackers and your Internet Service Provider from tracking your online activity.
Summary
Now more than ever, it's important to stay several steps ahead of potential attackers by securing your network, and all of the IoT devices within that network. Although the added protection may cost you somewhere down the road, it's a wise investment, if you're looking to protect your IoT devices.
The best part about securing your devices is that it isn't difficult to do, and it'll help you feel secure about using the Internet on such devices. As you take inspiration from the above security tips, you'll be able to have a secure network that can keep you and your devices safe from hackers and other potential threats on the Internet.
Beatrix Potter is a writer at Assignment Help and Paper Writing Service. She also teaches business communication at Essayroo. As a writer, Beatrix writes about the news and trends of smart home & IoT devices.