7 Security Tips for Telecommuters: How to Stay Safe While Working from Home
19 November 2020
Working from home can be a welcome change from the traditional office setting, however, telecommuting can also present some security challenges for users working from home as well as security administrators trying to protect mobile devices of the users and the networks they connect to.
Not every telecommuter is going to work for a company that has an IT shop with the resources to provide enterprise-grade telecommuting security. For smaller companies, this shifts some of the security burden to the off-site users.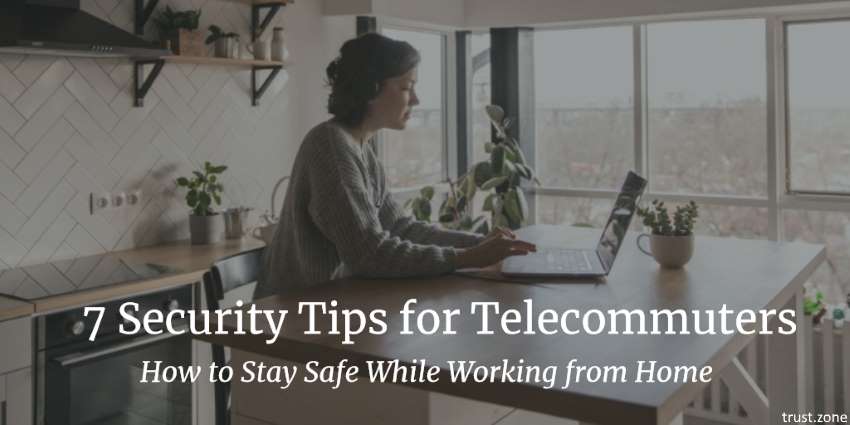 Have a Designated "Work Computer"
You should never mix business with pleasure. The same goes for your work and home computers. If you are going to be telecommuting on a regular basis, it's best to have a designated "work computer" that is only used for work related tasks.
If your company provides a computer, make sure you don't install any personal software on the work computer as it may violate your company's software use policy and potentially create a software license liability if they are to be audited and your personal software shows up on the audit report.
Apply All Security Updates
Operating system and application-level vulnerabilities are a major avenue of attack for hackers and cyber criminals looking to compromise your system. Make sure that security updates are applied and that your system is configured to automatically receive and install new security updates as they are made available.
Don't forget to update your most used applications as well, especially ones used to open documents.
Have a Front Line Antivirus and a Second Opinion Scanner
While most people have antivirus or antimalware software on their computer, not everyone has more than one. Sometimes malware and viruses may slip past some virus scanners and take root on your system without you knowing about it, for this reason, you should consider installing a second opinion malware scanner as a second line of defense.
Secure Your Wireless Network
Using a wireless network to telecommute opens a user to risks inherent to wireless technology, specifically, eavesdropping and man-in-the-middle attacks. In order to mitigate these threats your wireless network needs to be secured with the strongest available encryption (such as WPA2-PSK) and additional ecryption with a VPN technology.
Use a VPN
Many companies will only let you telecommute by way of a company provided VPN connection. If your employer doesn't provide this, you may still want to consider using a personal VPN service. Personal VPN like Trust.Zone can shield your network traffic from hackers by protecting data in transit with strong encryption. VPN is also recommended to use when working on public Wi-Fi networks to avoid hacking. Hackers may set free Wi-Fi network to steal your data.
Don't Let Your Kids on Your Work Computer
While this might seem self-explanatory, you should make every effort to keep your children off of your work computer. Kids like to click on things and install things that might get you in trouble. Make sure that they don't get on your work computer especially unsupervised. Use a screen lock password to help ensure that they can't get on it when you're not around.
If you don't have a choice but to share your work computer with your children, then you should institute some parental controls to help prevent them from going places on your work computer that they shouldn't be going to.
Author's Bio:
David Hoang works as a copywriter for Write Any Papers. He used to be a web designer, but he decided to change his career. In this case, David has an opportunity to tell others how to create a perfect website design.