5 Cybersecurity Mistakes Remote Workers Should Avoid
18 December 2020
When it comes to cybersecurity, both expert and novice remote workers must keep their devices safe from malware, phishing, ransomware and etc. Nowadays, cybercriminals are noticing and taking advantage of this massive shift in remote work. Therefore, you must continue to remain vigilant and adapt to good cybersecurity habits.
While security is a team effort, you can also implement it on your own. You don't have to succumb to vulnerable software and apps, and risk compromising your devices. Plus, you don't have to accept the fact that most companies don't have the resources to provide you with top-notch security for your personal computer and phone. And, your IT team might be trying to juggle multiple technical issues at once, and might take longer to resolve something should your device catches malware at any given time.
So, make it your job to ensure that your computer and phone are as secure as possible, and that you follow your company's cybersecurity guidelines. Here are 5 common cybersecurity mistakes to avoid: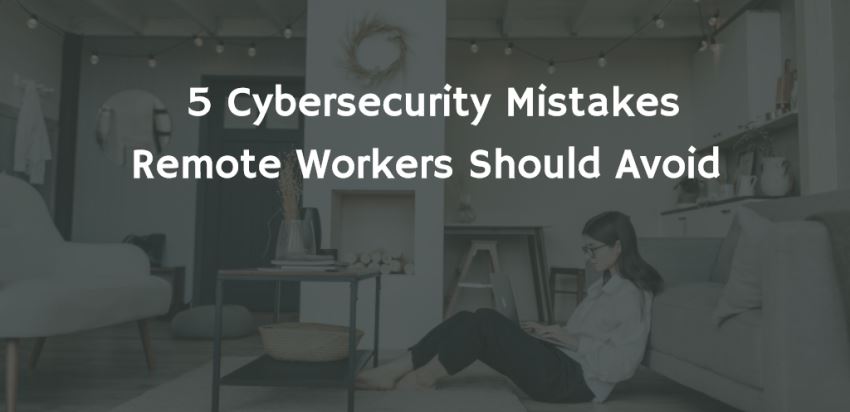 1. Not Updating Your Devices
Most computers and mobile devices download and install updates automatically whenever they're available. However, some people would turn that option off, so that updates won't happen at a critical moment, and have everything slow down.
But still, updates matter, especially when working with a remote client. If your computer or devices aren't updated, you'll risk getting cyberattack, and it'll take you longer to do any work. So, make it your job to update your devices regularly.
2. Clicking On Suspicious Email Links And Attachments
When receiving emails, you must be wary of suspicious links and attachments. If you see a link or an attachment that looks suspicious, then don't click or open it. Instead, check the email header from any message you receive, and consider the sender of any email attachment, because chances are, hackers will create and send links and attachments that are chalk full of ransomware or malware (i.e. Trojan horses) that can jeopardize your hardware and steal sensitive data.
3. Not Using Approved Software And Apps
When it comes to software and apps that you use for remote work, make sure you have approved apps and software for every device that you use for your work. While it's tempting to download the latest collaboration tool you read on a random website, it's not a good idea.
Therefore, ask your IT team to provide you with a list of approved software employees can download when using a personal computer or smartphone. Make sure that your IT team includes guidelines for how to configure the security settings to protect your work and any other information that needs to be safeguarded.
4. Not Turning On All Advanced Security Settings
Most cloud and web-based apps have security settings you can have on to protect your app/software usage and any information you send through it. Many, if not all, have them enabled by default.
So, when working remotely, enable all the security settings on all software and apps you use to protect your employer's network from hackers and other cyberattacks. Corporate laptops and smartphones should already have these settings turned on. When using your own machine, go to your settings and enable security. And, as always, if you need help enabling your security settings, consult your IT team.
Also, consider reasons to use a VPN to help protect your computer and smartphone from malicious attacks and viruses. VPN is vital for working from home. Trustworthy VPN  like Trust.Zone provides exceptional services that encrypt your IP address and Internet connections to ensure that all your content transfers, personal details, and chats are safe from prying eyes.
5. Not Securing Your Computer And Apps
Finally, locking your computer to a desk or securing your desktop whenever you get up is very important, because chances are, other people could access your when you're not using it. So, secure your device like you would at the office; and never leave it unattended. Use security processes like secure logins, physical tokens, etc. And, when you're done, log out and disconnect any software apps you use to work.
Conclusion
So, as you can see, working from home is more than just having a computer and or smartphone to work with. It's also about securing your devices by maintaining good cybersecurity habits. By keeping your computer and data safe from outsiders, as well as avoiding these 5 mistakes – and consulting your IT team for more information – you'll be able to work remotely and safely.
Author's Bio:
Kristin Herman is a writer and editor at Buy essay and Buy assignment. As a marketing writer, she writes articles and blog posts about the latest trends in digital and social media marketing.