12 Tips How to Protect Your Data During Online Education
1 February 2021
Due to the threat of infection the authorities recommended transferring employees to remote work. In addition, they required schools and other educational institutions to do distance learning. Pandemic forced to make a number of decisions that require people and various industries to adapt to new circumstances. For example, remote work and distance learning are used in many countries around the world. However, such a scale of use as now has not been observed before.
We highlight the following recommendations to protect your data during online edication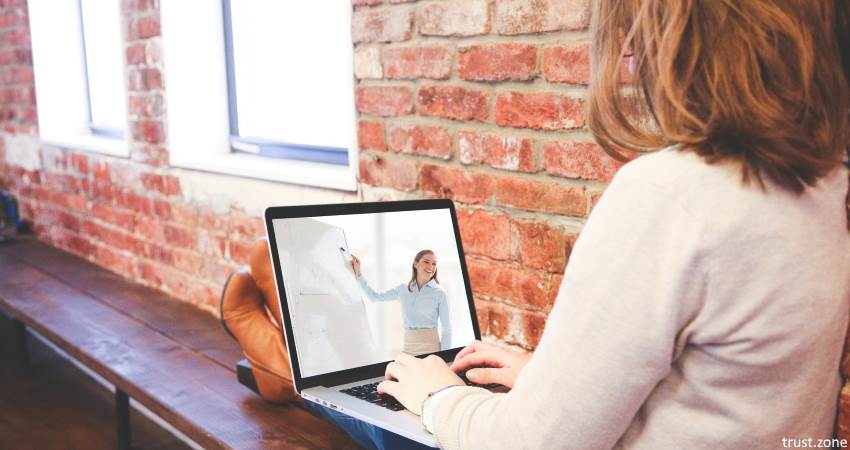 1. Use antivirus software
First of all, you need to have it just in case. You never know if you will need an antivirus or not. Keep in mind that if you use a PC for study and work, this is even more important. Do not let malware compromise your work and your partners. However, having the most advanced antivirus is enough to protect your personal data.
2. Use two-factor authentication
To protect your accounts, use two-factor authentication. This feature is available in social networks, forums, and banking applications. Two-factor authentication is an additional security measure. One complex password is not enough to achieve maximum protection of personal data. With two-factor authentication enabled, each time you log in you must enter an additional code. This code is sent to your phone or email, depending on the authentication method selected in the settings. Thus, even if scammers find out your password by normal selection, they will have to go through the second stage of protection. Naturally, this is much more difficult.
3. Use complex and different passwords
Do not be lazy to create complex passwords for websites. Especially if it is a personal account from a bank account or an electronic wallet. The recommended combination length is from 10 characters. It is also important that the password contains not only numbers, but also special characters or capital letters. Also, keep in mind that you need to use a unique password for each site. In the opposite case, scammers can find out one of your passwords, for example, from email.
4. Do not forget about updates
You need to update your applications and OS to eliminate weaknesses and errors that can be exploited by attackers. Always check whether your OS is updated to the latest version. If needed, you may turn on automatic updates. Thus, there will be no need to do it manually.
5. Protect your home network
Make sure that your Wi-Fi network is encrypted and you use a strong password. If this is not the case, change the password of your Wi-Fi. Remember to change your router's password as well. Most of them have the same sample password. After installing, you can change it in the settings.
6. Ensure your privacy with a VPN
To ensure the privacy of your Internet session, use a VPN. It protects Internet traffic from eavesdropping, unauthorized interference, and censorship. VPN hides your identity from websites, apps, and services that want to track your activities.
7. Be vigilant when using public Wi-Fi
Sometimes, you have to use public Wi-Fi, for example in a shopping center or cafe. Hundreds of people connect to the same network every day. One of them can intercept your signal and connect to the device. This will lead to the leakage of personal data. And scammers can create a fake Wi-Fi network in a public place.
To avoid it, follow the safety precautions:
● Look at the name of the Wi-Fi point. The device can find two networks at once. One is the real access point of the institution, and the other is a fake one. But their names are similar. It is better to ask the manager which of the networks is the official one.
● Turn off the automatic Wi-Fi connection option on your phone, tablet, and laptop. This way, you will reduce the risk of connecting to an unwanted wireless point.
● Use a VPN. Especially if you want to work via public Wi-Fi. For example, transfer important documents or transfer money via an electronic wallet. Thanks to a VPN, all your traffic is "anonymous" and it will be very difficult for attackers to decrypt your connection.
8. Avoid over-displaying the screen
During online meetings, be careful when showing the screen. If possible, do not leave open windows that you do not want to share. While this may be inconvenient, it is also a privacy issue. You may be sharing content that is not intended to be viewed by others.
9. Beware of Covid-19 Related Scams
The Covid-19 epidemic has been the subject of numerous phishing, ransomware and fraud campaigns. In case of receiving that kind of messages, do not open them at once. Remember that phishing emails are constantly improving.
10. Do not share personal information in messages or social networks
Please note that the most successful phishing campaigns are the targeted ones. To successfully conduct a targeted phishing campaign, an attacker needs your personal information. Where do they get it? Usually they find it in your emails and social networks. Before sending important personal information, make sure that the person who asked you is not a fraudster acting on behalf of your friend.
There is also the risk of sharing photos of your remote workplace on social networks. You may accidentally share important information while doing so. The same situation we have with webcams. While using them, you can also accidentally tell too much about your home or family members.
11. Beware of phishing sites
Phishing sites are copies of known web resources that steal usernames and passwords. The only difference is the domain name. Usually it differs from the official one. When a person enters the login data on a phishing site, the username and password are passed to the attackers. Links to phishing sites are spread through spam. For example, you can receive it via email or text message. Therefore, try not to click on unknown links from emails.
If you opened such a website, do not rush to enter your personal data. First, look at the address bar and study the site address. The URL of the phishing site is different from the original one, although scammers try to choose similar names. With the growing popularity of writing services for students, scammers create dozens of their copies. Thus, they try to deceive the students. To prevent it, we recommend using only proven Internet resources. If you still doubt "Why students should use help of a writing service", we advise you to read the material at the link.
12. Create a good working environment
Learning from home is difficult. It is difficult to concentrate and find motivation. Try to create a comfortable working environment for yourself. Social networks are full of good ideas from other people that you can use yourself.
+ 3 EXTRA tips for those who are on distance learning
With regard to distance learning, it is worth noting the following recommendations:
● Universities should only use proven distance learning platforms to ensure school privacy;
● You can not allow the transfer of confidential information through unsecured channels;
● It is necessary to follow instructions on online education created to protect the privacy of student records.
When you learn on a remote computer, you do not have a system administrator nearby, so you need to be even more careful and even more suspicious. You do not see your teachers, and you may receive various letters on their behalf. If the message contains some strange and unusual request in an unusual style, then call the teacher back. It is likely that he has already been hacked.