5 Easy Ways Teachers Must Protect Student Data Privacy
5 January 2021
We know hackers have more interest in gaining access to servers of businesses than educational institutions. However, every personal information stored on the internet is worth protecting.
Schools collect loads of their students' data and are obligated by law to ensure their safety. With an increase in remote teaching, it is very important now more than ever for teachers to pay attention to student's data privacy.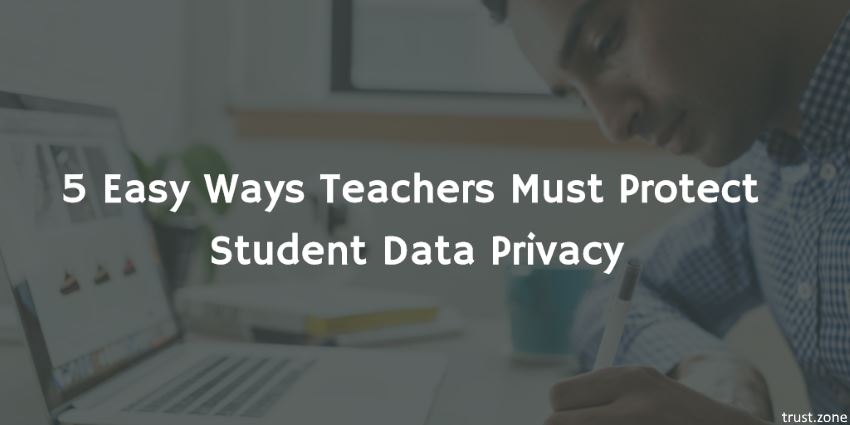 Why Teachers Should Protect Student's Data Privacy
Traditionally, student data consists of grades, attendance, discipline, and health records. Only teachers, administrators, guidance and counselor, and other officials of the school had access to the data.
With schools using Learning Management Systems (LMS), Student Information System (SIS), and other technologies, they inadvertently share students' traditional data with these companies. Ethically, teachers should follow and lead good digital behaviors and practices with students. Teachers must be careful with the digital processes and products that they incorporate in their project and lesson design.
What Comprises Student Data?
Personally identifiable information (PII) is any information tied to individual students. The information includes:
 The students' identity (name)
 Medical condition(s)
 Academic information
 Name of parents
 Date of birth
 Disciplinary records
 Email account
 Online bulletin boards, etc.
Collection of students' social security numbers is barred by some states because of its sensitive nature, hence its absence from the above list. Essentially, PII in the educational setting covers every information that is necessary for schools for basic administration and instruction.
5 Simple Ways Teachers Can Protect Their Student's Data

Although there are national laws, individual school specifications, and district guidelines in place, it can still get tricky for educators to protect their student's data.
Below are 5 simple measures teachers can take to protect themselves and their students in today's complex tech world.
1. Use Only Encrypted Tech Tools
Ensure that data is stored and transmitted securely on any educational website you visit. You should check the URL and ensure it has an additional 's' after the HTTP. You can also check the URL bar for an icon that shows if it is a secure link.
Any unauthorized data obtained or leaked from websites that contain 'HTTPS' will be unusable. Teachers must pay attention to this detail before entering their or students' data into any website.
Teachers should also download applications from designated stores to guarantee they are encrypted. Since it is difficult to tell if phone applications are encrypted, teachers should read app reviews to know how they will protect their students' information before installation.
2. Use a VPN
With so many malicious threats on the internet, using a trustworthy VPN is a great way to protect students' data. Apart from protecting students' data, there are other ways a VPN can be helpful in the classroom.
Teachers can stream educational videos faster using VPNs like Trust.zone. By hiding your identity from streaming servers, it becomes easier to avoid throttling which otherwise would make videos buffer or drop in quality.
A VPN will make it very hard for hackers to breach student security in case they develop a hobby of attacking educational institutions. VPN should be the first app for students and teachers to downoad if they ever need to visit/use an unsecured website or application.
3. Reduce How Much Data Is Collected
Reducing the number of information their students collect is the easiest and most important step teachers can take to protect student's privacy. By minimizing data collection, schools are less likely to lose control of it.
If it is possible, schools should not collect sensitive data at all. Data like the Social Security number of students and parents are too sensitive. The U.S. Department of Education has urged parents to not disclose their social security numbers to schools.
Schools should also review how they collect data and remove any unnecessary fields.
4. Do Away with Any Unnecessary Student Records
Deleting old records serves a similar purpose as reducing the amount of data collected: minimizing the impact of potential breaches.
Schools must have a record retention policy that will regulate their data storage. They must stipulate how long the different types of data they collect can be stored.
For example, a school can choose to store a student's grades permanently, in case of transcripts, but delete a student's disciplinary record in say, seven years after graduation.
5. Use Social Media Safely
Oversharing online becomes a security problem. Parents can stay in the loop of what is happening in their children's classrooms through social media. Schools must remain professional while using social media.
They should review each of their social media privacy settings to make it as secure and private as possible. For example, teachers can set their classroom Twitter account to 'protected'. This way only people they follow can view their tweets.
On Facebook, ensure the account is only visible to friends. Finally, teachers should use photo editing software to blur the faces or any information that may reveal their student's identities.
Final Thoughts
Educators must be more cautious to protect their students' and families' data from unauthorized users. By adhering to the tips in this article, schools can better protect their students' data.
Author's Bio
Frank Hamilton has been working as an author at write my research paper for two years. He is a freelance professional writing expert at custom dissertation writing service in such topics as IT, cybersecurity and blogging. He also loves traveling and speaks Spanish, French, German and English.