How To Watch Swedish TV Outside Sweden
12 July 2021
If you have ever tried accessing STV, TV4, or Viaplay (all Swedish online content platforms) outside Sweden, you would have noticed an error message in response to your efforts. This often comes as a bit of a shocker to some folks. This is especially the case for those traveling out of Sweden for the first time. If that is your case, sorry, you cannot take Swedish TV with you when you leave the shores of Sweden. Shows like Quicksand and Caliphate are outside your reach when you leave the country.
This ban results from a phenomenon known as geo-restriction. However, it is not insurmountable. With a VPN like Trust.Zone, you can unblock Swedish TV outside Sweden. Before we dive into that, let's know exactly how geo-restrictions work.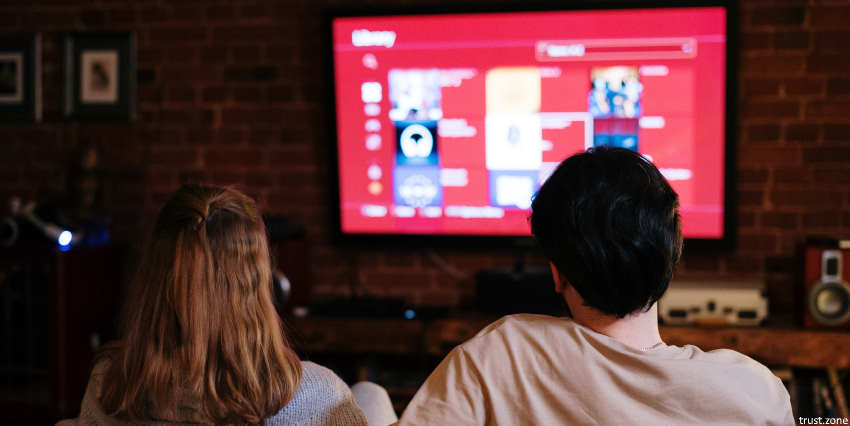 How Does Geo-restriction Work?
Geo-restrictions refer to the practice of restricting content to users in specific locations. Here, you find music, videos, games, etc., available in one location and unavailable in another. This phenomenon is not unique to Swedish TV. Streaming platforms, including the popular ones like Netflix and Hulu, all employ some form of geo-restriction. This is the reason you can't access a Netflix library of a region outside yours.
Before we go on, it is important to ask, what is the reason for this practice, though? Generally, geo-restrictions result from licensing agreements. Typically, content owners give licenses to streamers for use in certain limited locations. Thus, if a streaming platform violates this agreement, they could be liable to a lawsuit. So, in the case of Swedish TV, the content owner most likely licensed the platform to make available the content only to Swedish citizens. The streaming provider's hands are, in effect, tied.
A streaming platform uses your IP address to identify when you attempt signing in from an unapproved location. You may not know it, but your IP address is a dead giveaway of your location. It informs anyone who cares to check where your current location is. Thus, the streaming platform needs only to check your IP address to confirm its compatibility. Once it discovers you aren't in the approved location, it boots you out.
However, as mentioned earlier, you can access Swedish content outside of Sweden using a VPN. Below, we show you the how and also why TrustZone should be your first consideration.
How To Unblock Swedish TV Outside Sweden with a VPN
The most reliable way to unblock Swedish TV outside Sweden is by using a VPN. A VPN is software that works to protect your online data. It encrypts your traffic, making it such that your network passes through a secure tunnel whenever you are online. This is also the process through which it tricks streaming platforms into thinking that you are in an approved location.
When the VPN provider routes your traffic through its service, you obtain an IP address compatible with the location the server is in. Thus, if the server is in Sweden, you get a Swedish IP address, whether you are in Sweden or not.
This is an excellent strategy because your security is not compromised while you access the Swedish content. Furthermore, both the streaming platform and your Internet Service Provider (ISP) will be none the wiser about your activities. This prevents targeted actions such as speed throttling that some ISPs engage in to deter users from streaming content.
What VPN Should You Use to Watch Swedish TV Outside Sweden
As confirmed by local Swedish comparison sites, TrustZone meets the mark when it comes to unblocking Swedish content abroad. The provider has a plethora of features that make it an excellent fit. Let's explore some of its features.
TrustZone has servers in multiple locations, including Sweden. Connecting to any of them encrypts your traffic securely and also gives you a Swedish - compatible IP address. This tricks the platform into thinking you are in Sweden, granting you instant access. You also get improved security from the encryption protocols TrustZone employs such as WireGuard, OpenVPN and L2TP to block out bad actors. You get a kill switch and assurance that this provider does not log your data.
TrustZone provides compatible apps for iOS, Android, macOS, Windows and Linux devices. You also get a 10-day money-back guarantee window, as well as 3 days of free test period (no credit card needed) when you use the service. These ensure that you try out the service and be satisfied with its competence before you commit fully. Remarkably, during the Free Test period or money-back window, you can use the full range of features this provider has.
4 Reasons Why TrustZone  is the Best Choice For Unblocking Swedish TV
If you run a cursory search online, you'll find that many VPN providers claim to be able to unblock streaming platforms with ease. However, it will be foolhardy to believe any such assertion. Here are cogent reasons TrustZone should be your VPN of choice for unblocking Swedish TV:
1. Available Swedish Servers
This is perhaps the most important consideration you should have when deciding on a VPN to access Swedish TV. As highlighted earlier, a VPN switches out your IP address and gives you one compatible with your chosen location. However, to perform this function, the provider needs to have servers in the secondary location. TrustZone has a good number of servers in Sweden which make unblocking Swedish TV a walk in the park.
Keep in mind that Ip address of VPN server is shared among other users. Dedicated IP address can guarantee that your IP address cannot be locked or banned by streaming platforms because personal Dedicated IP belongs to you only, it is not shared with anyone else.
2. Speed
Following from the point above is the requirement for speed. This feature is not as important as the one above in that it should not be a deal-breaker—except, of course, if it is. You need fast internet speed to have premium experience while streaming Swedish TV. Lags can make the experience frustrating. Furthermore, a perennial drop in speed could actually expose you to security threats. Without a doubt, TrustZone delivers top-notch speed so you can expect a smooth experience while watching Swedish TV.
3. Security Features
You need to be safe while streaming Swedish TV from your remote location. Thus, the security features a provider has is a valid concern to have. Here, you can consider the encryption standard the provider uses, whether it supports multiple protocols and split tunneling, availability of a kill switch, etc. As a matter of fact, TrustZone uses military-grade encryption, the AES-256, which has never been cracked. So, you can rest easy knowing that you are fully protected.
4. Price
It is important to state here, first off, that a paid VPN like TrustZone offers the best experience for accessing Swedish TV outside your primary location. Totally free VPNs come with challenges that include slow speeds and even security breaches. An ideal provider should have affordable subscription plans, and TrustZone does. Furthermore, it provides a money-back guarantee and a free test period. This allows you to test it out and confirm that its features are indeed top-notch.
Conclusion
On a normal day, it is virtually impossible to access Swedish TV outside Sweden. This is because the streaming platforms that allow access to Swedish programs block users abroad. However, hundreds of users globally have found ways of getting around this challenge. One of the surest ways is through using a VPN. You cannot go wrong with this option because you get security even while unblocking whatever platform you wish. You do not have to worry too much about finding a compatible VPN provider—Trust.Zone comes through when you need it.