5 Reasons Why Translators Should Use a VPN
6 July 2020
Freelance form of work has become a breakthrough for many within the last two decades. Besides, the Coronavirus pandemic was driving a huge growth in remote freelace work. Whether you simply need to make some spare cash on weekends, want to switch your career smoothly and steadily, or want to be sure that no sudden disaster deprives you of work and financial income, freelance is always a good idea.
Whatever freelancing work you do, it is quite reasonable to use the Virtual Private Network, or VPN for short, due to a large number of reasons, some of which will be covered below. When it comes to a translation job, however, using a VPN becomes vital because of security reasons, and because VPN essentially allows you to travel around the world in virtual space without leaving your home.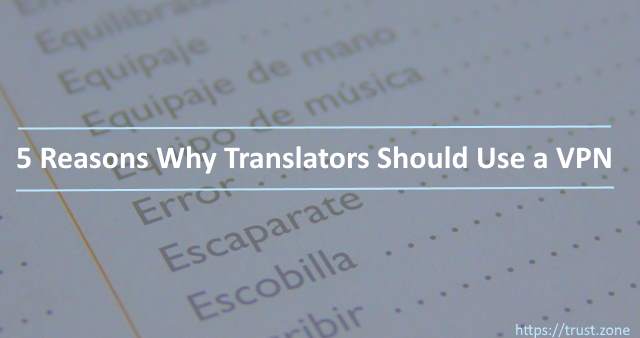 Why Translators Need Use a VPN
Before getting into why VPN is important for freelancers and translators, in particular, it is important to underline what does not get lost in virtual space means. Essentially, not being lost in virtual space is having a secure connection that cannot be interrupted by third parties, having access to all possible content on the web, and in most cases, having a faster and overall better internet connection. When it comes to freelance translators, using VPN has even more benefits, as aside from protecting your connection, VPN allows browsing from various locations around the world, which is totally valuable for a language specialist. Here are some perks of using a VPN, which you won't be able to resist as a professional freelance interpreter.
Unlimited access
While this was already mentioned above as essential for any freelancer, it is noteworthy to underline this benefit for translators in particular as it might largely affect the working process overall. For instance, you might get a job to localize a website of a foreign company, which cannot be accessed from your country yet. So, using a VPN would be an obvious solution here.
Another side of localization
Let's assume the situation above the other way. You work as an interpreter and must localize a website of the company from your country in another country. While you have all possible access, you might still want to check similar websites in another country to make sure your language is not just perfect but fitting that country's linguistic specifics as well as the target audience of the company's website. While trying to access such a website, however, you stumble upon a 404 or similar page. This is where a VPN comes in and does its job, saving your work and your day!
Extra security
Again, this perk was already pointed out for all freelancers. Yet, in the context of translators' specifics, this becomes even more viable. While working with translations, interpretations, or localizations, you might stumble with such issues as surveillance applied to a certain website by the country's internet provider, or even such rather exotic things today, like censorship, which still exists in some countries. With VPN, you browse through a private network in a different country, so there's no way you can be tracked or will be blocked from seeing certain «unwanted» content.
Work on the road
When you are a freelancer interpreter, you will likely travel a lot, either because you enjoy learning new things about the language you learn, or because your work requires that, one way or another. Traveling is great, however, it also means the constant and dynamic change of networks and IP-addresses, which might in turn slow down your connection or block you away from certain content. In other instances, in order to not be confused with a second language learner, you might want to always keep your native country's IP-address to ensure your clients that you work with your language as a native speaker. This kind of work is certainly for a VPN.
Getting a VPN is not only a good idea but also a basically healthy one. By being able to stay anonymous and change the point of view (in the direct sense) on the internet will allow you to see the complete picture, know how it sounds in the language you work with, and accomplish all that with maximum security.
Author's Bio
Mark Blackwood writes about some of the freshest trends in learning, traveling, and a modern lifestyle. In his arsenal, you can find tips for nearly everything, from how to find a job as a freelancer to why use localization services. Follow Mark on his way to living smarter, more refreshed, and always in touch with the modern world.