9 Ways VPN Companies Boost Sales on Black Friday
24 September 2021
Black Friday is certainly a holiday made for shoppers to grab the best deals, buy the products they've always wanted to have, and save some money. But, this special shopping date isn't just made for shoppers. Companies and brands who are selling on the busiest shopping day of the year can also profit and use numerous benefits that it comes with. They get to attract new customers, raise brand awareness, and boost their sales significantly.
Therefore, it's no wonder that VPN companies all over the globe offer special deals on Black Friday, trying to boost their sales. There are all kinds of tricks and hacks VPN company can use on Black Friday, to make a better offer for customers.
Here are 9 surefire ways VPN companies use to boost their sales on Black Friday.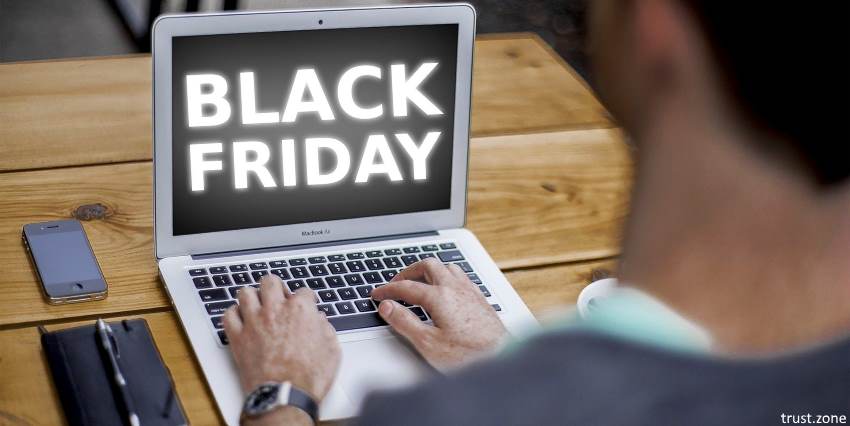 1. Extended Free Period
In the struggle to stand above their competitors, most VPN companies offer their new customers a free period for using their services. Usually, this period is a one-month deal that customers gladly use.
But, once Black Friday comes, VPN companies need to raise their game. Nobody wants to lose money, so instead of lowering the yearly subscription rate, they simply extend the free trial period.
Some companies like TrustZone offer a totally FREE period (no credit card details needed). So, user can try a VPN without entering his payment details
2. Long-term Plan Discounts
When every VPN company is flashing their special Black Friday deals, you need to step it up. Some VPN companies decided to lower their prices on Black Friday, but make it for a long term deal. The customers get a discount that almost never expires, so it's brilliant.
TrustZone offers Early Black Friday Deal - 3 Years Plan with up to 80% discount.
3. Two For One
Getting a customer to sign up for a yearly VPN subscription is the ultimate goal. But, it's a big commitment that takes some persuasion and pressure to be sealed.
So, VPN companies use Black Friday buzz to offer a great deal- two years of VPN for the price of one year!
Naturally, customers feel like they can't miss out on such a unique and special offer that they rush to get the deal. However, the companies usually make the deal far less disadvantageous for them, since they correct the prices before releasing the deal.
Apply promo code EARLYBF80 to grab the deal right now.
4. Discounts on Annual Plans
Sometimes, VPN companies create more than one special offer for their new and old customers, to help them get true value for their money. For instance, they create a gradual increase in the discount for the number of years the subscription is on.
For instance, TrustZone offers the following discounted plans:
- 63% off for the one-year plan
- 75% off for the two-year plan
- 80% off for the three-year plan
5. Flash Sale
Another way that VPN companies use to boost their sales on Black Friday is that they create flash sales that are super-limited and extremely desirable for the customers.
That usually means:
- a limited number of sales they'll make for the special price
- the first customers to sign up, get the deal
Since only the early bird catches the worm, customers usually love taking advantage of these offers and hurry to take their discounts Apply promo code EARLYBF80 here go get Early Black Friday Deal from TrustZone.
6. Additional Features
Do you know how most VPN companies offer different types of VPN plans to their customers? Each plan comes with a different set of features and differs in price based on that.
So, on Black Friday, VPN companies go on and make a special offer such as:
- More additional features for free (for example, DDoS protection for free)
- Pro plan gets more features for the same price
So, customers get a little extra something like additional simultaneous connections, special discounts for extra features - dedicated IP addresses, port forwarding and DDoS protetction
8. Security Boost
Every person looking into the right VPN provider always checks their security features and wants to make sure they've got them covered. Their privacy and data protection are a top priority when choosing which VPN company to trust.
Thus, VPN companies create special Black Friday offers around security, offering:
- additional security features like DDoS protection or Double VPN
- discount on plans with the best security
- improved data protection, encryption, and logs policy
9. Exclusive Coupons
Some VPN companies like to use Black Friday coupons that the customers can use to get a discount and buy something from their offer. These coupons are usually advertised on different platforms, including the company's website, social media, and email newsletter.
If you need promo codes from TrustZone - go to coupon websites or check the latest reviews of TrustZone on the web.
Final Thoughts
When Black Friday kicks in, VPN companies use Black Friday marketing tricks to boost sales, promote their deals and make customers happy with promo codes, flash sale and discounted plans. Strategies listed above show  the most common ways VPN companies prefer making active during Black Friday.
Author's Bio
Jessica Fender is a professional marketer and a content writer. If you ever wondered, "I wish someone would write my paper for me", she is one of those professional academic level writers that will save you time and your degree. She enjoys the beach, martial arts, and literature.