What's a Double VPN?
5 September 2020
VPN provides you with encrypted and private tunnel between your device and the VPN server. Double VPN is more powerful use of VPN technology – it forwards your encrypted traffic through two VPN servers instead of one. Internet traffic is encrypted twice.
For example, with a double VPN your connection is twice as secure, anonymous and private by connecting through France and Netherlands, instead of just server in France.
There are different types of double VPNs - double-hop, multi-hop, cascading, nested, or chained VPNs. The main concept is using two or more secure tunnels consecutively.
So, what are the advantages  and benefits of double VPN?
What are the benefits of Double VPN?

Better anonymity and protection
Your ISP may see the first connection to the VPN server, but will not know your destination IP address, as the connection then goes to the second VPN server. Besides, the second VPN server can't know your real IP address since it is hidden by the first VPN server
Avoid censorship
With a double and multi-hop VPN your IP address is replaced several times. You are able to unblock websites in different regions with no restrictions.
Better protection from hacking
Double and multi-hop VPN protects you against hacking and more sophisticated attacks.
Your ISP or hackers can identify the initial IP that connected to the VPN, but they have no way of knowing onto which server the traffic exits.
Is Double VPN required?
 Double VPN provides you with additional level of protection and privacy. Your IP address is replaced twice. There is no way to monitor your activity by your ISP, government agencies or hackers.
On other hand, double VPN is usually expensive additional feature offered by VPN Service Providers.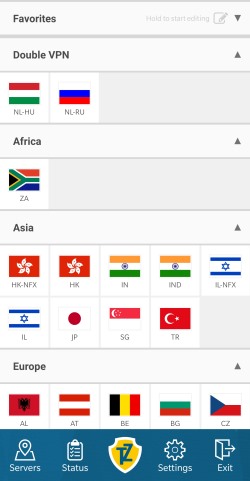 One of the disadvantages of Double VPN is some drop in speed because your traffic is encrypted and decrypted for every VPN server and it goes through several locations. A standard VPN is suitable for most people, while double vpn is good for people looking for extra protection, encryption, and anonymity.
Does TrustZone support Double VPN? Definitely, YES!

Trust.Zone has already started to support Double VPN for majority of devices and OS platforms.Find Double VPN servers in your Android or iOS apps on the Servers tab.
Connect to Double VPN servers for other OS using the supported protocols - OpenVPN, L2tTP/IPSec, ikev2
What's difference between Trust.Zone Double VPNs and Double VPN Servers from other VPN services? We provide our customers with Double VPN for free! No need to purchase extra service.
How to setup and connect to Double VPN?

You don't need to install or configure extra package for your device with Trust Zone client to start using Double VPN.
Just find Doulbe VPN servers among VPN servers in your list of servers and connect!