8 Best Tips to Boost Macbook's Cybersecurity
2 December 2020
Despite its reliability, Macbooks are still prone to potential cybersecurity threats. You may read a lof of articles about how Mac users do not have to worry about viruses or malware, but the reality is quite different.
Negligence may lead you to issues worse than a drop in computer performance. Personal data exposure is also a possibility if you have to deal with a particularly malicious type of malware.
If you feel like your Macbook cybersecurity strategy is lackluster, do not hesitate and take some action. The tips below will help you with that.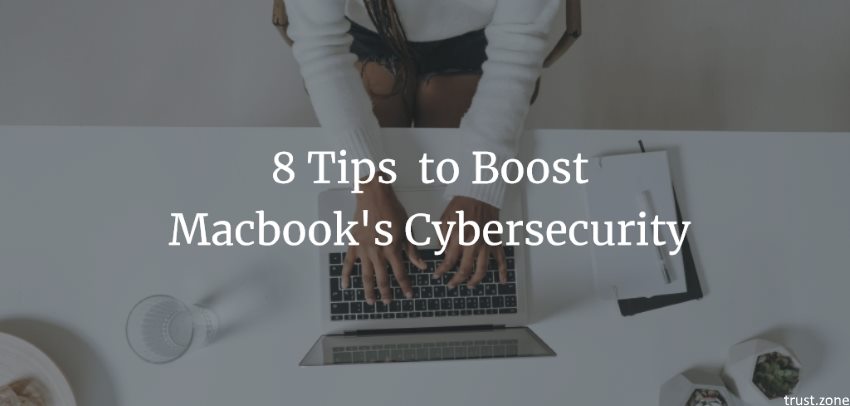 Tip #1 – Get a Cleanup Utility Tool
A cleanup utility tool is an efficient option to remove temporary system junk that accumulates over time. You can also get rid of files like caches, system backups, and app extensions manually. However, that is monotonous and requires a lot of time. Instead, take a look at the list of cleaners for such work and pick one.
Removing temporary data regularly reduces the risk of ending up with corrupted files. Some malware targets this kind of data in particular. However, eliminating it beforehand would give you some peace of mind.
Tip #2 – Replace Default Antivirus Software
XProtect is not the best antivirus software. In fact, some Mac users have reported that the tool causes more issues than it does good for the system.
Look for recommendations on the internet or ask your tech-savvy friends for a piece of advice. Replacing the default antivirus will improve the Macbook's security further. Make sure that the new software you install runs in the background all the time. This way, it should detect and get rid of potential threats immediately.
Tip #3 – Use Virtual Private Networks
Virtual private networks offer more than just anonymity and access to geo-restricted websites. Security is another reason why more and more people are surfing the web via VPNs.
A VPN replaces your original IP with a anoher IP address and encrypts your internet traffic. Hackers will have much more time attacking your network when they have to pass an extra layer of security.
VPN is also required when you need to use public Wi-Fi. Hotspots at locations like hotels, cafes, and libraries do not have encryption protocols that fortify the network's security, making it an excellent opportunity for hackers to set their traps and collect personal data.
Tip #4 – Switch Your Passwords Regularly
Do not get in the habit of using the same password for every account. If someone finds it out, they will have fewer obstacles accessing important profiles, such as emails and social media.
In addition to changing your passwords, you should also avoid popular passwords and simple combinations, like "password123456." There are online generators that can create a difficult password for you. And if you have problems memorizing it, write the password on a piece of paper until you remember it.
Tip #5 – Create Data Backups
Backing up your data should not be a chore. Thanks to tools like Time Machine, creating backups is relatively simple. You can also take advantage of services like Dropbox and iCloud that are relatively safe as well.
Even if you take as many security measures as you can, there is still a possibility that something could happen to your computer or a particular file. Having a backup will give you peace of mind.
Tip #6 – Control Physical Access to the Computer
Living alone means that you should not have issues controlling physical access to the laptop. However, if someone else uses the computer, take some precautions if you cannot guarantee that they will not cause potential problems.
For starters, disable the auto-login feature so that only those who have a password can access the admin profile. Create a separate Mac user and restricting certain features on the account would help as well.
Tip #7 – Do Not Miss System Updates
The operating system updates are not just about stability and performance improvements or the latest features. There are instances when the OS developers have to react to the latest malware and release a security patch that fixes potential system holes. You put the computer at risk by neglecting to install the latest updates.
Given their importance, even if updates take a while to download and install, you should still prioritize them and wait for as long as necessary instead of risking.
Tip #8 – Secure Web Browser
In addition to virtual private networks, there are other ways to secure your internet browser. Install an ad blocker extension that prevents pop-ups and other types of advertisements that redirect people to malware-infested landing pages. 
Avoiding questionable URLs, even if you receive them from people you know and trust, would also reduce the odds of encountering malware.
You can also user VPN extensions to encypt your browser connection and stat safe.