Why Trust.Zone is the Best VPN for TikTok in 2021?
17 September 2020
Have you ever tried TikTok? We bet you have because it's the fastest-growing social media platform that already accumulated more than 800 million users globally. The platform is extremely popular worldwide, particularly among younger people who love creating short and entertaining videos.
But there is a problem with TikTok – some countries decided to ban it due to security and/or cultural reasons. India, Pakistan, and Indonesia already disabled TikTok, while Australia is probably going to do the same thing in the months to come. Most importantly, President Donald Trump issued an executive order that practically bans the app in the US.
This is exactly why so many people use a VPN to activate TikTok regardless of their physical locations. If you are thinking about doing the same thing, you should learn why Trust Zone is the best VPN platform for TikTok in 2020. Let's take a look!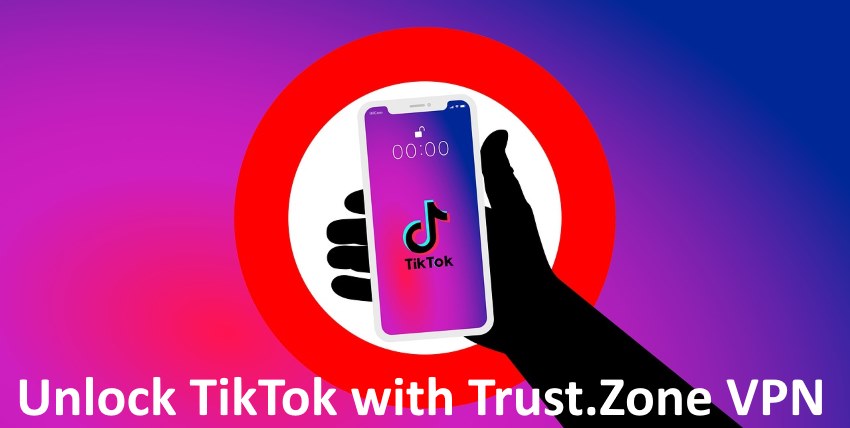 TikTok facts you need to know
Before we start talking about Trust.Zone and its benefits, we want to tell you a brief background story about TikTok. The trendiest Chinese mobile app owes its success to numerous factors. Jake Gardner, a digital marketer at Dissertation Service UK, explains the key success factors:
Video content: Young users are consuming video content almost exclusively, which is the main reason why TikTok became so popular so quickly.
Potential to go viral: If there is any platform that appreciates interesting content and allows it to go viral, it must be TikTok. The system precisely calculates the hottest posts and gives them the reach they really deserve.
Creativity: TikTok users are encouraged to express creativity and unleash their artistic or entertainment potential.
Simplicity: Unlike other social networks, TikTok makes it easy to produce, edit, and upload video content.
Attention span: A typical user has an extremely short attention span, which perfectly coincides with the length of TikTok videos. Namely, the maximal duration of a TikTok video is 60 seconds.
Mobile-oriented app: Do you know there are more than five billion smartphone users in the world today? The number is growing steadily and TikTok exploits the fact that contemporary Internet users are primarily mobile-oriented.
With all that being said, it is important to answer a question:
Why is TikTok so controversial and banned in some countries?
First of all, many governments and national authorities are worried about the content placed through TikTok. It's hard to control what gets published on the platform, while too many videos contain violent, vulgar, and even pornographic content.
Secondly, TikTok raises a lot of privacy concerns because the network gathers users' personal information and data such as IP addresses, usage stats, device identifications, locations, and so on.
And thirdly, some countries – the US included – claim that TikTok jeopardizes their national security. It's a fairly controversial topic, but the consequence is that TikTok is banned in a number of countries all over the globe.
7 Things that make Trust Zone perfect for TikTok
The situation with TikTok should be clear by now, but how can you overcome location barriers and use the app without any interference? The answer is Trust.Zone and here are seven reasons why you should use it:
1. Trust Zone guarantees anonymity
Why would you use a VPN for TikTok? There are two answers to this question:
- To access the platform from anywhere in the world, banned locations included
- To use the app without any cybersecurity concerns
Trust.Zone fulfills both of these actions perfectly as it guarantees anonymity, so you don't need to worry about anything. You can access TikTok from wherever you want and there will be no safety issues or data breaches whatsoever.
2. Trust Zone enables full functionality of TikTok
If you are struggling with college writings, you are probably looking for the custom essay service. If you choose the best VPN for TikTok - you read VPN reviews. Among many reviews of the best VPN services you will learn that Trust.Zone enables the full functionality of TikTok and allows users to behave as if they are not using a VPN service. As such, the platform outperforms the vast majority of other VPN providers.
3. The service is super-fast
If you've been experimenting with VPN services lately, you probably figured out that they slow down Internet connections and degrade the user experience to a certain point. This is not an issue with Trust.Zone because the platform operates globally and guarantees super-fast services (see Trust Zone speed tests)
Given the fact that TikTok is all about video content, it is fundamental to choose a reliable VPN that does not interfere with your Internet connection.
4. Trust Zone VPN is easy to set up
As a highly authoritative VPN provider, Trust.Zone makes sure to simplify operating procedures. This practically means you can complete all activities quickly and effortlessly, including the setup process. You can set up Trust.Zone in four simple steps:
- Choose the operating system
- Download official app
- Select a VPN server
- Connect
5. Affordable prices
Unlike many other top-performing VPN services, Trust.Zone is not supposed to rip you off. The platform doesn't come with a hefty price tag, but rather a full set of affordable pricing plans. Here's how it goes:
- A free 3-day testing period with 1GB data transfers. No credit card details needed.
- A monthly plan with unlimited data transfers costs $8.88
- A yearly plan with three simultaneous connections for $39.95
- A two-year plan with five simultaneous connections for $55.99 
6. Global coverage
We already mentioned that Trust.Zone is very reliable and super-fact from wherever you're using it, but that would not be possible without the global coverage. Namely, the platform operates with 200+ servers in 100+ zones in the world. Trust.Zone servers are located in 50+ countries on five continents, thus maximizing the reach and the speed of VPN services.
7. Superior customer support
Finally, it is important to mention that Trust.Zone provides clients with superior customer support. You can contact Trust.Zone anytime you want via tickets or emai .
However, the experience taught us that you can expect a much faster answer in the vast majority of situations. Besides that, the company's FAQ page is so extensive that you probably won't even have to send Trust.Zone a message.
Trust Zone is the way to go
Now that you know the pros of using Trust.Zone as your VPN provider for TikTok, the only thing left to do is to choose your pricing plan. Trust.Zone is one of the most reliable VPNs for TikTok and all other online activities, so make sure to give it a try and enjoy the privilege of safe and secure social networking.