8 Reasons Why Your VPN Refuses to Work on Your Device: What to Do?
19 May 2022
Do you want to be able to use the Internet freely while also protecting your privacy? Installing a VPN appears to be an easy way to deal with this issue. But what if the VPN refuses to work on your computer?
According to statistics, more than 49% of adult users used VPN. And the reasons are self-evident. However, not everything about this tool is perfect: two out of every three free VPN users report having technical issues with their networks.
Solving this issue is critical because many users rely on VPNs to keep their activism and journalism work private. Is it possible to work with a VPN on your computer without encountering any difficulties?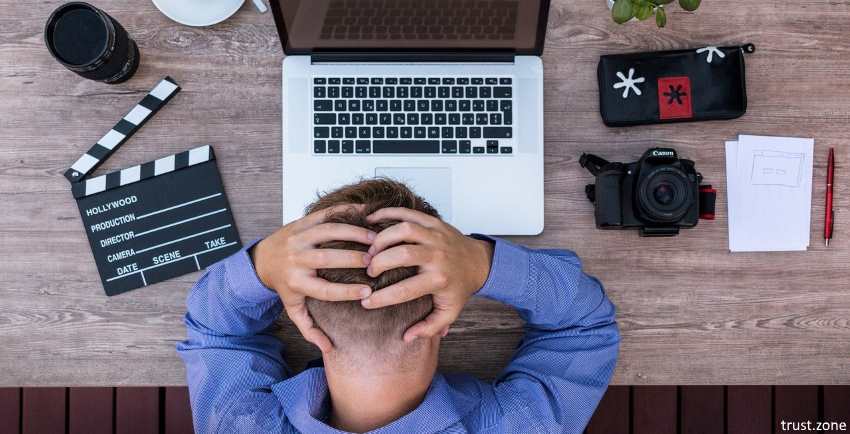 8 Reasons Why Your VPN Doesn't Work
A VPN is a helpful tool that allows users to protect all the traffic going in and out of their networks. It is no longer a privilege given only to big corporations.
It is now accessible to the masses via personal VPN services such as Trust.Zone and other options. There are a variety of reasons why computers and other devices do not work with your VPN:
1. VPN Client Problems
First and foremost, ensure that you have installed the VPN client exactly as instructed. If an error occurs, the best course of action is to reinstall it:
Uninstall the application;
Restart the computer;
Install the client;
Restart the computer again;
Try connecting again.
2. Antivirus Software Blocks
If you have antivirus software, the VPN client software may fail to download. VPN restrictions can also be set as a default in it. Firewalls are usually not a big problem. Some older versions, however, do not work properly with a VPN connection.
To find out if this is the case, you should temporarily disable the firewall and reconnect to the VPN server. If the issue is with a firewall, you will most likely need to open some outbound ports, which may vary depending on the VPN and firewall software.
You can also try disabling the security software and reconnecting to the VPN client again. If this option does not work, try adding the VPN client as an exception to the firewall and antivirus software, and then unlock the ports commonly used to connect VPNs: 21, 22, 80, 443, 1194.
3. Your Home Router Does Not Support VPN
Some routers do not support VPN Passthrough, which is a router function that allows traffic to freely pass through the Internet or/and the protocols required for certain types of VPNs to operate. When purchasing a new router, make sure it is labelled as a VPN supporter.
If you are having trouble connecting to a VPN, search the Internet for a specific brand and router model plus the word "VPN" to see if any data is highlighting the compatibility of your router model with a VPN support function.
Your router's manufacturer may provide a firmware update with VPN support. If such an update is not available, you will need to buy a new home router.
4. Home Network Issues
If you are using a laptop or mobile device, go to a cafe or library. Such locations usually have free public Wi-Fi hotspots.
There, you can try to connect and test your device's VPN access. If the VPN works when connected via a hotspot network, you should look for the issue on your home network. You may need to modify some network settings that are causing trouble with VPN access.
5. VPN Protocol Difficulties
Incorrect VPN protocol settings can also cause problems with connecting to a VPN. To resolve the issue, go to the manual or setup guide and check that you have chosen right protocol
6. VPN Software Failure
VPN software, like any other, can fail. So, it is not a big problem if it does not happen frequently and disrupts your browsing experience. To solve this issue, you should make sure that your device runs the most recent version of the software, as older programs may have stability issues.
Allow automatic VPN software updates or manually check for updates from time to time. Aside from that, you should close other launched apps that might be interfering with your VPN client. After you have double-checked the preceding points, restart your device and reinstall your VPN client.
7. Inappropriate VPN
Some virtual private networks may not work with tablets or mobile devices. If your VPN is not working with your gadget, you should look into the following:
Check with your mobile provider. Check with your provider to see if your mobile operator doesn't block any specific ports for your VPN.
 When transmitting data via a wireless or cellular connection, ensure that you have a continuous, strong signal that is not interrupted. This point is frequently overlooked because any motor device (fan, refrigerator, etc.) can cause enough interference with a wireless signal to cause intermittent problems;
Restart the equipment in the following order: modem, router, and tablet. A stalled process can cause processing delays that you are unaware of.
8. Check your subscription plan
Check if your VPN subscription is not expired. Some VPN providers may limit your traffic per month. Use the best VPN service with unlimited bandwidth and traffic and purchase long-term plans to save more money
Conclusion
A VPN may appear complicated at first glance, but you do not need technical knowledge to fully manage it. Create a secure connection between you and the Internet, gain additional privacy, and safely download torrents whenever you need them.
Author Bio
Melissa Mauro is a freelance writer who creates quality and original content. She is working for a company where every student can hire an essay writer. Melissa believes that creativity and improvement are things, which distinguish a good writer.