4 Signs You're Dealing With a Phishing Website
17 June 2021
Phishing websites are tools that cybercriminals use to steal personal information. They trick people into disclosing their passwords, phone numbers, credit card details, etc. For example, phishing websites can mimic Netflix and ask you to update your payment details or require you to log in to your PayPal account to update information.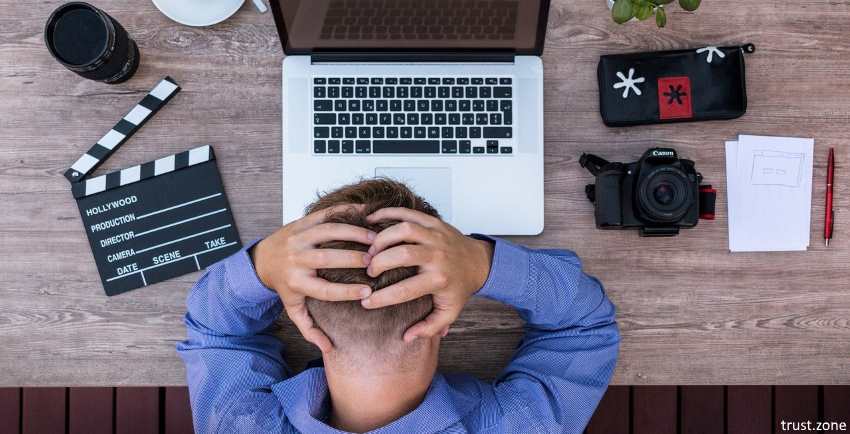 People end up on phishing websites by:
Clicking on links in phishing emails;
Mistyping a URL;
Clicking on suspicious pop-ups and ads.
Phishing websites become more and more elaborate and thus difficult to identify even if you're an experienced user. These are the copies of platforms we use daily, like a bank, online shop or social media website. As their design is identical to that of a legitimate site, people often see no reason to doubt their credibility.
The spread of phishing attacks is a growing concern as we become more and more dependent on the internet in our daily life. Phishing has become one of the most widespread types of cybercrime. According to the FBI's report, 114,702 people reported being victims of phishing and similar crimes like vishing, smishing, pharming and ransomware. Their total losses exceeded $57 million.
Anyone can become a victim of a phishing crime. To protect yourself from this type of internet fraud, you need to be aware of phishing and be critical of everything you see online. Here are four signs that will help you to identify phishing websites.
Check the URL
The easiest way to distinguish a reliable site from a phishing one is to check its web address. Phishing websites use addresses that look correct from first sight. The fraudsters do everything they can to trick people into believing they're using a trustworthy site. Yet, there are several signs of phishing you can notice by examining the URL:
Phishing websites use common misspellings in domain names. For example, instead of "www.google.com," you will notice "www.gooogle.com" or "www.googel.com"
You may also see additional characters in a domain name like "www.faceboook.com" or find some letters substituted with symbols or numbers like "www.y0utube.com"
Phishing websites often have different top-level domains than those of real websites. For example, if the web address of the legitimate site ends with ".gov", the phishing website might have ".com" as a top-level domain. Note that ".com" is one of the most frequently used top-level domains on phishing websites as well as ".ga," ".tk," ".ml," and ".cf"
Make sure that the domain name you expect to visit is located right before the top-level domain. If you see any other words inserted between the two, you are using a phishing website.
You should always double-check the web address of sites where you enter your sensitive information. If you're not sure what the official domain is, just open the necessary site from your bookmarks. You can also type its URL by yourself instead of clicking on links to make sure your log-in will be safe.
Note that you can check the URL without clicking on the link. You need to hover the mouse over it and check the web address in the lower-left corner of your browser.
Evaluate the Content of a Website
One more thing that helps to identify official websites is quality writing. We are taught the importance of error-free writing from an early age. As students, we get numerous assignments to polish this skill. All this preparation allows us to write well and also differentiate between good and bad writing.
Real organizations care about the content they deliver because it's part of their reputation. They put a lot of effort into building their websites. Therefore, everything from design to grammar will be as good as it could be.
In contrast, phishing websites are usually full of misspellings and broken sentences. Some experts believe that it can be even done on purpose as such websites will attract naive users who can be easily tricked into disclosing their sensitive information. If you notice that the language of the website is poor, it's a warning sign. Leave it immediately, as there's a high possibility that you are using a phishing website.
Be Cautious with Ads and Pop-Ups
Suspicious pop-ups are a red flag that can help you identify a phishing website. Usually, such pop-ups immediately ask you to enter your log-in information or payment details. They might even direct you to a legitimate website afterward.
Pop-ups that will lead you to phishing websites usually offer something that is too good to be true. For example, you can see a pop-up with information that you have won a lottery or a car. It can also offer you huge discounts or free goods. All of these are warning signs. Don't enter any personal information if you're unsure that the site is completely secure.
It's better to avoid clicking on pop-ups altogether. A lot of them are created with the only goal to get one's personal information. You can have a more secure experience with a quality VPN. VPN encrypts your internet traffic and keeps prying eyes away from your online life.
Check the SSL Certificate
To keep your personal data safe, trustworthy websites use SSL certification. By providing encryption and authentication, it validates a website and prevents fraudsters from presenting a fake as an official version of a website.
You can find information on the SSL certificate of a website by clicking on a padlock icon. It's located next to the web address in your browser. Besides, only with the SSL certificate can sites get HTTPS web addresses. Most browsers notify users that HTTP websites are "not secure." Thus, all real companies will have SSL certification on their websites.
You should also use a secure encrypted internet connection to make sure all information you enter remains private. A trusted VPN can enhance your safety and protect you from phishing and tracking your browser history. It will make your session much safer than the regular security features of your browser. Using both VPN and HTTPS improve your security.
Evaluating whether a website is safe, do not rely only on SSL certificates. Some of the dangerous websites use them as well. You should always check for all four signs of phishing to make sure a website is secure.
Autor's Bio
Julie Gunn is a professional content creator. She writes for the academic writing service DoMyEssay as well as for numerous online platforms. Julie spends most of her time online, so she is no stranger to internet fraud and the importance of cybersecurity. In this article, she shares key things she learned in simple words to help more people browse the internet safely.