4 Benefits of Technology in Online Education
1 February 2022
Nowadays, pandemic obstacles have shown a surge in online education. Some individuals used to worry about the validity and quality of online teaching. Today, it is becoming more and more commonplace. Much of this is due to the fact that online institutions must go through a stringent certification procedure.
The benefits of technology in education are immense. Developing e-learning creates a completely different approach to schooling.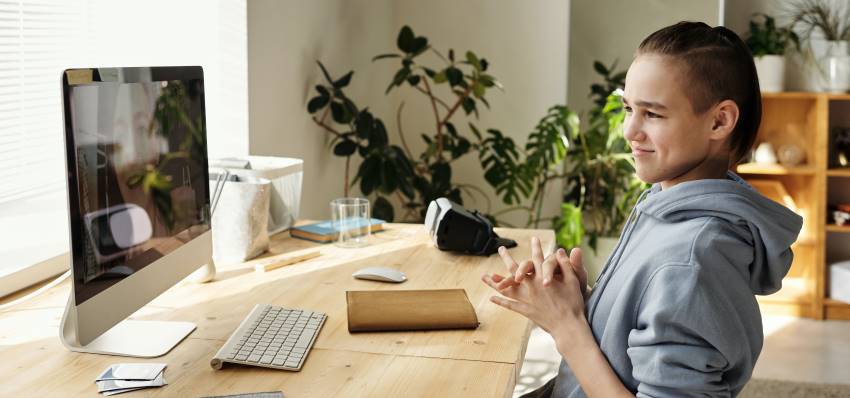 Accessibility
Earning a degree used to be a privilege only those with extra time and money could enjoy. The creation of online education has shattered the divide between those who are able to afford a college education and those who cannot. Some also use platforms like Zoom for more productivity. Consider following these Zoom tips and tricks to learn some new ways of benefiting from it.
Automation
Technology makes the process of learning less lonely and more comfortable by automation. The Internet offers a variety of platforms that automate programming, graphic design, web development, etc, and tools such as a logo maker, eCommerce website builder, and more.
In e-learning activities, you'll be assisted by a cool friend called Artificial Intelligence. It may not entirely resolve all of your tasks, but automation tools can help to customize useful materials based on unique learning needs or requests. You can always type some inquiries in the search bar of any browser like "online dictionary", "math formulas" etc., and instantly get a lot of different results with useful advice. You can even use the internet as an online assistant, asking with direct requests such as "calculate this exercise for me", "do my homework for me", "help me with basic grammar" and so on.
Flexibility
Only having a PC and access to the World Wide Web provides a great opportunity for online education - whether you want to read informative blog articles, stream movies or get access to a big number of branded podcasts, opportunities are endless That means you can study on your own schedule. If you need to provide for your family or even just stay afloat financially, you can keep a full-time job and acquire information in your off time.
Online degrees are also drastically more affordable than traditional educational institutions. You no longer have to sacrifice invaluable time with your family or give up your current career to move ahead with your education. If you are happy with the field you currently work in, but are looking for more out of your career, your online degree will help you climb the corporate ladder and advance into managerial positions that offer greater salaries.
Safety
The internet gives you your own personal room for different purposes, including learning opportunities. By using some additional apps, you can make it completely safe.
For preserving internet privacy, a virtual private network (VPN) like TrustZone can be useful. This is especially important for people who may use the internet for educational digital platforms and social media. The last thing you want is for someone to monitor your internet activity. However, by connecting to a VPN, you may hide your location from prying eyes. How? VPNs encrypt connections and keep you anonymous while you use the internet. Technologies make it easy to create a protected online space.
The future of online learning looks very bright. The number of people choosing this path to further their education is rapidly increasing.
When the concept of online education first became a reality, it was primarily in the form of small accreditation programs used by companies to further educate their employees in very specific areas. As soon as it was expanded to entire degree programs, many people viewed them as a farce, as there was no form of regulation and differentiating between illegally sold diplomas via the internet and real institutions of learning was almost impossible. Internet education today is something entirely different.
In fact, as more students turn to the internet for education, traditional institutions are rapidly re-evaluating their practices and many are now offering online courses or entire online degrees in addition to the programs they have always offered. Employers are also taking note, and an online degree is no longer a disadvantage compared to a traditional degree. With so many people completing online degrees, you will likely run into a number of people at your workplace with an Internet education.
Conclusion
The instructive experience is being reshaped by new innovations. Every aspect of teaching now has more support, and students have more exciting learning possibilities than ever before because of technological advancements. The return on investment (ROI) for school districts' technology initiatives is significant. Technology is transforming classrooms and student success, from one-on-one computing interactions enabled by PCs and tablets to full-scale immersive learning systems.
Inside and outside the classroom, educational technology plays a critical role in aiding teaching and learning. Technology can be utilized to increase student engagement, provide extra help and resources, and enhance the teaching experience.