5 Reasons You Need a VPN for Gaming
29 June 2020
If you're big into online gaming, you'll be picking up all the technical tips of the trade, from high-powered graphics cards to top-end cooling systems. If you're looking to perfect your gaming rig, one element you can't afford to overlook is your server and a high-quality paid virtual private network (VPN) gives you servers in spades.
A VPN is a tool that hides your true IP address, creating a secure and encrypted connection between your computer and the internet. From early access to overseas games, data protection, and that all-important ping time, a VPN like TrustZone is an essential part of any gaming system.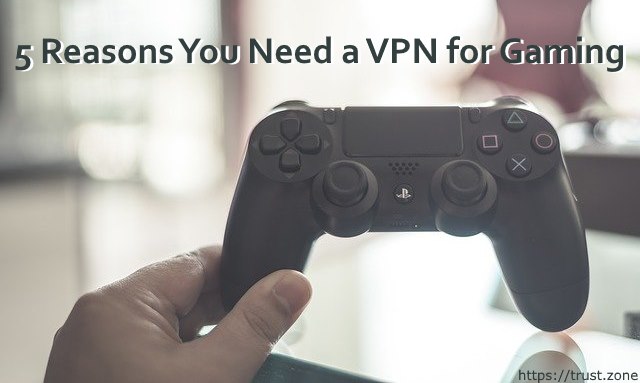 Don't Wait To Play Games Released Abroad Or Blocked
Occasionally, a hotly anticipated game release will get a specific geographical launch date. Sometimes Americans have to wait a few days to get their hands on European games, and vice versa. Even if it is only a few days, if you're playing online this is going to put you at a major disadvantage to your transatlantic counterparts who've been honing their skills before you even get a chance to log on! A VPN will let you connect to the server as if you're in the country of release, allowing instant access to the game of your choice.
Worse, some games may never get released in your region at all. Geo-blocked games are common when certain nation-states object to the content of a game. For example, The Last of Us Part II, released globally in June 2020, has been banned in some parts of the Middle East for its LGBT themes. A VPN is an all-access pass to games across the globe.
Don't Get Throttled
It can be frustrating when the internet lags, and we're often inclined to blame our housemates' Netflix habits as the culprit. However, there can often be a more nefarious reason for your bandwidth dropping. ISPs are notorious for throttling bandwidth if they notice certain activity or high volume on your server.
If you're playing Call of Duty: Black Ops 4, for example, you could be using up to 80MB of data an hour - and that might be enough to raise your ISP's eyebrows. Installing a VPN will encrypt your data, so your ISP won't know if you're gaming or just regularly surfing the web.
Cut Your Ping
Your true internet speed isn't just about bandwidth but actually comes from a combination of bandwidth and latency. This latency, or the delay in sending information from one point to the next, is crucial to the speed of your internet. A lower latency, also known as ping rate, reduces the lag you experience when gaming. A VPN can offer stability to your network that will reduce your ping time and get you into the game.
The best option is using a VPN with a personal static dedicated IP address. In this case your IP address is always static and gaming could be faster because of caching
Protect Your Privacy - And Your Data
As the YouTube compilations will reveal in glorious, graphic detail, some gamers have a temper. One unfortunate way that this can manifest is when anger from a multiplayer game spills over onto social media, or even into real life. A VPN will protect your privacy, meaning disgruntled gamers can't trace you from your server. Another layer of protection a VPN can provide is to your data - the encrypted connection that a VPN creates between your computer and the gaming server can be harder for hackers to infiltrate, giving you the security to game in peace.
Play Anywhere
If you're a frequent flyer, you'll be frequently encountering the problem of getting stuck on the wrong server which may prevent you from gaming with your usual crew. It can be frustrating getting locked out of the server you're used to playing on, but fortunately, a high-quality VPN provides the key, allowing you to select a server in your country of origin.
So there we have it - five compelling reasons why gaming on a VPN is essential to your gaming experience. Don't suffer from that dreary lag of a few seconds mid-game, or worse end up waiting a few days for games to be released in your territory! A virtual private network makes the world wide web truly worldwide, and your gaming experience will be vastly improved.
Mildred Delgado is an energetic, responsible marketing strategist at Write my research paper and PhD Kingdom. She works with organizations to develop fully-functioning websites with a focus on brand image and identity. She has created many marketing proposals.