13 Flawless Security Tips for Bloggers
13 September 2021
Hackers don't limit their attacks to e-commerce sites. Blogs are vulnerable as well. WordPress and other suites are so popular that cybercriminals make it their business to learn how to exploit any weaknesses. When they find those openings, they might take your site hostage, redirect your visitors to nefarious websites, or retrieve sensitive data about your business or customers.
In any case, it's imperative that you ensure your blog is locked down. You can start this process by checking out the following security tips.
1. Understand Where Your Blog Might Be Hacked
Hackers look for points of vulnerability in any blog or website. The most experienced know where these are going to be found. Here are the places where most attacks occur:
Via malware delivered to your site's users through advertising banners.
Through your backup files.
Using plugins and apps.
Through your web hosting dashboard.
Using HTML code injection.
By hacking your admin account
2. Use Strong Passwords
Every account or tool that you use to manage your blog or web hosting should be secured with a strong password. This means a unique, difficult to crack password for each point of entry. You can even use a password manager if you prefer not to commit every password to memory.
In some cases, you might consider taking things to the next level with 2-factor authentication. This along with regular updating will ensure that you've blocked what is often the easiest point of access for hackers.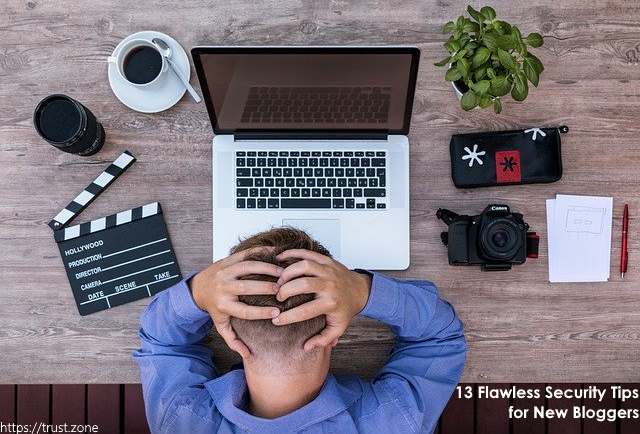 3. Keep Your Content Platform and Computer Updated
Whether you choose WordPress or some other platform, it's imperative that you keep with any updates. That means upgrading immediately when you are notified of new versions or security patches.  These are often done directly in response to vulnerabilities that are ripe for exploiting. Yes, it is a pain to make these updates, and wait for the service packs to install. But, it takes much less time to do this than it does to eradicate a virus, or tell angry subscribers their data has been compromised. Consider getting a good web hosting for WordPress or some other platform to make your website auto-updated and secure.
4. Back Everything Up
What happens if your blog's database is compromised in spite of your best efforts? Ideally, you'll restore it from one of your backup copies. Depending on the web hosting solution you've chosen, a backup feature might already be included. If not, you'll have to select one of your own. If you've opted to use WordPress, there are plugins that will take care of this for you.
5. Be Wary of 3rd Party Apps and Embeds
Before you use a 3rd party app, images, or embeds on your blog, review them carefully. Learn what type of access and rights you are expected to grant when you use them. Make certain that you only use external apps from trusted third party providers. Next, keep a list of what you have used, and be sure to unlink them when they are no longer useful to you. Even something as simple as a CAPTCHA can be used to target users with adware.
6. Insist on VPN for Remote Access
There are several compelling reasons for individuals to use VPN to access the internet. It turns out that businesses can benefit from using a VPN as well. If you, or any of your employees plans to update your blog or perform other administrative tasks remotely, you should only do so via VPN. This will help ensure that you can safely access, modify, and upload/download sensitive information. For example, TrustZone VPN encrypts your internet connection, makes your browser history private and keeps you hidden from prying eyes.
7. Use Themes from Trusted Sources Only
The right theme can really do magic for the look and feel of your blog. Unfortunately, not all of them come from trustworthy sources. Use themes, but proceed with caution.
The best way to ensure that you're not using an infected theme is to stick with themes that you must buy. A paid theme will be associated with a business name, and likely designed by professionals. That's not to say that a paid theme can never be infected, but the chances are considerably less.
8. Don't Use Generic Admin Accounts
Your WordPress will come with a built-in admin account. Be aware that these accounts aren't very secure, and that hackers have plenty of practice targeting them. Don't use these default accounts.
Instead, delete the old account, and create a new administrator account. Then, limit access. The admin account should only be accessible by you, and a limited few other users. If an employee leaves, or no longer has a work related reason to access admin features, delete the account they use.
9. Use a Hosting Provider with Security Protection
If you decide to host your blog yourself, take some time to choose the right hosting option. You might be tempted by the least expensive option, but keep in mind that your hosting solution is the backbone of your blog. A bargain-basement host provider isn't likely to have much in the way of technical support if something goes wrong. Do your research so you know what help you'll get in the event of a cyberattack.
10. Install Dedicated Security Protection
Your computer has its own antivirus protection. You should make sure your blog does as well. There are specific security packages and plugins that are made just for blogs, and the types of cyberattacks that tend to be created for targeting them.
11. Keep Your Plugins Up to Date and Be Picky
Plugins are handy little utilities that you can install to add a variety of functions to your blog. In fact, if you've ever thought, 'I sure wish I could do _______ with my blog.' There's probably a plugin that does it. In fact, WordPress is full of these plugins.
This is great, but there's a problem. Nearly anyone can develop a plugin, and upload it for others to use. There's just not a lot of oversight in what makes it to the WordPress plugin site. So, it's up to you to be selective about the plugins you use. Stick with reputable ones with good reviews that are transparent about bug fixes. Then, be certain that you keep any plugin that you use up to date.
Don't forget to be a good member of the blogging community as well. If you run into problems with a plugin, write a review or article about your experience to let others know. You don't need to be a professional writer. Just use tools GrabMyEssay or similar to ensure your writing is helpful to other bloggers.
12. Vet Your Ad Networks
Not every ad network is above board. Some intentionally embed malware. Others simply don't do their due diligence. Don't put your audience at risk to earn a few pennies per click.
Instead, choose a network that you can trust. In this case, popularity is usually a good thing. If many well-known blogs are using a network, it's probably a safe bet.
13. Write Strong HTML
If you decide to build your website or blog from scratch, you must be certain that the code you write is impervious. This is because hackers work hard to exploit HTML vulnerabilities through something known as an injection attack. This means that malicious commands are 'injected' into your code leading to potentially devastating results. If you aren't very confident in your ability to write secure HTML, you should probably leave that work to a professional.
Final Thoughts: Trust is Key
No matter why you blog, you won't attract or keep subscribers unless they trust that your blog is a safe place. By taking the steps above, you help ensure that subscriber data is safe, and that your readers have a safe, on-site experience.

Author Bio: Dorian Martin is a writer and entrepreneur. He is a regular contributor at TrustMyPaper, and owns his own blog as well. He's excited about small business, technology, and marketing. In his downtime, he enjoys running and playing with his golden lab.