What's a DDoS Protection?
8 April 2021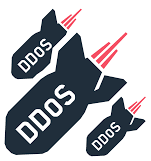 The distributed denial-of-service attack (DDoS) is it's a type of cyberattack cybercriminals use to force people offline. The main concept of DDoS attack is to flood your IP or your network with tons of unwanted requests and traffic. Tons of mailware-infected compromised devices (botnet) worldwide start sending unwanted traffic to you to make your IP or network unable to process requests. As a result, you and your business may remain offline for a while.

The great news is that all Trust.Zone VPN servers have a reliable protection from DDoS attacks. Trust.Zone has one of the best anti-DDoS solutions on the market. read more...
comments: 0