WebRTC Leak Prevention – A Guide for Non-Techies
17 October 2023
In this digital era, ensuring your online privacy and security is crucial. With the prevalence of cyberattacks, it's easy to fall prey to online hackers and scammers. That's when you need to use a virtual private network (VPN) to hide your IP address and conceal your online activities.
However, picture this scenario: You are surfing online, visiting various websites, and communicating with other users. Despite using a VPN service, your IP address gets exposed and becomes vulnerable to cyberattacks. What are the odds your online information gets illegally used by third-party vendors? Blame it on the WebRTC leaks!
What are you supposed to do then?
This page is a definitive guide to WebRTC leak prevention for non-techies. Read on to learn how to prevent and fix these leaks for your online privacy and security.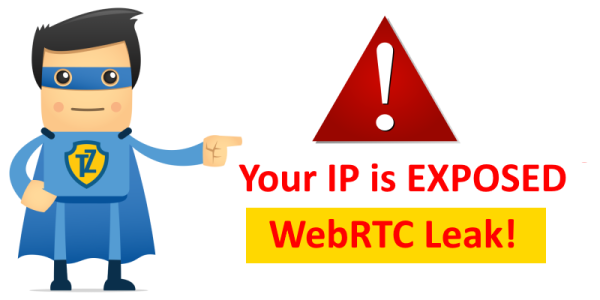 Wha Is a WebRTC Leak?
A WebRTC leak is a security vulnerability in the Web Real-Time Communication protocol. As the name suggests, this leak can reveal your actual IP address even if you're using a virtual private network (VPN).
This leak happens due to its Session Traversal Utilities for NAT (STUN) feature that finds the best possible path for data transmission. Aside from the IP address, WebRTC can leak the following sensitive information:
Local IP address
Public IP address
Network interface type
Internet speed
Operating system
Browser type
Understanding Web Real-Time Communication
In essence, Web Real-Time Communication (WebRTC) is a helpful feature. It's a free, open-source project allowing web browsers and mobile apps to communicate in real-time without an intermediate server.
As such, it leads to more efficient and seamless data transfers, whether via text, audio, or video. Think of video conferencing on Google Meet, chatting on Facebook Messenger, and transferring files on digital platforms.
The problem, however, is that WebRTC leaks might occur. They happen when two devices with WebRTC features need to know each other's IP address to communicate. They can even bypass the encrypted tunnels of some VPNs, which defeats the purpose of using private networks for protection in the first place.
Fret not, as there are ways to prevent WebRTC leaks. Learn how to do so in the next section below.
How To Prevent and Fix WebRTC Leaks
Earlier, you learned what WebRTC is and why leaks occur. Now, it's time to know how to prevent and fix them. Don't worry; the steps are relatively simple and easy, even if you are a non-techie individual.
Note that there are three practical ways to avoid and stop WebRTC leaks. If you're ready, follow our crucial steps below:
1. Disable WebRTC in Your Browser Settings
The first solution for preventing and fixing leaks is to disable WebRTC in your browser. But, of course, the steps vary from one browser to another. Take note of the following:
Google Chrome
1. Open Chrome.
2. Go to chrome://flags/
3. Enter webRTC in searchbox
4. Find Anonymize local IPs exposed by WebRTC in the list of results and set Enabled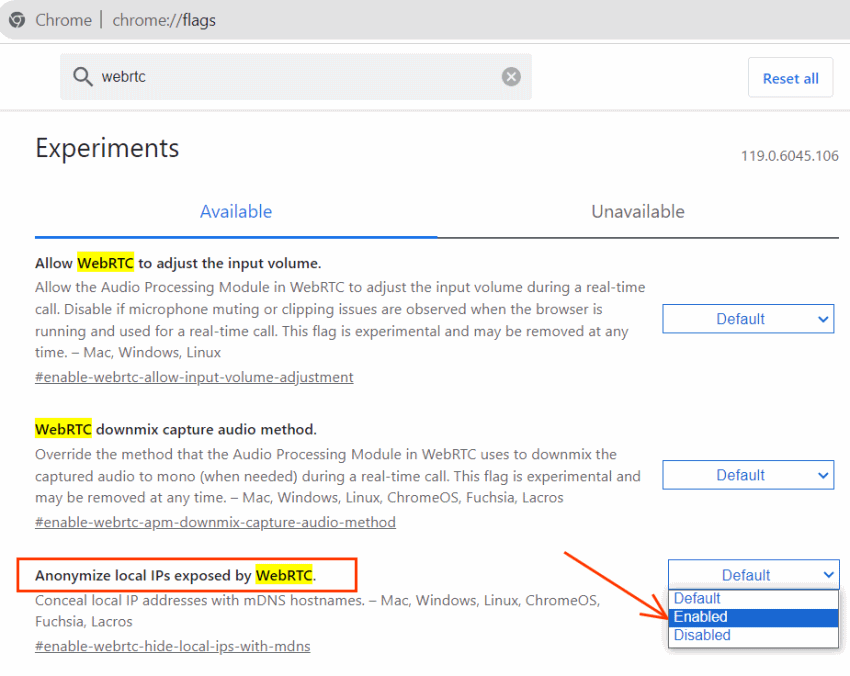 Mozilla Firefox

1. Open Firefox
2. Type "about:config" in the URL and hit Enter
3. Click on "I accept the risk."
4. Type "media.peerconnection.enabled" in the Search bar.
5. Find the "Preference Name" tab under the Search bar.

6. Double-click the displayed item and change the value to "false"
Brave
1. Go to "Preferences."
2. Click on "Shields"
3. Find "Fingerprinting Protection" on the right-side corner.
4. Choose "Block all fingerprinting" via the drop-down menu
Edge
1. Start up Edge.
2. Type "edge://flags" into the address bar and hit Enter.
3. Find "Anonymize Local IPs Exposed By WebRTC"
4. Click the drop-down menu next to it and select Enable.
5. Restart Edge for the new settings to take effect.
Safari
1. Click Safari on the menu bar
2. Click Preferences
3. Go to the Advanced tab in the pop-up Settings window
4. Scroll down and tick the checkbox "Show Develop Menu In Menu Bar"
5. Close the Settings window.
6. On the menu bar, click the Develop button and choose "Experimental Features"
7. Click Remove Legacy WebRTC API.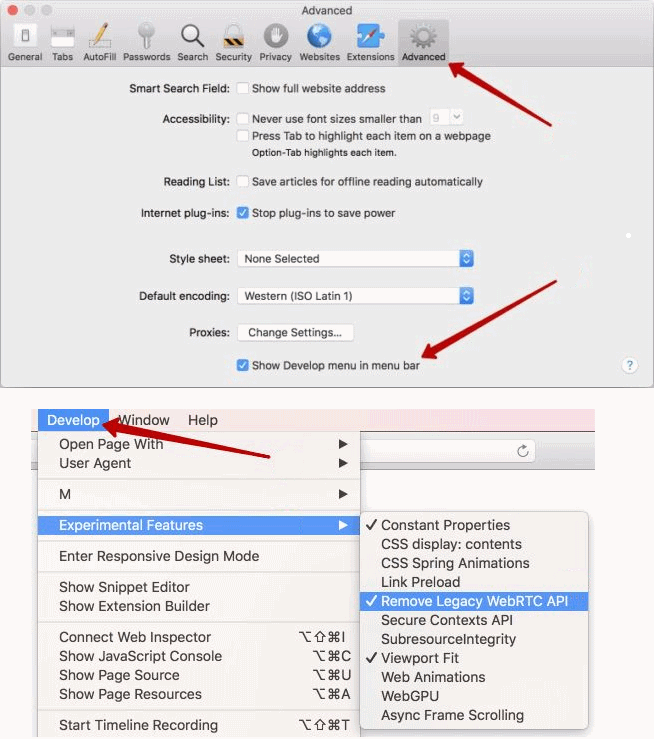 2. Use Browser Extensions and Add-ons To Disable WebRTC leaks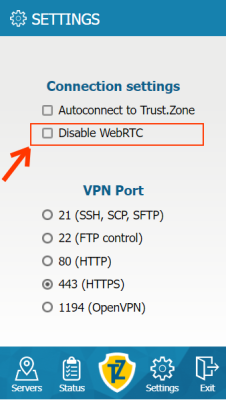 There are instances, however, when you aren't successful at disabling WebRTC in your browser. That's when you can use add-ons and extensions to address the issue. Don't know how to proceed? Here's how:
Install TrustZone VPN Proxy extension for Google Chrome or TrustZone VPN Proxy Add-on for Mozilla Firefox.
Launch it, sign up (it's free), then go to Settings tab and choose Disable WebRTC Leaks
It prevents WebRTC leaks by blocking or restricting WebRTC traffic.
3. Use a VPN with WebRTC Leak Protection
Generally, a VPN hides your IP address and protects your online activities to ensure privacy and security. But as mentioned, the WebRTC feature causes leaks and exposes your IP address.
Linda Shaffer, Chief People Operations Officer at Checkr, recommends using a VPN service with WebRTC Leak Protection. "This service is readily available in the market; you just have to work with a VPN provider offering this feature. But using free VPN services is a big no-no if you want to prevent potential leaks!"
Final Words
WebRTC leaks can strike anytime online, even if you're using a VPN service. Not only will they reveal your IP address and expose your online activities, but they can also put your data and information at risk.
As such, what better way to secure your network and protect data than to ensure WebRTC leak protection?
To stay on top of this, consider the three practical ways to prevent and fix WebRTC leaks. Follow our crucial steps for disabling WebRTC via your browser or using add-ons and extensions. More importantly, work with a VPN service provider with WebRTC leak protection.

Looking to address WebRTC leaks? Stay safe with the Trust Zone. It provides users with VPN with three anti-leak features: Internet Kill Switch Feature, DNS Leak Protection, and WebRTC Leak Protection.