How to Check If Your VPN Is Leaking Your IP and Location
16 August 2020
A reliable VPN connection can do miracles for your online safety, but no digital service is flawless and impenetrable. The same logic applies to VPN providers because hackers can try – and often succeed – to breach security measures and gain control.
More than 25% of Internet users have tried a VPN at least once, but the number has been growing steadily over the last few years. In such circumstances, it is clear that VPN users should start paying attention to security breaches and take the necessary steps to prevent possible incidents.
In this post, we will explain how to check your VPN for data leaks and stay safe in the digital environment.
The Purpose of a VPN Connection
We've covered this topic on our website many times already, but it is important to run through it once again because you need to know the basics in order to understand possible security threats.
When you browse the Internet using a personal computer, smartphone, or laptop, you are doing it from a unique IP address that reveals your physical location. A VPN is built with the purpose to hide your real IP address by masking the connection between your device and the World Wide Web.
Jake Gardner, a digital security officer, explains that IP masking is the critical function of VPN providers: "Data leakages have the opposite result. Namely, VPN leaks occur every time you activate the service and it fails to hide your IP address. As a result, the website you are visiting can automatically identify your physical location."
If you don't think this is possible, just take a look at the report showing that seven VPN services leaked data of over 20 million users. If you don't want the same thing to happen to you, make sure to prevent possible incidents well in advance.
How to Test and Prevent VPN Leaks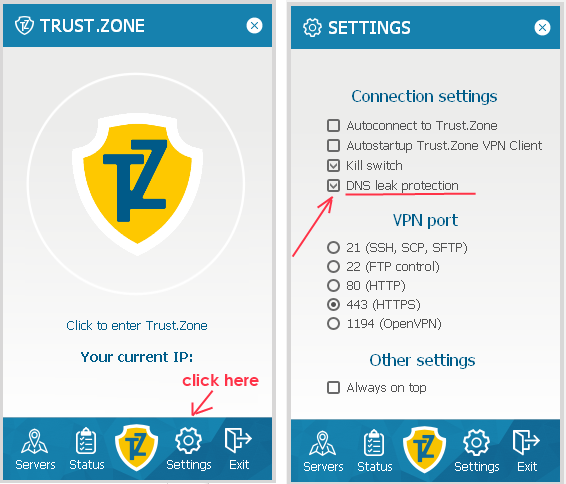 Now that you've seen the VPN essentials, you can start thinking about the actual cases of VPN data leakages. The problem may occur due to several reasons such as:
 IP leaks
 DNS leaks
 WebRTC leaks
 Torrent download leaks
 Geolocation leaks
However, IT experts agree that the first three data leakage models are most likely to happen and so we will focus on these three cases only. Here's how you can deal with it.
IP leaks
We open the list with IP leaks, a very common issue among VPN providers that takes place because of the changing Internet protocols or accidental connection drops
What can you do to prevent an IP leak?
First of all, visit a website such as IP Checker to check the IP address.  Secondly, you must activate your Trust.Zone VPN connection. Keep in mind that TrustZone Kill Switch option should be turned ON (Go to the Settings -> set 'Kill Switch' checkbox ON).
Once the VPN connection is established, you ought to check IP address once again. If your VPN system is functioning properly, IP checkers will not be able to identify your IP addresses and location/
What do you do when you see your original IP addresses with and without a VPN? 
Please follow the instructions how to avoid IP leaks with TrustZone
DNS leaks

The Domain Name System (DNS) is the phonebook of the Internet and it is responsible for finding the correct IP address for any given website. Sometimes it stays active even if you enable a VPN, so the anonymity network starts malfunctioning and recording your online activities as if you're not using a VPN.
It is a common issue among VPN users, so you should definitely pay attention and avoid possible DNS hijacking incidents. You can do it like this:

- Go to the website such as DNS Leak Test. It will show you the IP addresses related to your DNS servers.

- After that, launch the TrustZone VPN and establish a new connection. Keep in mind that TrustZone DNS Leak Protection option should be turned ON (Go to the Settings -> set 'DNS Leak Protection' checkbox ON).

- Go to the DNS Leak Test once again and check your IP addresses. If your VPN is functioning normally, the website should show you different IP addresses this time.

- If you see the same IP addresses once again, please, read our guide how to avoid DNS leaks with TrustZone

WebRTC leaks
Web Real-Time Communication (WebRTC) is an open-source project integrated with the majority of modern browsers to enable uninterrupted communication without any additional tools or plugins. A WebRTC leak is a vulnerability that leaks your real IP address when using a VPN.Although it's not too frequent, the problem occurs with websites enabling/disabling content based on users' geolocation. If you want to stop WebRTC leaks, you need to do the following:

- Establish a VPN connection.

- Follow the guide how to avoid WebRTC leaks with TrustZone. Go to the website such as Browser Leaks to test for WebRTC vulnerabilities.

-  If the test reveals your real IP address, contact us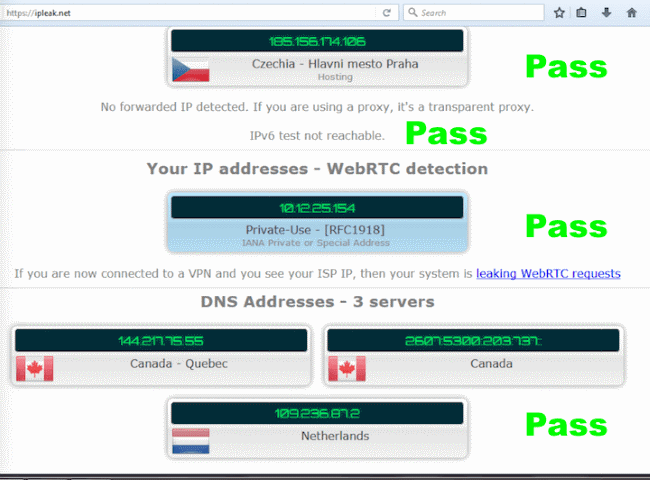 There is an alternative way to avoid webRTC leaks with Trust Zone - install Trust Zone Chrome or Mozilla Firefox TrustZone extentions.They are disabling any browser leaks.
The Bottom Line
A VPN connection gives you an additional layer of online security, but the system is not perfect and hackers can still compromise it. This is exactly why you need to be extra cautious and keep an eye on your VPN service.
In this article, we showed you how to stay safe by checking your VPN for data leaks. Although it may seem like too much work for the average VPN user, rest assured it pays off because it keeps you safe from malicious online activities.
AUTHOR BIO
Emma Coffinet is a full-time digital marketer at the Australian Assignment Help and part-time tech blogger. She is interested in a broad scope of topics, including new technologies, cybersecurity, social media marketing, and finance. Emma is a self-driven individual and passionate explorer of new cultures.