How to Avoid 10% Goods and Services Tax (GST) in Australia with a VPN
15 May 2015
A new law proposed by the Australian government could make digital online services a lot more expensive for its citizens. The government is considering applying 10% tax to "intangible goods" like web service subscriptions, online music, movie downloads, TV shows (including streaming services such as Netflix) , e-books, digital game downloads like Steam and etc.
Federal treasurer Joe Hockey has confirmed that the "Netflix Tax" - a new proposed 10% tax increase on digital goods such as video content, video games, and eBooks and etc has been confirmed for the 2015 budged. So-called, "Netflix tax" would increase the price of Netflix from $8.99 a month to $9.89 for the basic package. Digital tax will raise A$350 million in the next four years for the government's coffers and level the playing field between international suppliers and local companies — at a cost to taxpayers.
As a result, the price of most Steam games could effectively increase 10 percent for Australian gamers. Many gamers criticize the difference in price between games in Australia and the US because the goods are digital, and are therefore not affected by the costs involved with shipping physical products. One reason given for the proposed so-called "Goods and Services Tax" is to protect native Australian businesses from foreign competitors, but there is no service comparable to Steam in the country.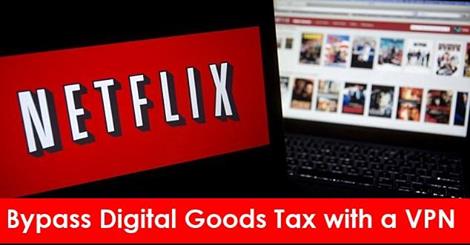 Most popular posts related to VPN:
VPNs could be blocked in Australia but it's still possible to bypass
5 Reasons Why You Need a VPN in Australia
How to Prevent Your ISP from Tracking Your Torrent Activity
How to Choose Completely Anonymous VPN Service?
How to Access Hulu, Netflix, Pandora, CBS and FOX from Outside The US?
According to the CNET Australia some active Australian users of music and movie streaming services have already found a way how to bypass so-called 'Netflix tax' (or Good and Services Tax) in Australia. Savvy streaming users and TV-show fans use VPN services like Trust.Zone VPN and other to mask their country of origin, so they can purchase online music and TV shows at lower foreign prices.
According to the study revealed in 2014, up to 200,000 users are signed up to US Netflix and other Streaming and Video Content Services from the US. Most of them are trying to use VPN to unblock geo-restrictions in Australia and access the streaming services.
The most VPNs like Trust.Zone VPN replace a real IP address of the user by IP address of VPN server located in another country. Besides that, the torrenting became safe with a VPN because all traffic among user and VPN server is 100% secure encrypted, so government agencies cannot track users' activity.
Trust.Zone VPN service doesn't allow to be completely blocked by ISP or government agencies in Australia because Trust.Zone VPN may forward the encrypted internet traffic via HTTP Port 80, HTTPS Port 443 which are never blocked by ISP. If VPN is set to work on port 443 than your ISP is able to see something which will look like you are browsing a website with HTTPS like Gmail, PayPal and other. This means all your ISP and potential government agencies can see how much traffic you use, not what you are using it for.