China Unblocks Facebook, Twitter and Google during 2015 World Championships in Athletics
21 August 2015
The Chinese government will unblock social networks Facebook and Twitter as well as search engine Google during the 2015 World Championships in Athletics – according to the general secretary of the International Association of Athletics Federations (IAAF) Essar Gabriel.
The 15th World Championships in Athletics are scheduled to be held 22–30 August 2015 in Beijing, China. The event will be the largest sporting event to take place at the Beijing National Stadium since the 2008 Summer Olympics.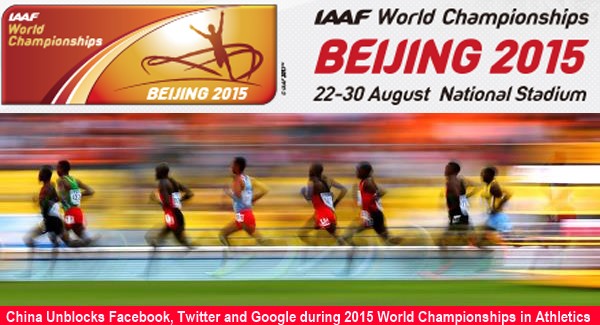 During the last years, China authorities restricted access to all major popular social networks Facebook, Twitter, Instagram, email services like Gmail and Yahoo, search engines like Google, Yahoo, Bing and other.  According to a Harvard study, at least 18,000 websites are blocked from within China, including 12 out of the Top 100 most popular websites in the world.
Unfortunately, many experts suppose that access to social networks Facebook, Twitter and Google services could be banned again after 2015 World Championships in Athletics ends.
The most savvy internet users prefer using VPN to access social networks in China in any time. Although many users use VPNs to bypass the Great Firewall of China, many internet connections are now subject to Deep-packet inspection where data packets are scanned before being allowed to pass.
The Good news is Trust.Zone VPN service is still accessible in China. Trust.Zone VPN service uses the special technique to bypass blocking by ISP or government agencies in China. Trust.Zone VPN is able to forward your OpenVPN traffic through port 443.
443 Port is the default port for HTTPS (Hypertext Transfer Protocol Secure). The protocol is commonly used by browsers for secure connections when you type https:// in a browser. There is no sense to block port 443 by internet censors in China because blocking the port 443 breaks the access to the Internet.
Bypass internet censorship in China with Trust.Zone VPN. Try it free.