#UgandaDecides: 520,000+ New Downloads of Trust.Zone VPN from Uganda and Still Grows
20 February 2016
As you know, Ugandans started using VPN to open social networks Facebook and Twitter, chat services - Whatsap and other online services after access to social networks was shut down on election day on 18 February across the nation "for security reasons", according to the Uganda Communications Commission (UCC)

A Twitter account of former Prime Minister Amama Mbabazi is among those directing voters to download VPN applications.

Due to that period of time, Trust.Zone VPN was downloaded 520,000+ times from Uganda (both - mobile and desktop) and still grows. Trust.Zone official website was heavilty overloaded by Internet users from Uganda yesterday and was not reachable during 30 minutes. Fortunately, our network adminstrators resolved the networking issues and restored the access to the website.

Today internet users in Uganda noticed that Ugandan authorities started blocking VPN services in Uganda. In spite of the fact that VPN is legal - according to law.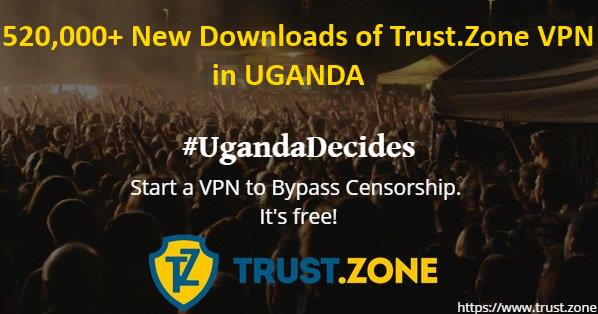 Is this easy to block VPN in Uganda? Well, China authorities succesfully blocked a lot of VPN services in China. So, it's not a big issue. Usually, VPN services are using OpenVPN connections, PPTP and L2TP protocols which could be blocked by the Ugandan authorities.

 Fortunately, Trust.Zone VPN service has implemented the unique technology which is more secured than OpenVPN. It's a special technique to avoid blocking by ISP or government in Uganda. This technique allows forwarding all internet traffic though HTTPS port 443, HTTP port 80, SSH, SCP and SCFTP port 21 and FTP port 22.

Trust.Zone VPN is able to forward VPN traffic through port 443 which is never blocked. 443 Port is the default port for HTTPS (Hypertext Transfer Protocol Secure). The protocol is commonly used by browsers for secure connections when you type https:// in a browser. It doesn't make sense to block port 443 by internet censors in Uganda because blocking the port 443 breaks any access to the Internet.

Uganda, take back your freedom with Trust.Zone VPN.