Trust.Zone Supports SOCKS5 Proxy
29 September 2020
Did you know that all Trust.Zone VPN servers support SOCKS5 proxy?
What's SOCKS5?
SOCKS
is an Internet protocol that routes network packets between a client and server through a proxy server. SOCKS5 is improved version of SOCKS protocol, it provides authentication so only authorized users may access a server.

What are the benefits of SOCKS5 Proxy?
Here are the reasons why internet geeks use SOCKS5 proxies:

Speed is faster
Unlike other HTTP proxy, which only used TCP protocol, Trust.Zone SOCKS5 proxy servers can use UDP protocol. With UDP, which is low-level protocol, you get faster speed and performance
Better performance for P2P and torrent clients
SOCKS5 is faster than traditional proxies because it transfers smaller data packets. Therefore, it provides faster download speeds. This happens because SOCKS5 is responsible for full implementation of UDP protocol, thus enabling users to be able to connect to the peers in a swarm
Bypassing censorship or content blocking
It's easy to access the restricted content. If some website banned your IP, you are able to unblock it with SOCKS5
Hiding your IP and location
SOCKS5 will only show IP address of Trust.Zone Proxy Server. Your real IP address is hidden.
Better security and protection than traditional proxies
SOCKS5 provides you with better anonymity than regular proxies.
Fewer errors and improved overall performance
Regular proxies are usually rewriting data packet headers. SOCKS5 Proxy does not allow it, so there is a lower chance for errors
How to set up SOCKS5 with TrustZone

All TrustZone servers support SOCKS5. It's very easy to set up SOCKS5 for TrustZone servers. Just a few steps.
1.
Enter TrustZone server zone.
For example,
us.trust.zone
,
uk.trust.zone
,
fr.trust.zone
. See the list of available
Geo zones here
2.
Enter your TrustZone login/password
You can use your current TrustZone login/password.
Yet another way is a using your
VPN User / VPN Password
which can be taken
here
(you must be logged in) - under
Manual Setup
section, see the footer of the page
3.
Enter a port
- any of them - 21, 22, 80, 443, 1194

How to set up TrustZone SOCKS5 Proxy with Utorrent

For Utorrent client, click
Options
->
Prefernces
->
Connection
Enter your VPN login, VPN password, port and server zone, see example below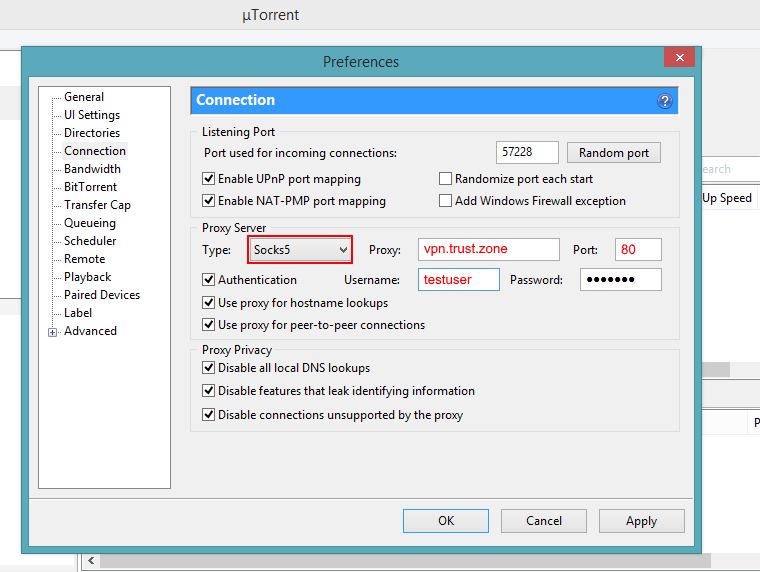 See also: how to set up SOCKS 5 on
Chrome/Firefox/IE/Opera