How to Use BitTorrent Completely Anonymously? Proxy, Tor or VPN?
7 November 2016
Do you think that BitTorrent is anonymous network? Unfortunately, BitTorrent and anonymity are not the same things. If you really want to keep your activity private, your best way involves routing your BitTorrent connection through an external services – anonymous proxy, Tor or VPN.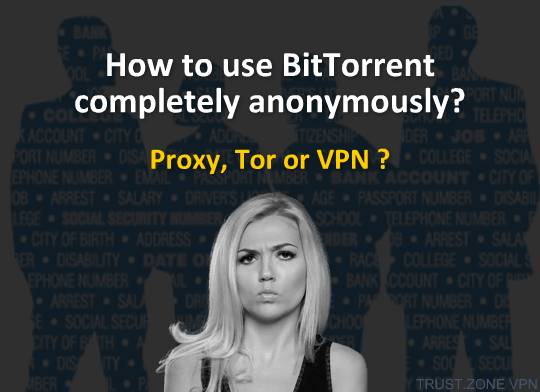 Proxy server is a server that sits between a client application, such as a Web browser, and a real server. It hides your IP address, mostly anonymous, but it doesn't support some protocols like FTP, SMTP and other.  Proxy can  store logs of you activity. Besides, 79% of proxies are safe only!
Tor is free software for enabling anonymous communication. Tor is a computer network run by volunteers worldwide. Each volunteer runs what is called a relay, which is just a computer that runs software allowing users to connect to the Internet via the Tor network messaging or downloading the files. Unfortunately, Tor is not the best way for torrenting . The reason - data is routed through a lot of relays, the download speed is going down
What's a VPN? VPN sends all your internet traffic through an encrypted tunnel to another computer. This other computer sends out your request and sends you back the data still in an encrypted form. This means all your ISP and potential government agencies can see how much traffic you use, not what you are using it for.
Trustworthy VPN providers don't log your activity. Your ISP can not track or log your activity.  The best VPN providers accept BitCoin payment. So, you are completely anonymous with a VPN on the internet. Besides, VPN providers provide members with many VPN servers over the world. It's easy to switch your location from one to another quickly.
Trust.Zone VPN allows torrenting, file sharing and BitTorrent usage on all of its VPN servers, including the US ones. Besides that, Trust.Zone doesn't log user activity, prevents your ISP from tracking your every move, accepts BitCoin.