BBC iPlayer Blocked Access for All VPN Services
17 October 2015
The BBC started blocking internet users from outside of the UK from accessing iPlayer. According to Torrentfreak, there are many reports from VPN users who can no longer access BBC iPlayer from several popular VPN services.
BBC iPlayer is an internet streaming catchup TV service for people in the United Kingdom and abroad. The service is available for a wide range of devices – phones, smartphones, laptops and PCs.  According to BBC report, iPlayer is watched by more than 65 million people using VPN. 38 million people – are users from China.  After the blocking, the most users see the following notice instead: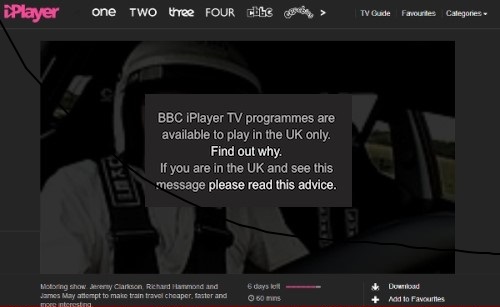 "We regularly make updates to our technology to help prevent access to BBC iPlayer from outside the UK which breaks our terms of use," a BBC spokesperson told. "BBC iPlayer is freely available to users across the UK without a VPN, and we also seek to ensure users of private VPNs such as those used by schools and companies in the UK have access."
Many VPN users are not happy with the change.
Trust.Zone recommend using personal dedicated IP address to access BBC iPlayer. With a static personal IP your address is dedicated, unique and not shared with anyone else. So, this IP address belongs to you only.
It's a well-known fact that streaming services block users under the same IP addresses from time to time. With a personal VPN dedicated IP address you are free to use streaming services witout fear of being locked.