How to Access Movie Streaming Websites in Indonesia?
27 August 2015
Indonesia has blocked access to 22 popular movie streaming websites that purportedly contain Indonesian movies.  It also affected a few torrent websites like The Pirate Bay, Isohunt and other.  The full list of restricted websites can be found here.
Yasonna Laoly, Minister of Human Rights and Justice noticed:
The movie streaming isn't good for development and innovation in the Indonesian film or music industry and everything else related to intellectual property. This is our creative economy. We are dealing with the websites, because it's difficult to track down the people who made the websites. We don't know where they are
Although the government of Indonesia holds a positive view about the Internet as a means for economic development, it has become increasingly concerned over the impact of access to information and has demonstrated an interest in increasing its control over offensive online content. The government regulates such content through legal and regulatory frameworks and through partnerships with ISPs and Internet cafes.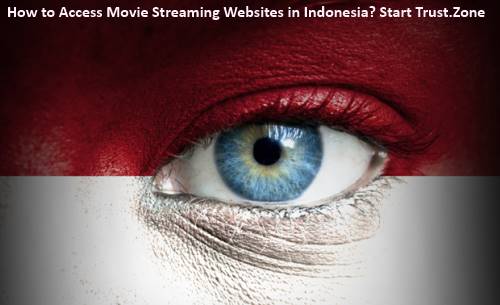 In 2012, Indonesian Government used policies to prevent users from accessing Google related websites. In 2014, several sites including Vimeo, Reddit, and Imgur are censored too.
The best way to bypass Indonesian Government's restrictions is a Trust.Zone VPN service. Trust.Zone is completely anonymous VPN service which hides users' online identity. It encrypts the connection and replaces client's IP address with IP address located outside of Indonesia.  With a VPN internet users are able to unblock any website in Indonesia.
Indonesian people can use Trust.Zone VPN totally for free. Trust.Zone VPN provides users with 5 days VPN usage for FREE. With a paid VPN subscription, everyone in Indonesia is able to connect to VPN from 3 devices at same the time.
According to The Biggest Bittorrent System, Extratorrent.CC, Trust.Zone was chosen as the Best VPN service for torrenting in 2015.