Trust.Zone VPN is in the List of the Best VPNs of 2016
14 July 2016
Trust.Zone VPN is in the list of the best VPNs of 2016! You can compare Trust.Zone with other VPN providers now!

Recently, Reddit user That One Privacy Guy collected everything about the most popular VPN providers on the web. He put all VPN features into a single color-coded Google Sheet that's easy to read and understand. Green cell is "Generally good", Yellow is "Something of concern", Red is "Something major of concern", Blank is Undefined or for reader's knowledge only.

You can compare prices/security/logging and other features of Trust.Zone VPN with other 150 VPN providers on the web. The comparison list involves logging, warrant canary, pricing, refund window, anonymous payment methods, jurisdiction, fourteen eyes countries and etc.

Recently,  Torrentfreak, one of the popular tech and bittorrent websites, listed Trust.Zone VPN among the best VPNs which take your anonymity seriously in 2016. Read here - "Which VPN Services Take Your Anonymity Seriously? 2016 Edition"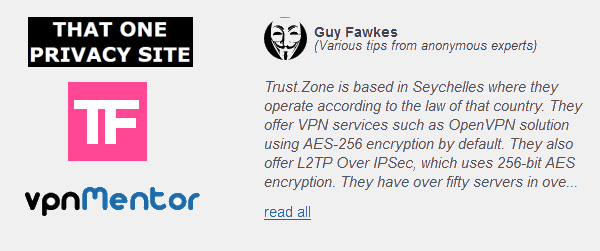 A few days ago, VPNMentor, the leading VPN comparison service on the web which provides readers with VPN reviews on the best VPNs from their anonymity experts, reviewed Trust.Zone VPN.  The unique feature of VPN Mentor is VPN Companies can't pay to change or delete reviews.

Note, that Trust.Zone doesn't pay for reviews of the service. All reviews of Trust.Zone VPN are published by independent authors.