How to Watch Wimbledon outside of the UK
18 June 2015
The Wimbledon Championships or The All England Lawn Tennis Championships is the oldest and most prestigious tennis tournament in the world. Wimbledon is the one of the four Grand Slam tennis tournaments (other three tournaments are Rolland Garros, The Australian Open and US Open). Wimbledon is still on grass, the original surface of the tennis game.
Wimbledon will take place in London between June 29 and July 12. All Wimbledon games will be available to watch online with BBC Sports, BBC iPlayer, Sky Sports TV, British Eurosport TV and ITV
So,why do you need a VPN to watch the The Wimbledon Championships online?
Unfortunately, many streaming websites don't allow watching Wimbledon games live due to geo-restrictions. If you are located outside of the United Kingdom, you won't able to stream Wimbledon games live due geo-blocking by stream providers. Video streaming  services block customers based on the location of their IP addresses.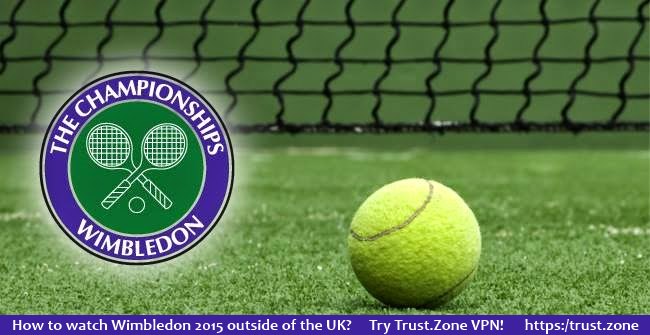 Trust.Zone VPN may help if you're in a country where Wimbledon is restricted. Changing your IP address to the IP of VPN servers gives the impression that you are located in that server's geographic region. This is a way how VPN allows you to access websites, TV and video streaming content despite Geo-restrictions or censorship. By using a VPN service, you can manipulate your PC's IP.
Trust.Zone VPN service hides your location real IP address and overcome BBC iPlayer geo-restrictions. Trust.Zone VPN replaces your IP address with IP addresses of Trust.Zone VPN servers located in the UK where Wimbledon is allowed to watch.
So, if you are out of the UK, you can simply connect to a Trust.Zone VPN server in the UK and watch the oldest tennis tournament in the world.