How to Overcome VPN Blocking in China
1 November 2016
VPN blocking is a technique to block the secured tunneling communications methods used by VPN. This technique is used by big companies, government agencies or ISPs. Recently, many VPN services warned of 'increased censorship" in China.  China is doing its best to make sure its workers cannot use VPNs to bypass Great Firewall of China.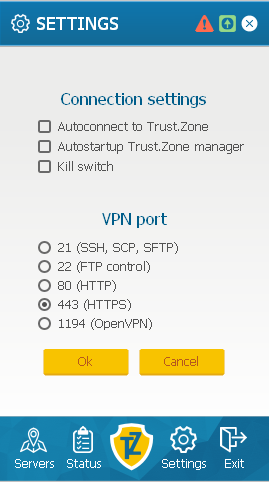 Chinese authorities use 3 ways to block VPN usage:
 - Blocking VPN ports
ISP, network administrator or government agency blocks the ports that are used by common VPN tunneling protocols, such as PPTP or L2TP
- Blocking VPN server's IP address
The idea is to blacklist the IP-range of all major VPN services
- Deep-packet inspection (termination of TCP packets)
Chinese government uses a Deep Packet Inspection technique and sophisticated technologies to determine that client uses OpenVPN connections, PPTP and L2TP protocols
Good news is Trust.Zone VPN service which is more secure than OpenVPN, is not affected in China. Trust.Zone VPN service uses the special technique to avoid blocking by ISP or government agencies in China. Trust.Zone VPN is able to forward your OpenVPN traffic through port 443.
443 Port is the default port for HTTPS (Hypertext Transfer Protocol Secure). The protocol is commonly used by browsers for secure connections when you type https:// in a browser. There is no sense to block port 443 by internet censors in China because blocking the port 443 breaks the access to the Internet.
Trust.Zone VPN recommends a forwarding OpenVPN traffic through port 443 as the best way to obfuscate VPNs in China