How to Get Low Rates on Skype with a VPN
5 January 2022
Skype is the most popular VoIP provider from around the world. It's available in 145 languages and compatible with any device. It provides Skype users with voice chat, video chat, file sharing and text messaging. Besides that, Skype allows you to make a call on mobile or landline numbers at low rates.
Unfortunately, Skype rates are not so low. The reasons are:
Rates are higher if you call to mobile numbers
Consumed minutes are rounded up
There is a special fee per call
Below, we will provide you with an easy trick how to get lower call rates on Skype and other business phone services.
The calling rates are different per each country. If you are living in the US, then you pay less. But if you are living in Australia, your calling rates are high. If you are in Sydney and you have to call someone in New York then calling rate is much higher if you were located in the US. So, is there any way to make Skype think that you are in the US when making a call?
Yes, it's.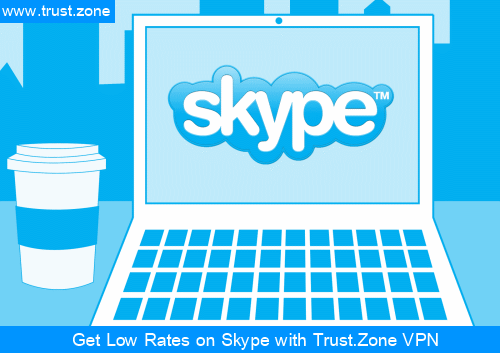 In order to make Skype think you are located in the US connect yourself to VPN. Alternative way is using a virtual phone number.
VPN is a service that routes all web traffic through a set of servers located in other countries that hide your real IP from public view to ensure privacy and safety. With a VPN, your real IP address is replaced by IP address of the VPN server. In other words, VPN changes your country of origin.
With Trust.Zone VPN you are able to connect to the virtual location in the US and Skype will think that you are calling from the U.S. and will give you the cheaper Skype calling rates. So if you want to have the lower call rates then you can reach it with TrustZone VPN
Besides cheap international calls, TrustZone VPN provides members with a lot of other things. It allows you to unban websites blocked in your country, overcome censorship, access geo-restricted content and etc.
TrustZone VPN offers free and paid subscriptions, which start from $2.33 a month only. That's one of the cheapest costs among all top VPN providers on the internet. If you are making many Skype calls every day – Trust.Zone is the best way to save your money on Skype calls.